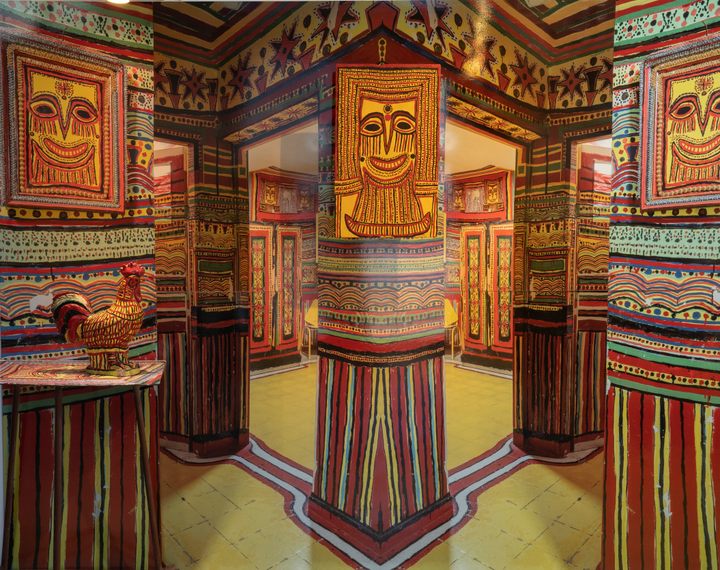 How One Outsider Artist Reclaimed Her Drab Indoor World
Suddenly confined in a small space, Afia Zecharia painted every wall.
In a small housing project apartment within the town of Shlomi, Israel, an 80-year-old woman stood and painted Yemenite embroidery patterns on the walls and ceiling. Neighbors claim they heard the woman talking—to herself or to her paintings. After her death, the project apartment and its concealed treasure began attracting hundreds of visitors every year.
The woman, Afia Zecharia, passed away in 2002. She was born in the early 20th century in Southern Yemen. Her parents married her off when she was 10 to prevent her from being kidnapped and married outside the faith, and during her youth she used to paint on the walls of affluent houses. In 1950, she immigrated to Israel with her jeweler husband. Along with their six children, they settled in a house in the ruins of the Palestinian village al-Bassa. Zecharia wanted to paint on the walls of their house, but her husband forbade it.
Shlomi was founded in 1950 along with an immigrant absorption camp on the remains of the Palestinian village. The town officials decided to expand and build an industrial park on the camp grounds. In 1980, Zecharia, a widow, received an official document and was asked to sign it. She was illiterate and signed with her fingerprint. Only after signing did she realize she had been relocated into a housing project. She suddenly found herself confined by white walls. She bought pigments and began to paint again, at night, covering the walls with Yemenite embroidery motifs, which traditionally signify social and financial status, as well as the expression of emotion and fantasy.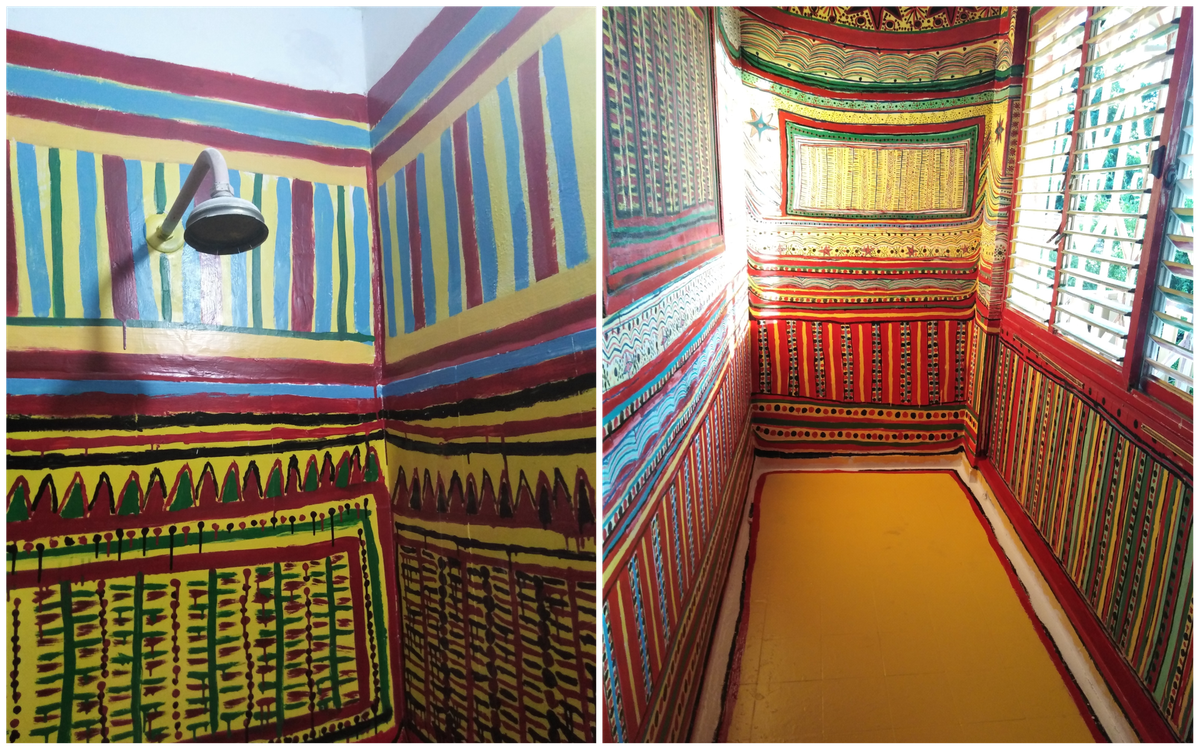 Dr. Amit Alon, a scholar of Jewish thought, remembers well the day he visited Zecharia with some of her relatives, back in the 1990s. "Shlomi is a desert-like town," he says, "but this was a particularly yellow day." The relatives, including his wife, told him about Zecharia. "My cultural conditioning kicked in: I imagined an elderly woman weaving Yemenite baskets." Then Alon walked in and, seeing the floor-to-ceiling patterns in vivid colors, felt a strong sense of vertigo. "I couldn't tell up from down. It was a total shock." Zecharia made Yemenite soup for the family. "We sat and ate soup inside a painting, the small kitchen was entirely covered with patterns," Alon remembers.
Today, Zecharia is recognized as a genius but obscure Mizrahi artist. In the eyes of many, she reclaimed the sterilized, anonymizing space that was assigned to her, and instead of being oppressed by it, made it her own. "Afiya Zachariah's apartment is a classic example of the Mizrahi revolt," Haviva Pedaya, an Israeli cultural researcher, and professor of Jewish history at Ben-Gurion University, has said. "[I]t is, in fact, an import of a denied space into the Israeli sphere."
"Afiya spoke Yemenite Arabic so we couldn't understand each other," Alon says. "She was distant, as expected from someone like her: a great artist with a great ego." Zecharia had not received public attention for her work, "because back then there wasn't much written yet about artists creating outside the cultural center. Afiya wore dramatic make-up and lived in a dramatic world and looked like the ruler of a kingdom."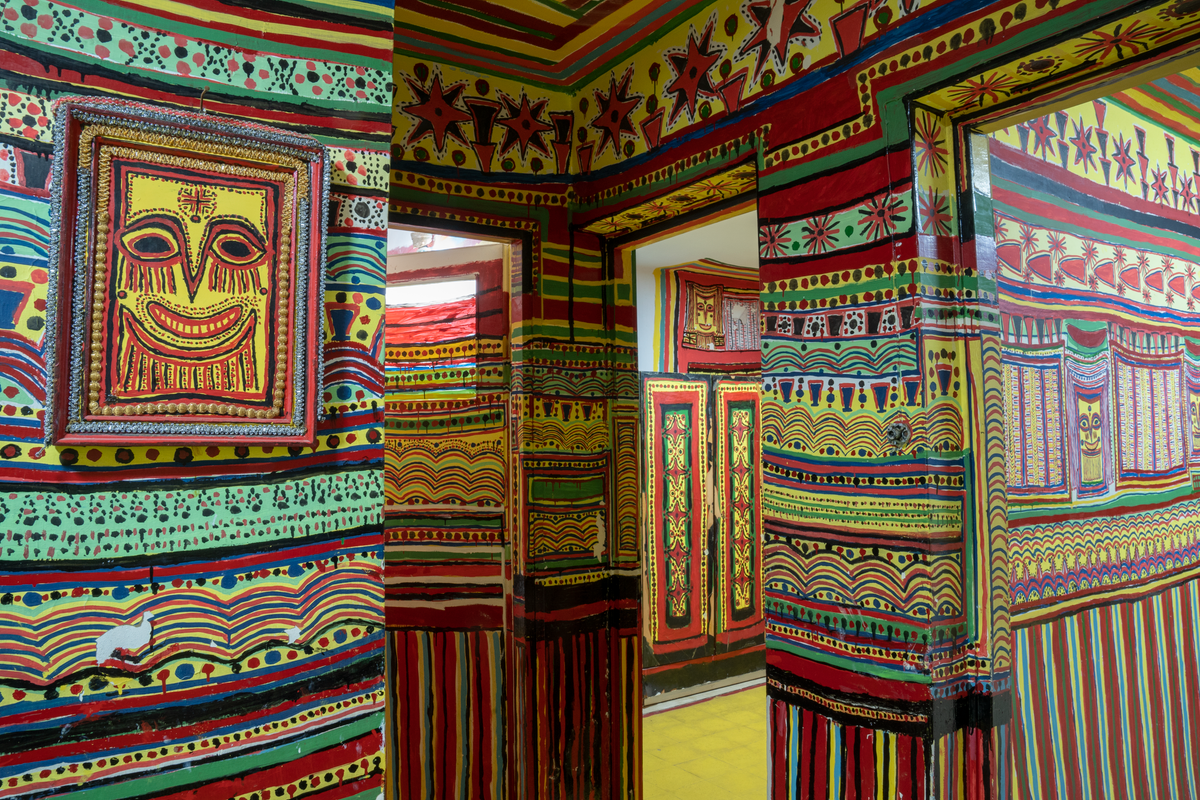 The artist Maya Cohen Levi, who visited Afia Zecharia a few times during the '90s, recalls a different experience: "there was no ego in our interaction, but it was clear she understands that she's creating something important. She created space in the deepest sense of the word: a space for herself."
"She lived in a project housing apartment with three tiny rooms," Cohen Levi remembers. "The rooms reeked of car paint, but the house was clean and the beds had pressed white sheets. I will never forget the dozens of raspberry juice concentrate bottles under the kitchen sink, and how she would serve guests with juice. In our conversations, which mostly consisted of hand signs, I realized that she is reconstructing ritualized actions from weddings in Yemen. I see her paintings as an act of magic."
Ayelet Bar-Meir, a tour guide who wrote a book about women in the Galilee, takes groups for visits in Zecharia's house, which, like all visits to the place, are coordinated with the Shlomi municipality. She says visitor reactions are often similar: "Some people come up to me, pale, to ask where is the door, where is the exit. Others weep. They identify with the feeling of emptiness and isolation."
One of Afia Zecharia's granddaughters told Bar-Meir that her grandmother used to paint in the dark "because these are the hours when the angels appeared." Curator Asia Dublin, who restored the paintings in the house last year, would also work there at night. "I worked for two months," she says. "The patterns in Afia's paintings seem to repeat themselves, but when you go over them with a brush you realize that no two are alike." Nevertheless, she says, Afiya's painting is "structured, methodical and logical."
Dublin didn't get to speak with any angels, but according to her, the house had its own presence. On Cohen Levi's last visit to Zecharia, the door was locked. "That time, Afia, whose door was always open for visitors, peeked out suspiciously from the window, and opened the door only after she recognized it was me. In that last visit, her face was covered with temporary tattoos. Afia had covered the walls, the ceiling, dolls, photographs. When they were all covered, she began to cover herself. This was the last stretch of her life: she put herself into the painting."