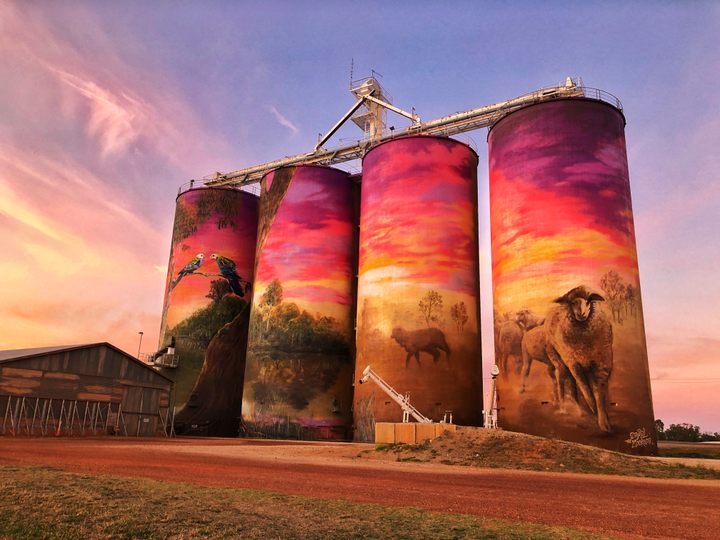 Painted Silos Are Turning the Outback Into an Alfresco Art Gallery
Can these unlikely bursts of beauty refresh Australia's parched rural towns too?
Australia was bled dry. From 2017 to 2019 the sunburned country endured one of its worst droughts on record—a prolonged natural disaster that forced farmers to walk away from their land and left rural towns reeling. With no tourist dollars to depend on, such towns were in danger of being erased from the landscape.
Until the painted grain silos began to appear, that is.
In the past few years, an unlikely public-art movement has burst to life in the outback, giving visitors a reason to travel long hours on dusty roads to the middle of nowhere—and giving at least some of those remote towns a reason for hope.
The first painted silo actually preceded the drought when it appeared in 2015, in the Wheatbelt town of Northam. There, in the arid outback of Western Australia, a cultural nonprofit called FORM recruited two well-known street artists, Phlegm and HENSE, to paint eight 124-foot-tall silos owned by Australia's largest grain exporter, a growers' cooperative called the CBH Group. What they hoped would be Australia's largest outdoor murals—part of an unnamed project aimed at bringing art to the country's dusty interior—soon became much more than that.
The silos were a hit, and became the catalyst for the Public Silo Trail—a joint project of the CBH Group and FORM that brought international artists to towns in Western Australia hankering for their own enhanced silos. The towering artworks that have resulted, visible for miles around, have been a boon, with visitors spending their time and money at local pubs and lodgings.
The silo trail has since extended to other states in the country, including New South Wales, Victoria, South Australia, and Queensland. Towns have formed silo art committees to apply for government grants, raise funds, and join the Australian Silo Art Trail, which connects remote communities through art and tourism.
Today there are 35 painted silos dotting rural Australia, many of which are owned by GrainCorp. They're accessible via six driving trails that span 4,700 miles—a public open-air gallery improbably blooming in the outback. And there may be more soon: 25 towns around Australia are currently planning new commissions.
Each painted silo tells a story about the region, its people, and its history. These are a few of them.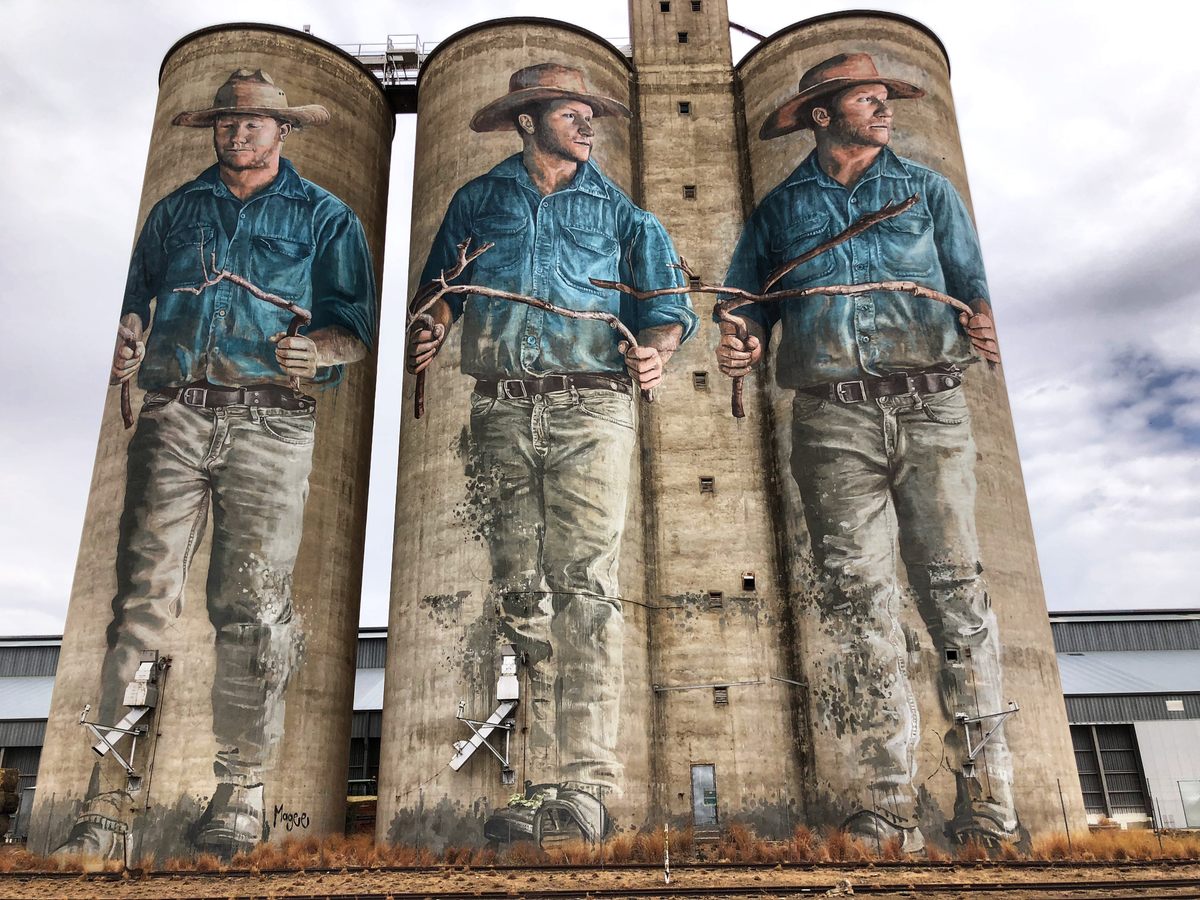 In March 2019, Sydney artist Fintan Magee was selected to paint the privately owned Barraba Silos. After speaking to local residents to get a sense of the town, Magee conceived this 131-foot-tall mural. Completed in 24 days, it depicts a man searching for groundwater using a Y-shaped divining rod—a technique still widely used in Australia.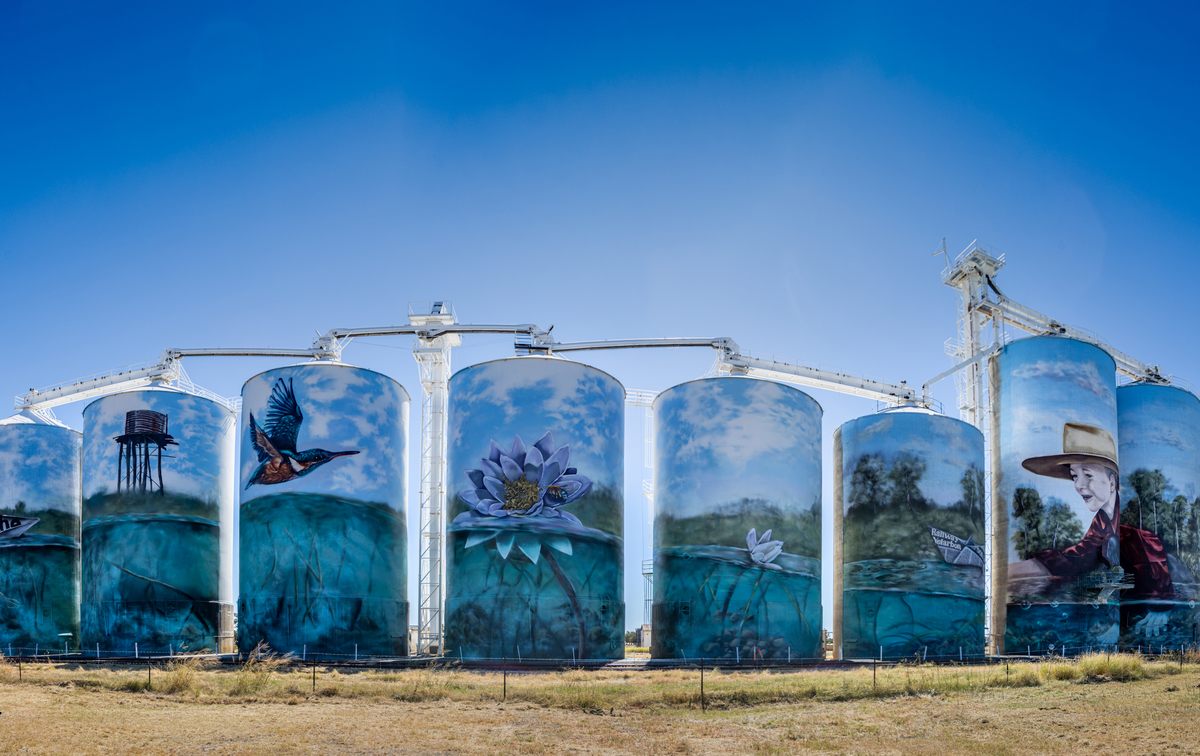 Yelarbon is a small town on the edge of a spinifex desert. Artist Joel Fergie (aka The Zookeeper), envisioned painting an oasis on the silos here, but due to health reasons was unable to complete his work. Jordache Castillejos and Jordon Bruce—members, along with Fergie, of the Brisbane group Brightsiders—took over and created a hopeful mural of a boy cooling off in the Yelarbon Lagoon with a paper boat in his hand. The artists used more than 264 gallons of paint across 19,375 square feet.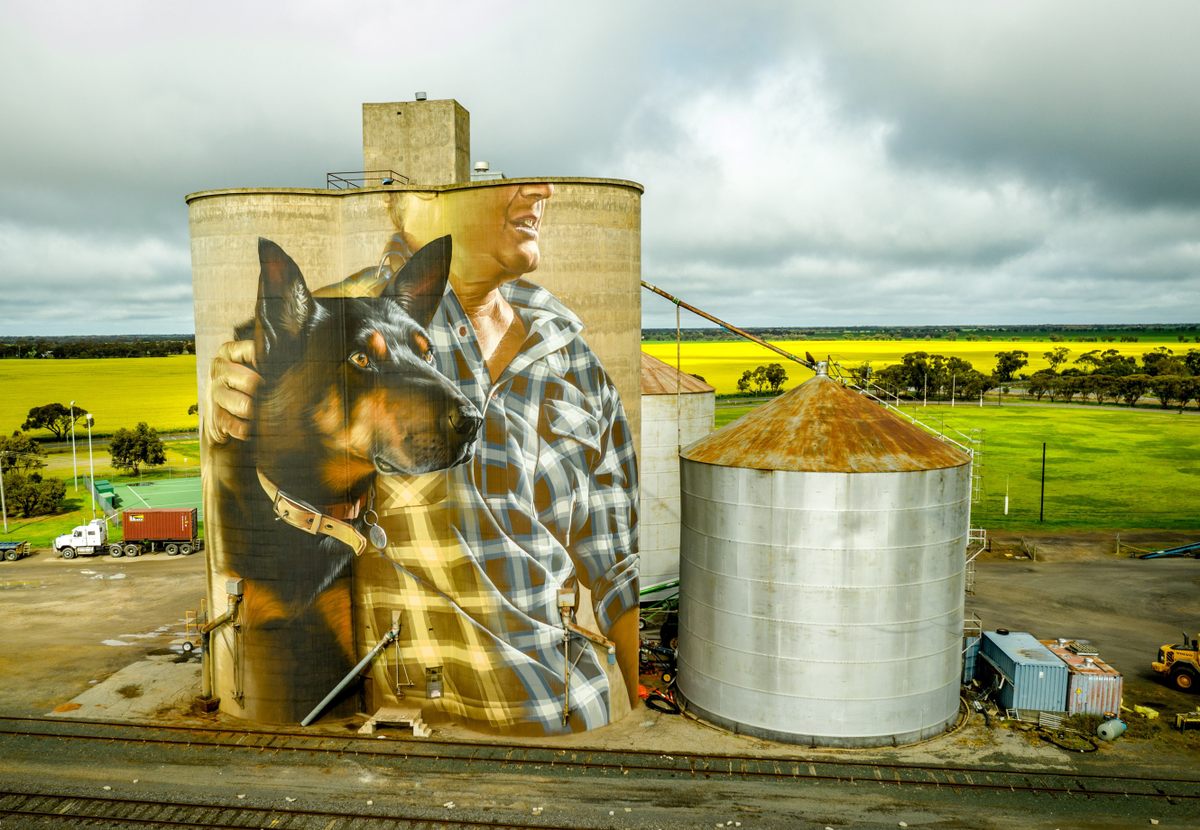 Sam Bates (aka Smug) used a cherry-picker to paint this mural of an Australian kelpie named Jimmy sitting beside a human companion—a concept the artist settled on after seeing photographs of daily life in the town. It took Bates 14 days to paint this 80-year old silo, which cost $115,480 AUD—a sum raised by the Pick My Project community grants initiative in Victoria.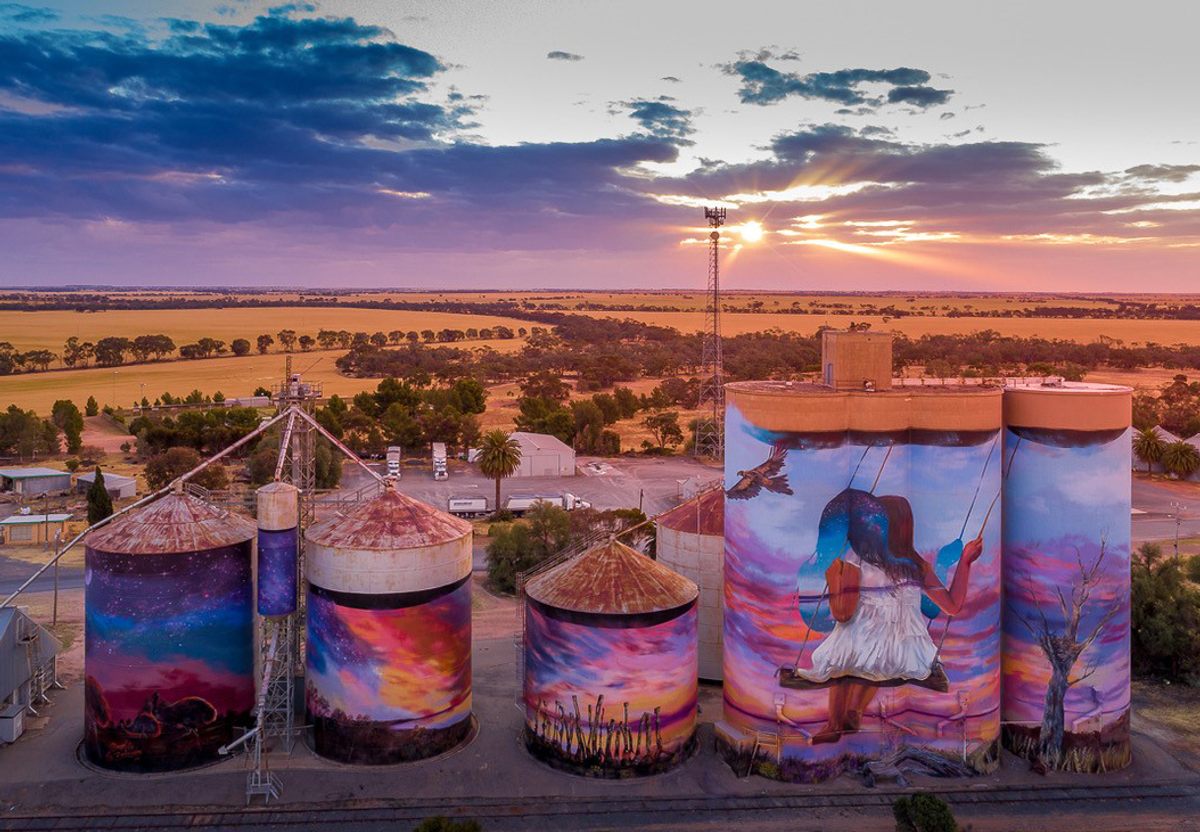 This mural by Fergie and Vinson tells the story of the Boorong people. The indigenous group is known for its astrological knowledge and ability to understand the changing seasons using constellations. With a vivid, vibrant backdrop, the mural depicts a young girl swinging from a mallee eucalyptus tree, gazing out over a lake and surrounded by native animals. The project took 11 months from conception to execution, with 20 days of painting.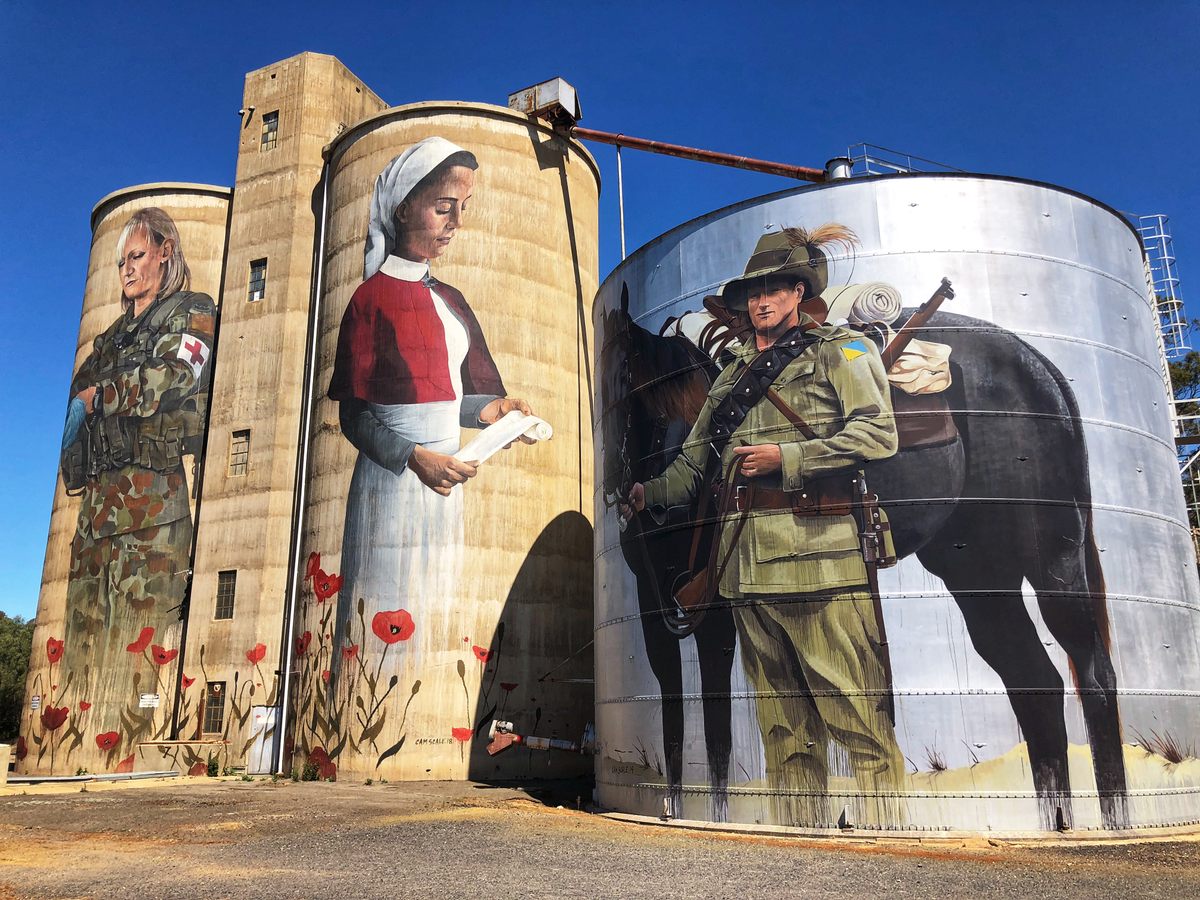 Melbourne street artist Cam Scale painted the 19th silo on the trail. The first stage was unveiled on Anzac Day 2018 and included two tall silos—one depicting a World War I nurse, the other a modern female military medic—painted to celebrate the centenary of the war's end. The second stage, unveiled a year later, is a tribute to the mounted troops known as the Australian Light Horse. Painted on two shorter silos, it honors the 50 young men and women from Devenish who enlisted in the military a century ago. At the time, that meant that one in six of the town's residents went to war.