What Is This Art Gallery Doing on a Congolese Palm-Oil Plantation?
It is sparking debate about art, opportunity, and the legacy of colonialism.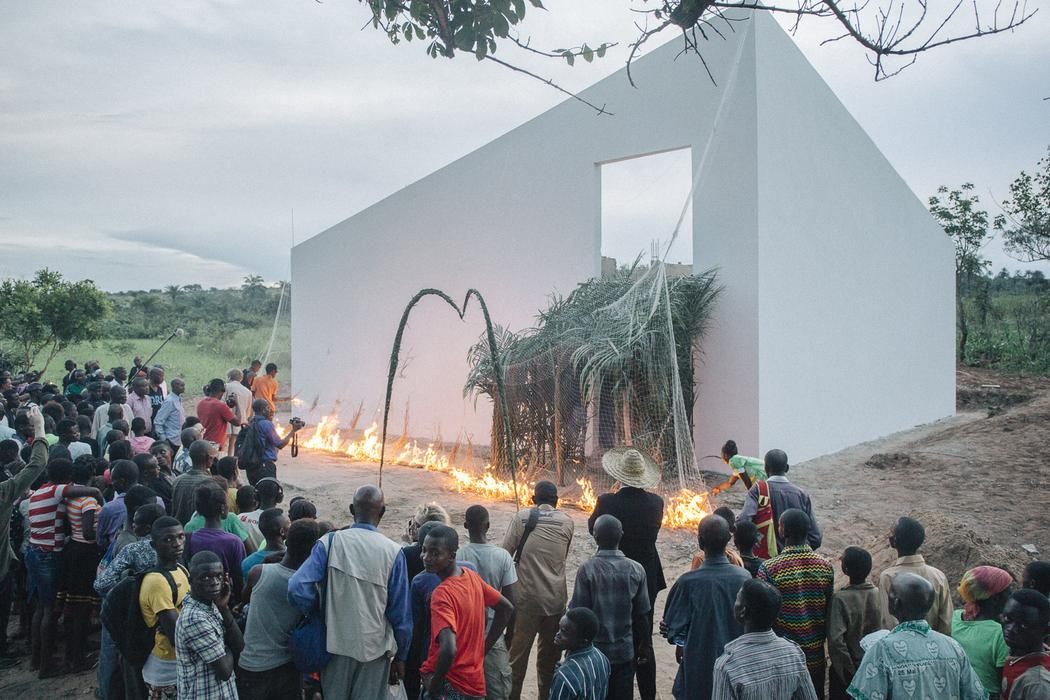 In April 2017 an art gallery opened in an improbable place—on a former palm oil plantation in Lusanga, the Democratic Republic of Congo (DRC).
Located more than 400 miles southeast of the Congolese capital, Kinshasa, the town is remote and impoverished. Workers on the plantations make just $19 a week, and many have too little to eat. The bright white gallery, a brand new institution whose ambit is yet to be defined, stands out not just against the red earth and lush foliage of its surroundings, but as an incongruous extravagance.
The gallery is the latest development in an ongoing project that's incited heated debate. Can art be used to address the economic exploitation of the plantation economy that plagued Africa for centuries without, on some level, being a source of exploitation itself?
The plantation workers of Lusanga had never even seen an art gallery before the gallery's inauguration, a ceremony entitled "The Repatriation of the White Cube," but more than 2,000 people took part in the festivities. There was music, dancing, and the ceremonial burning of a fishing net draped over the gallery's exterior.
Both foreign and local artists took part, including the gallery's resident collective, Cercle d'Art des Travailleurs de Plantations Congolaise (CATPC), a group of 12 Congo-based artists who see art as a tool for the economic development of the whole Lusanga community.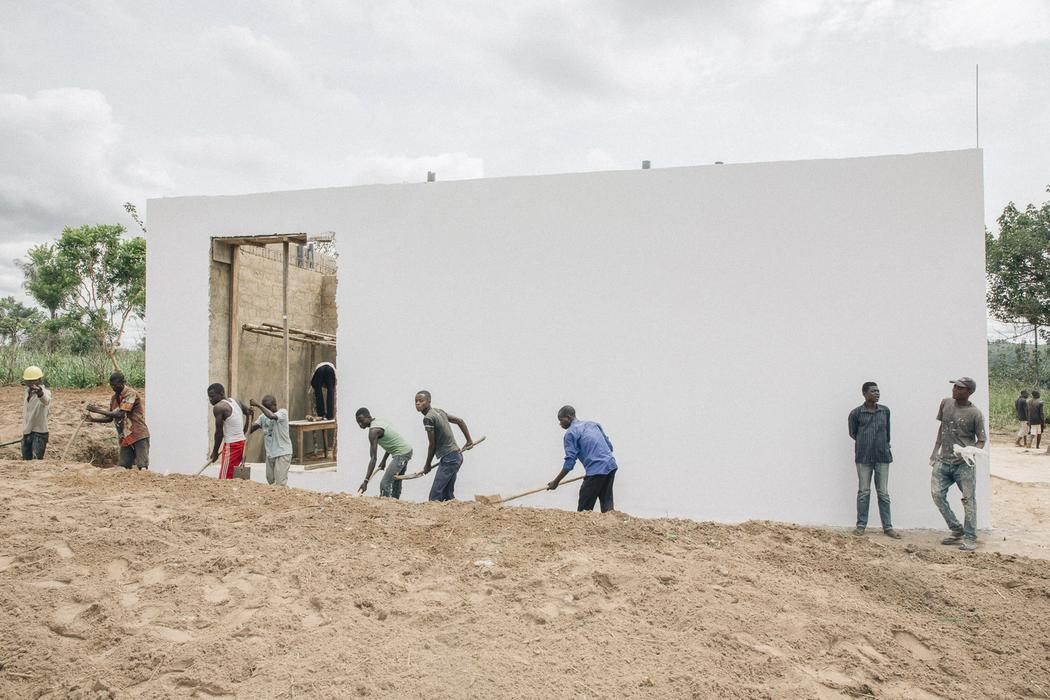 Artist Mathieu Kasiama quit school aged 10 when his father, a palm nut cutter for Plantations Lever Zaire, died. He worked growing crops, cutting palm nuts, and cutting hair before joining the CATPC as "an opportunity to have a bit of work." Earlier this year, he traveled to New York to see his work displayed at SculptureCentre in Long Island City—the first time he's left Lusanga, and the first time he's been to an art institution.
Since joining the CATPC, Kasiama says, "I've spent a lot of time in solitude, with deep thoughts, and art is allowing me to give them form."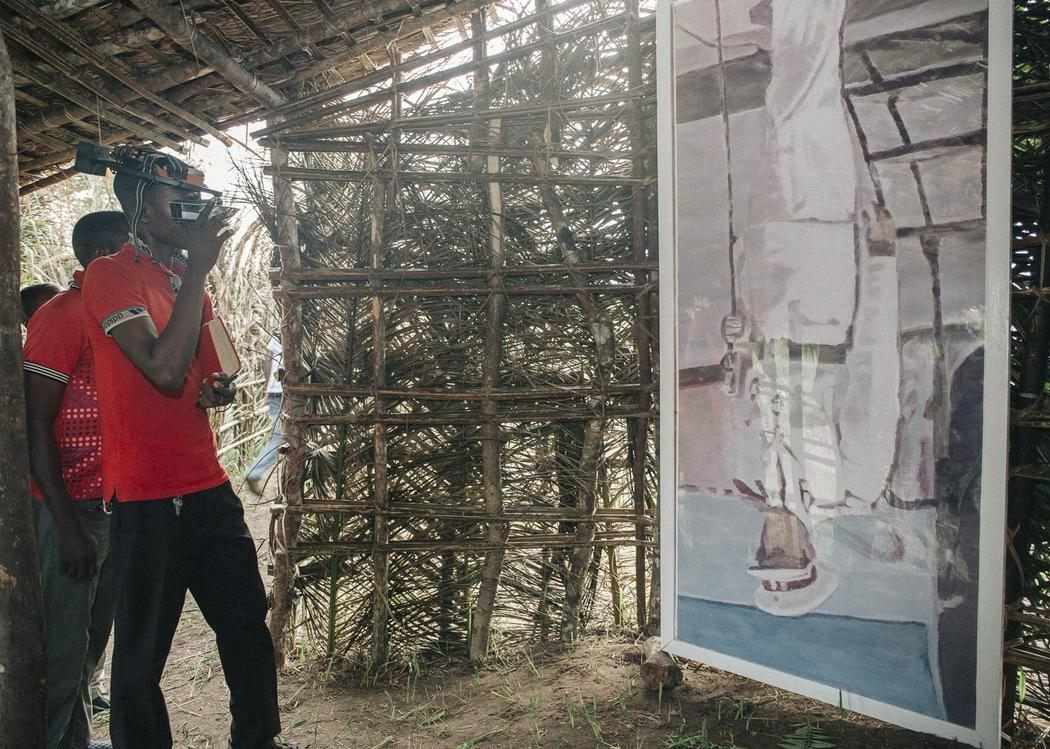 Among the CATPC's creations are river mud sculptures, digitized using a 3D scanner, sent to Europe, and cast in chocolate using Congolese cacao beans, the product of plantations like theirs.
These chocolate sculptures have been exhibited at museums and galleries in Berlin, Amsterdam, Middlesbrough, and New York. Profits from the art works now total around $100,000—equivalent to 101 years of plantation work—all of which go back to the collective.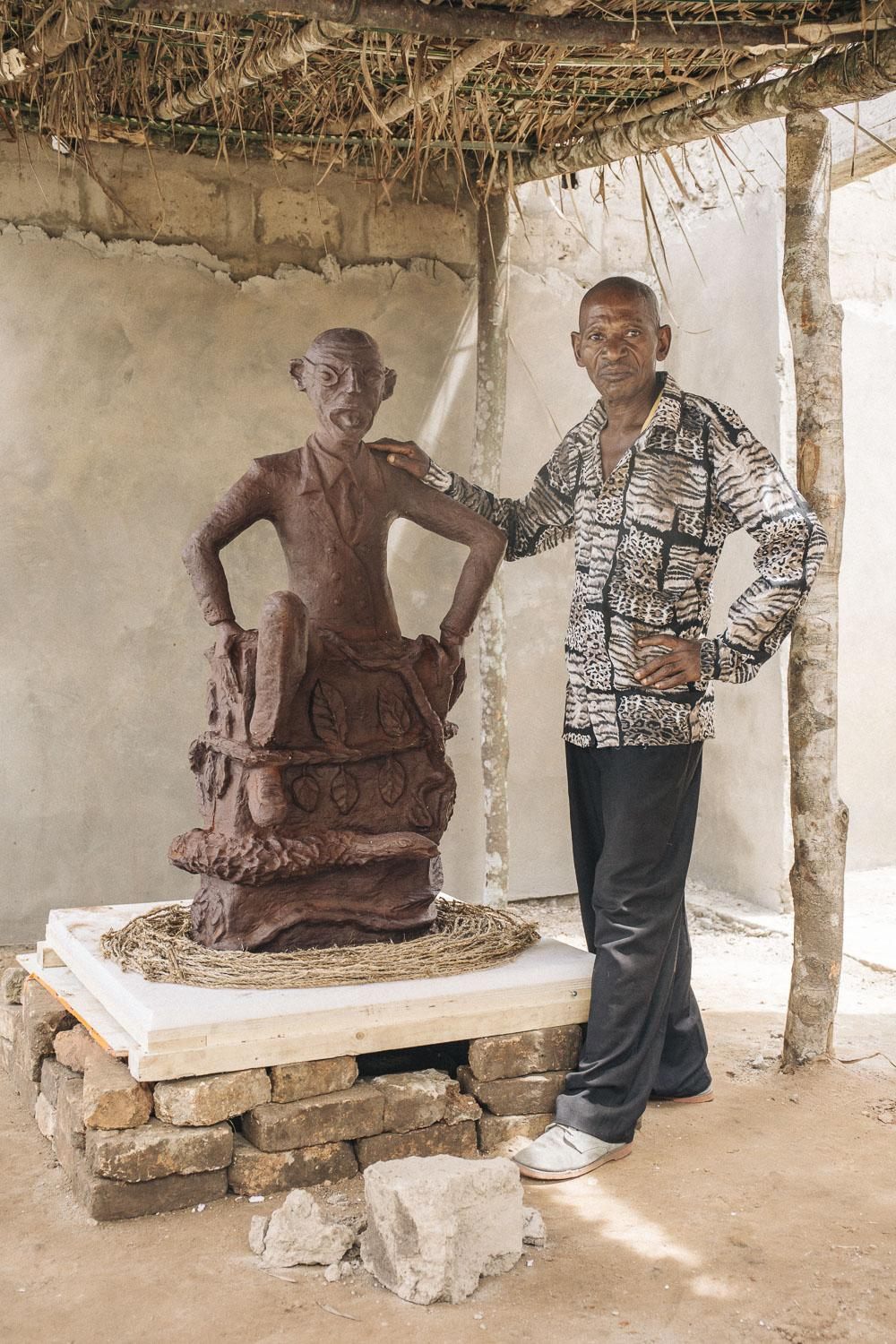 The new gallery is part of the Lusanga International Research Centre for Art and Economic Inequality (LIRCAEI)—a conference center, library, and art gallery designed by Rem Koolhaas's Dutch architectural firm OMA. Beyond its function of showing art to the people of Lusanga, the White Cube (actually an irregular hexahedron) is symbolic. Organizers say the gallery walls represent a "white" culture, and are granted new meaning when placed in a part of Africa Joseph Conrad dubbed The Heart of Darkness. There's a longstanding tradition of art created in Africa—from ancient carvings to contemporary art—being pulled away from the continent to be sold in Western capitals like New York, Amsterdam, and London. The cube, in some ways, reflects the return of that cultural capital to where it was created.
The extraction of cultural capital follows, of course, a long history of the exploitation of natural resources, including Congolese palm oil plantations. Belgian King Leopold II established the Free State of Congo as a personal colony in 1885, and used forced labor to extract ivory and rubber. In 1911, land there was granted to Britain's Lever brothers, who later partnered with Dutch margarine manufacturers to form consumer goods conglomerate Unilever, to establish palm oil plantations, with which to make consumer items such as Sunlight soap.
Lusanga, once known as Leverville, was home to Unilever plantations until 2009, when they were sold to a company called Feronia, which continues to produce raw materials for Unilever products.
The CATPC initially produced their works on a Feronia plantation, from 2012 to 2014, before the owners changed their minds about the project and kicked the artists out. Now, with funds raised from their art, the CATPC plans to purchase their own land for more diversified, sustainable farms, or "post-plantations," that would put an end to over a century of low-paid or unpaid labor performed for foreign kings and shareholders.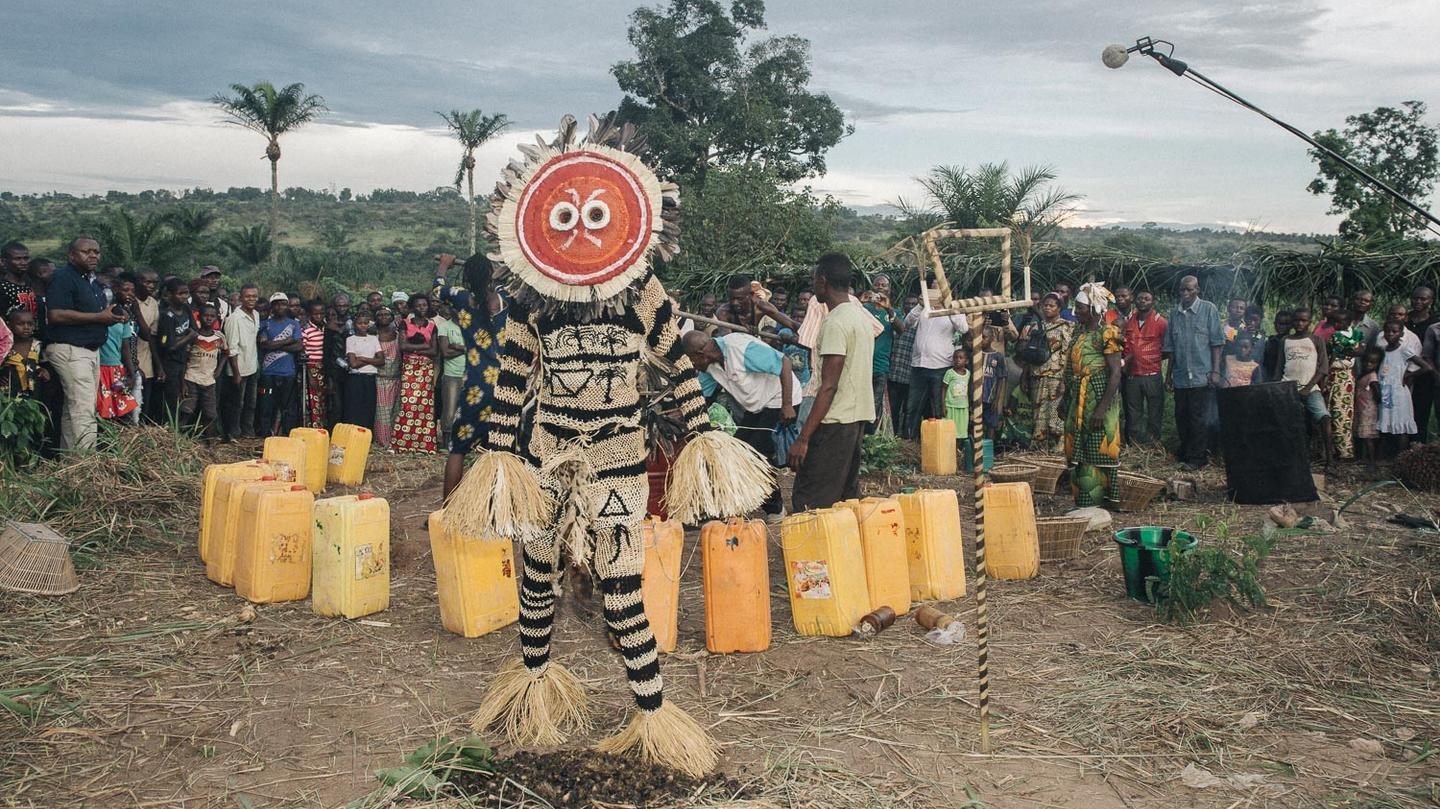 Now one of the world's largest conglomerates, Unilever has actively sponsored art exhibitions, including a series of installations at London's Tate Modern gallery. Because these exhibitions have been paid for, in part, with the profits of Congolese labor, the Congolese should have a more prominent place in contemporary art, according to Dutch artist Renzo Martens, director of a research project called the Institute for Human Activities (IHA) and one of the main drivers behind the Lusanga Centre.
Martens sees his work with the people of Lusanga as a mutually beneficial effort, where he brings his experience with using art to comment on the world and they bring, among other things, an understanding of war, famine, and the consequences of colonialism and its hunger for resources, from palm oil to gold to coltan.
"It's so strange that capitalism, being paid for your capital, would only work for rich people," he says. People who endured brutal economic, social, and political hardship, he posits, have an understanding of the world that everyone can and should learn from.
"On the one hand there's people who need to work all day and shut up, and other people elsewhere on the globe are allowed to think that through, to critique and to comment upon it, to generate alternatives," Martens says. "That is a very strange, in my mind, distinction, a very strange type of apartheid."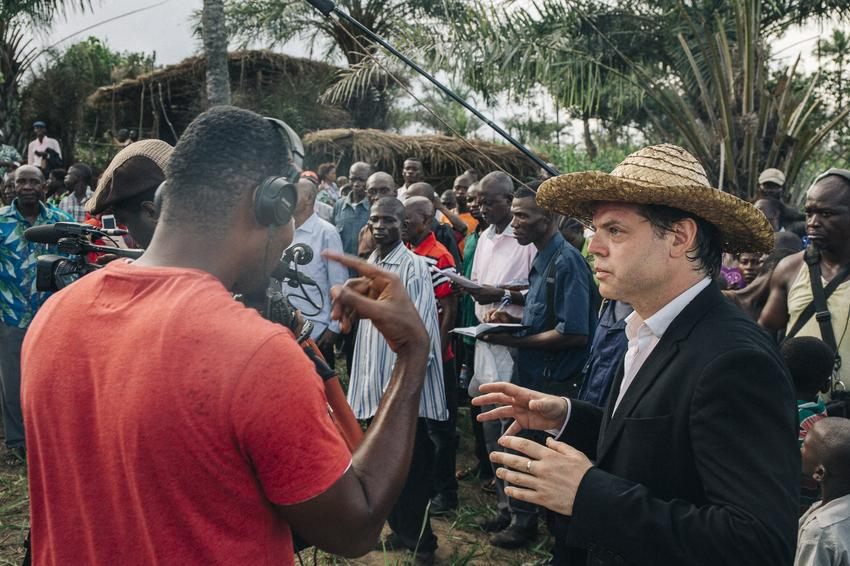 Martens' dream of helping to "gentrify the jungle," as he described the project to The Guardian, has come under fire. Ania Szremski, editor of art blog 4columns, has accused Martens of acting as a "parachuting, white, Western do-gooder." She implies that in order to further his own career as an artist, Martens is exploiting the people of the Congo in ways that echo the actions of Unilever and King Leopold II.
American curator Jarrett Gregory, who visited the CATPC in the Congo, says "one of the reasons I wanted to go was because it's a very controversial project and I wanted to meet the artists and see what it was like on the ground … it felt really exciting to me what they were doing."
Despite the controversy, the new art center allows at least a few Congolese plantation workers—previously denied the educational and economic opportunities that are more common in wealthier countries—to contribute more to the global economy while at the same time improving the understanding of its failings.
Art institutions are often accused of alienating their audiences. But of the White Cube, a building that—in Lusanga, at least—looks like it might have come straight from outer space, Mabiala says simply, "it is our house."