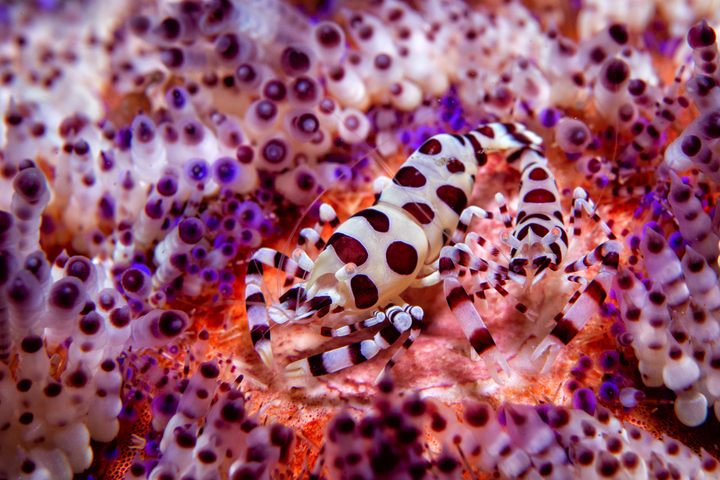 How the Best Underwater Photography Reveals a World of Wonder
Welcome to the home of pink coral-scapes and fluorescent lizardfish.
Hidden beneath churning ocean waves is a world teeming with unknown creatures. In the waters off Madeira in the North Atlantic Ocean, fluorescent lizardfish light up the dark sea. Off the Scottish coast, an hour's drive east of Edinburgh, thumbnail-sized long-clawed porcelain crabs delicately scuttle along a muted, yellow coral nicknamed dead man's fingers. Swimming along California's shifting tides are the deep water plainfin midshipman fish that travel from the ocean depths to the rocky shorelines where males "hum" to attract a mate. (Their humming, which people can hear from shore, even prompted "generator-like" noise complaints in Sausalito, California.) Earth's oceans are full of such creatures, and thanks to some daring photographers who aren't afraid to get a little wet, we can all catch a glimpse of these underwater wonders.
Plunging into chilly waters isn't the only thing that makes capturing these aquatic animals difficult. U.K.-based photographer James Lynott had to swim at night with a water-resistant LED blue light and a heavy underwater camera to find and photograph a glow-in-the-dark lizardfish. In Indonesia's northern Lembeh Strait, photographer Katarzyna Battenfeld carefully searched for a colorful Coleman's shrimp scurrying around the venomous fire urchins that the crustaceans call home. As Battenfeld put it, "there is a lot of luck involved."
Recognizing the patience, work, and luck it takes to capture a stunning underwater image, British underwater photographers Peter Rowlands, Dan Bolt, and Alex Mustard launched the "Underwater Photographer of the Year" competition in 2014/2015. The competition awards multiple winners each year in various categories, such as shipwreck images, portraits, black and white photography, and more. From stunning pink coral-scapes to mating coconut octopuses, Atlas Obscura selected some of our favorite images from this year's finalists and winners: Welcome to the wonderful world beneath the ocean's waves.