For Sale: 300-Year-Old 'Shipwreck Wine' Rescued From the Bottom of the Sea
It may still be safe to drink.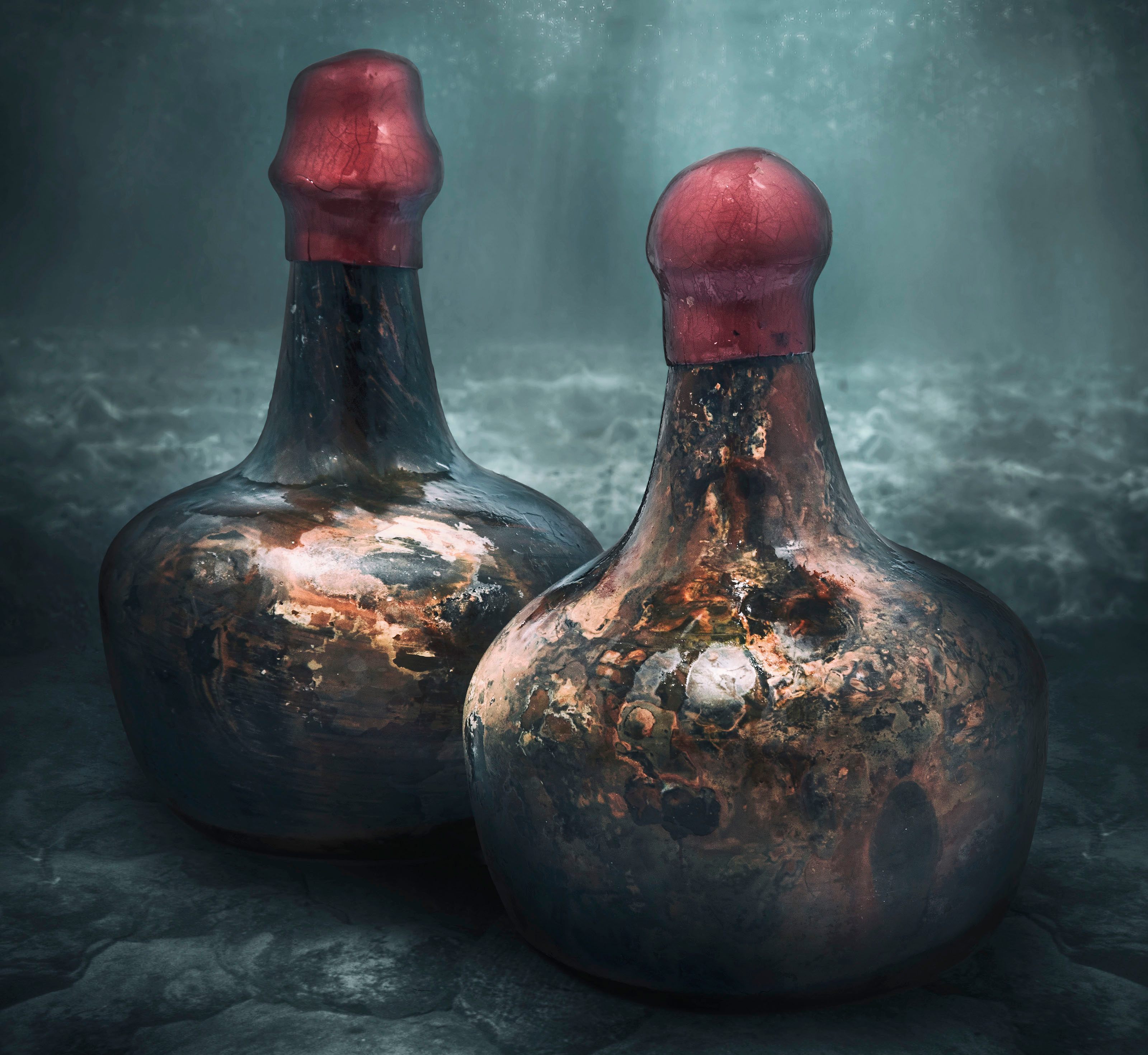 In 2010, a team of underwater salvagers toasted a deep-sea discovery with a rare vintage. Their discovery? The very wine they were about to drink: 350-year-old bottles they had fished out of a decrepit shipwreck off the coast of Hamburg, Germany. While the ship had deteriorated past the point of recognition, 14 bottles of exceptionally well-aged red, packed lovingly in a rattan basket, survived the 130-foot plunge and had been resting on the seafloor for centuries. Now, two of the bottles are up for auction by Christie's London, and the auction house estimates they'll fetch between $32,942 and $38,010.
After the salvagers plucked the case from the sea, scientists got to work interpreting the bottles' contents. Professor Régis Gougeon, of the University of Burgundy's Institut Universitaire de la Vigne et du Vin, used the presence of resveratrol, a substance that comes from grape skins, and tannin degradation to determine that the drink had in fact been a strong, red wine. Judging by its location and age, it was possibly a Bordeaux, though we can't know for certain, says Charles Foley, Christie's London Wine Specialist. An inspection of the bottle and cork further suggested that the wine was bottled between 1670 and 1690.
That advanced age makes these two bottles the oldest ever offered for sale by Christie's, though they're still far from the oldest unopened bottles of wine in the world. That honor goes to the Speyer wine bottle, a jug of wine that, before its disinterment in contemporary Germany, sat in a Roman tomb for more than 1500 years. The Speyer wine is probably still safe to drink, though scientists say it likely wouldn't taste good. More drinkable, though still quite aged, are the Thomas Jefferson wines sold by Christie's in 1985. While they may not have actually belonged to the president, who was a notorious wine snob, former Christie's authority and certified Master of Wine Michael Broadbent sampled one 1784 bottle and dubbed it "perfect in every sense."
If you're tempted to replicate this taste test with the shipwreck wine, Christie's cautions that its "drinkability is questionable." "It's offered more as an antiquity," says Foley. If you are interested in trying an underwater wine, but lack the bravery (or budget) for a three-centuries-old vintage, there are several contemporary vineyards aging their wines in the ocean, minus the shipwreck. Foley says that one maker lowers white wine in cages to the bottom of the Baltic Sea, all for that aquatic je na sais quoi.
In fact, wine aged underwater is downright commonplace. "You imagine Laura Croft, but it's a bit more mundane than that," Foley says. Still, none of those bottles can boast quite as dramatic an origin story, or as long an underwater tenure, as the Christie's specimens. While acquiring the bottles may not require any tomb raiding, 300-year-old shipwreck wine is sure to be the most badass beverage in your liquor cabinet.
Gastro Obscura covers the world's most wondrous food and drink.
Sign up for our email, delivered twice a week.