One Woman's Quest to Create Truly Japanese Cheese
Sakura blossoms, sake, and local microbes set Chiyo Shibata's cheese apart.
Chiyo Shibata stands in a small concert venue, her signature white towel tied around her head. Behind her is a group of taiko drummers and in front of her is a small table with a burner, milk, and salt. As the drumming begins, she takes a deep breath and begins to make cheese.
This is not her usual workshop. "One of my goals is to introduce Japan through cheese," Shibata says, as we settle at the counter of the 120-year-old building that is Fromage Sen, her cheesery. Only 90 minutes by train and car from Tokyo Station, here in the mountainous center of Chiba Prefecture, rivers tumble and curve past villages and farms. For Shibata and her community of cheesemaking microbes, it is home and where she brings what she considers a distinctly Japanese cheese to life. "When a friend showed me this house with its traditional tile roof, it reminded me of a sake brewery," she says, gesturing to the natural wood walls. "It was ideal."
A cold spring snow edges the bright pink camellias in her garden with white, but the inside is cozy as vats of milk heat in preparation for transformation into cheese. In this quintessentially Japanese setting, Shibata makes cheese with Japanese ingredients, Japanese microbes, and global ambitions.
Shibata fell in love with cheese as a young girl when her father, a mechanic with Air France, took the family to Paris for summer vacations. However, it was during her final year of high school that she found her destiny.
"I happened to read a newspaper article that said we would soon face a food, climate, and energy crisis," she recalls. The article listed fermented foods that could be preserved to prevent waste, "and of those, cheese had the highest nutritional value."
Cheese is not a traditional part of the Japanese diet, although cows and dairy were noted now and again in ancient records. According to Eric C. Rath, a professor of Japanese history at the University of Kansas, Japan's government encouraged cows for agriculture as far back as the 8th century, but interest faded because of the difficulty of grazing cattle on Japan's rocky topography.
Ancient texts, though, also describe three things that may be similar to cheese: so, raku, and daigo. "The problem is that, except for so, we don't know how these were made. Raku may have been a yogurt drink, and daigo is supposed to be the epitome of dairy products. Buddhist monks compared its taste to enlightenment." says Rath. "Something so good that it could totally change our understanding of the world."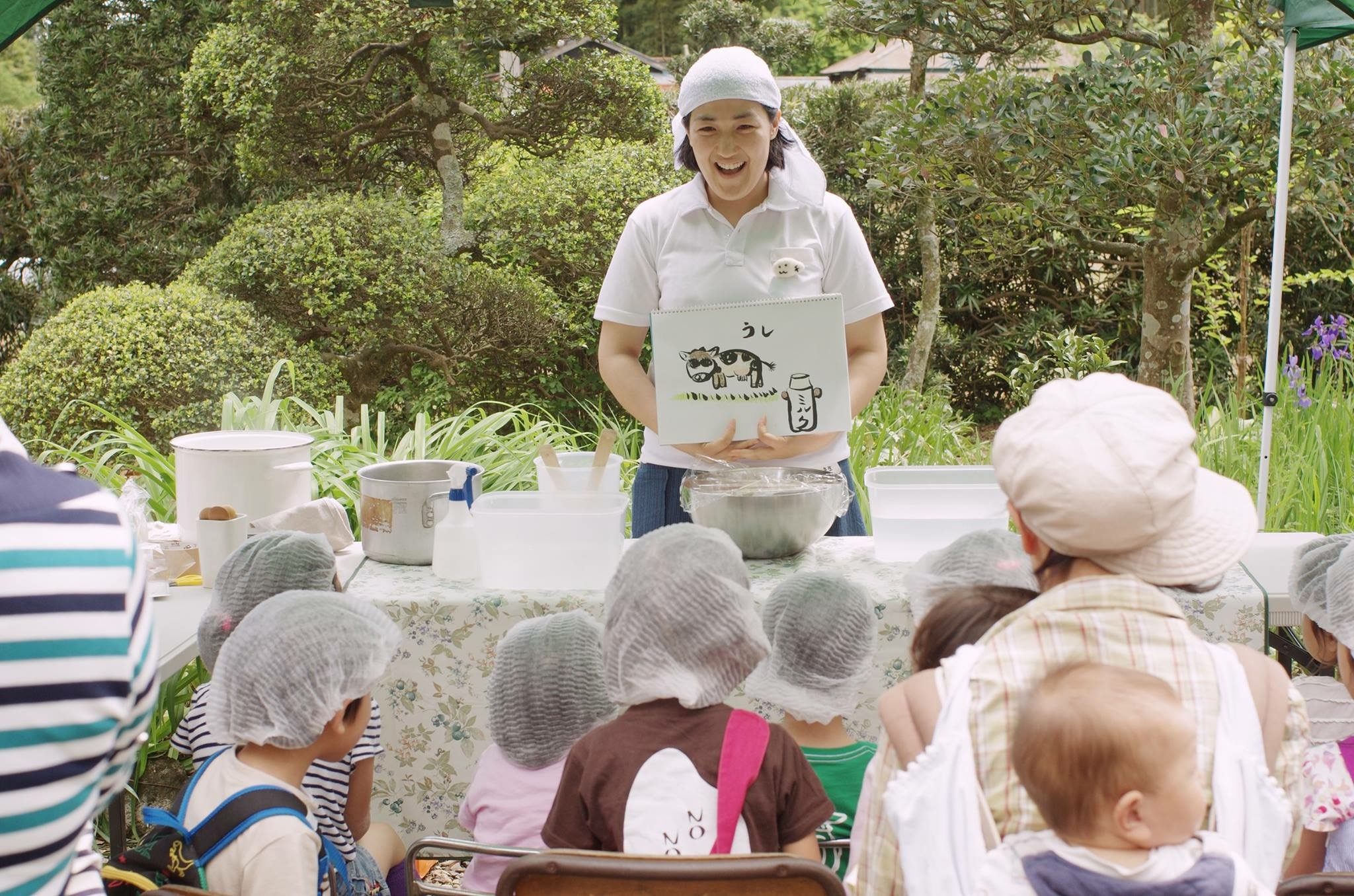 The government encouraged owning cows and consuming dairy again during the Meiji Period (1868 – 1912) in an effort to Westernize, but it wasn't until American occupation after World War II that milk became standard school-lunch fare. Even then, cheese remained a rarity until the 1970s. As the Japanese economy strengthened, a sort of back-to-the-land movement occurred in reaction to the 20th century's heavy industrialization and resulting pollution. It was then that Nozomu Miyajima moved to Hokkaido, the country's northernmost island, and founded Kyodo Gakusha, one of Japan's largest and oldest artisanal cheesemakers. Since then, the number of artisanal cheesemakers in Japan has climbed to nearly 300, but their work remains relatively unknown even at home.
Enter Chiyo Shibata.
Shibata studied microbiology and fermentation at Tokyo University of Agriculture, followed by apprenticeships with cheesemakers in France. However, when she returned to Japan in 2008 ready to work, she received a string of rejections for being overqualified. In 2011, she landed a position as a microbiologist at a government food safety lab in Chiba Prefecture. All the while, she made cheese at home at night and on the weekends.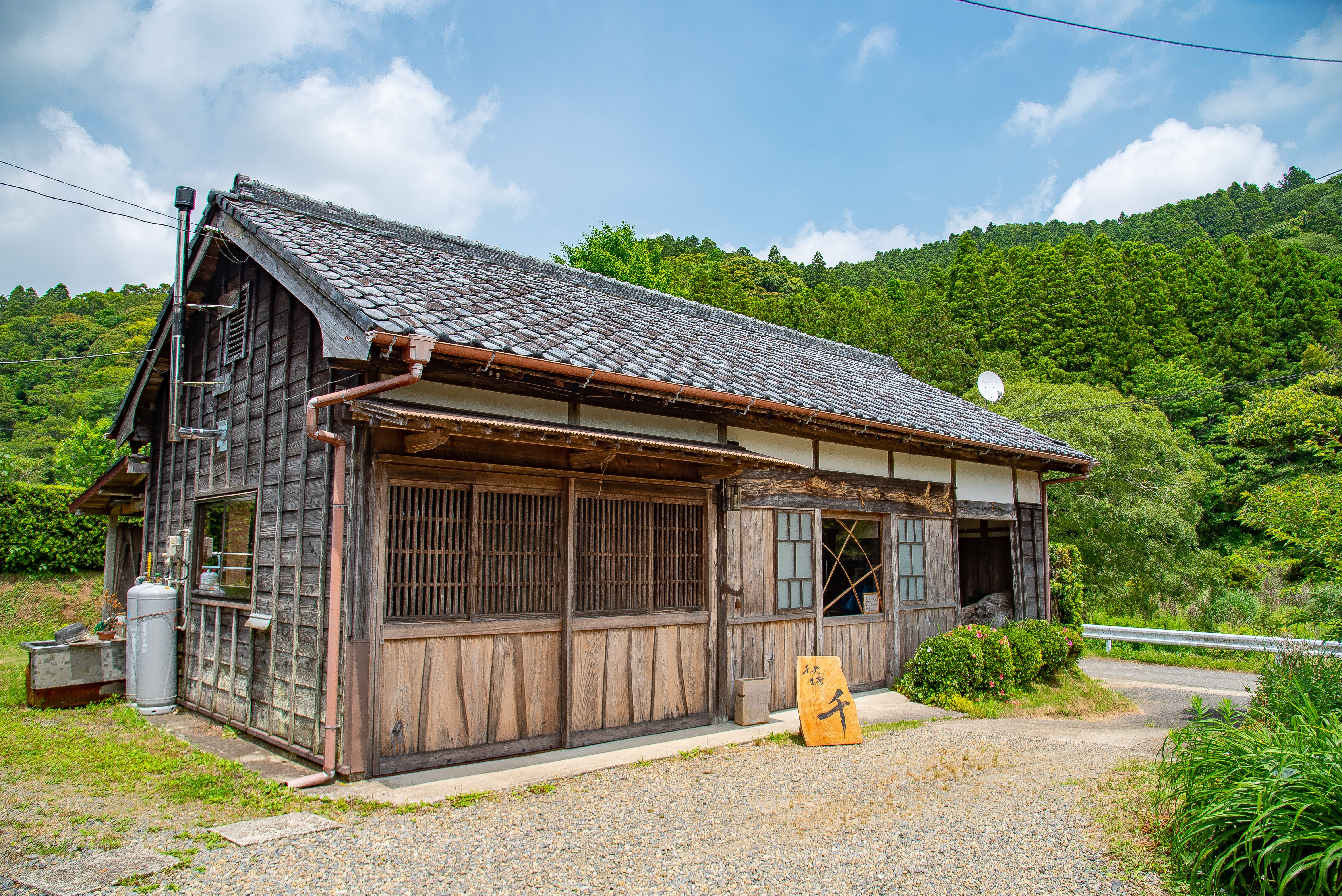 Then, in 2013, Koshida Shouten, a renowned dried fish maker, called the laboratory. Safety inspectors wanted the company to add chlorine to the barrels of 50-year-old brine they dipped fish in for flavor before drying. Koshida Shouten not only believed the brine was safe, but key to the flavor and quality of their product; however, they needed proof. Shibata took some samples back to the lab. Under the microscope she found a world of lactobacilli, the bacteria famed for their ability to impart flavor while battling other bacteria that could cause illness or spoilage.
In the end, Koshida Shouten was allowed to keep their brine, and Shibata, with a sample of microbe-rich brine, had the foundation of the Japanese cheese she'd been dreaming of. "These microbes are the way to realize the terroir unique to this place and convey the message that this is our own cheese," she says.
One year later, Shibata opened Fromage Sen, her rural cheesery. Soon, she began winning awards. In 2016, her Takesumi cheese and Pickled Oil cheese won silver and bronze at the Japan Cheese Awards. (She has placed every year since.) In 2019, her Ubusuna cheese, cultured with both Japanese and European microbes, won bronze at the World Cheese Awards in Bergamo, Italy.
Shibata's unique viewpoint sets her apart. That's according to Malory Lane, a cheese specialist based in Japan and a member of the Japan chapter of the Guilde Internationale des Fromagers. "With her focus on microbiology and using native cultures, she's doing a beautiful job of creating a Japanese identity around the cheese as opposed to trying to replicate a camembert," says Lane.
Starting with fresh raw milk from a neighboring dairy farm, Shibata pasteurizes it at a low temperature that keeps the natural proteins needed for cheese intact. Then, she adds organic rennet imported from France (there is no domestic Japanese producer), and traditionally harvested sea salt from Shimane Prefecture. After shaping each cheese by hand, she ages them for two to four weeks.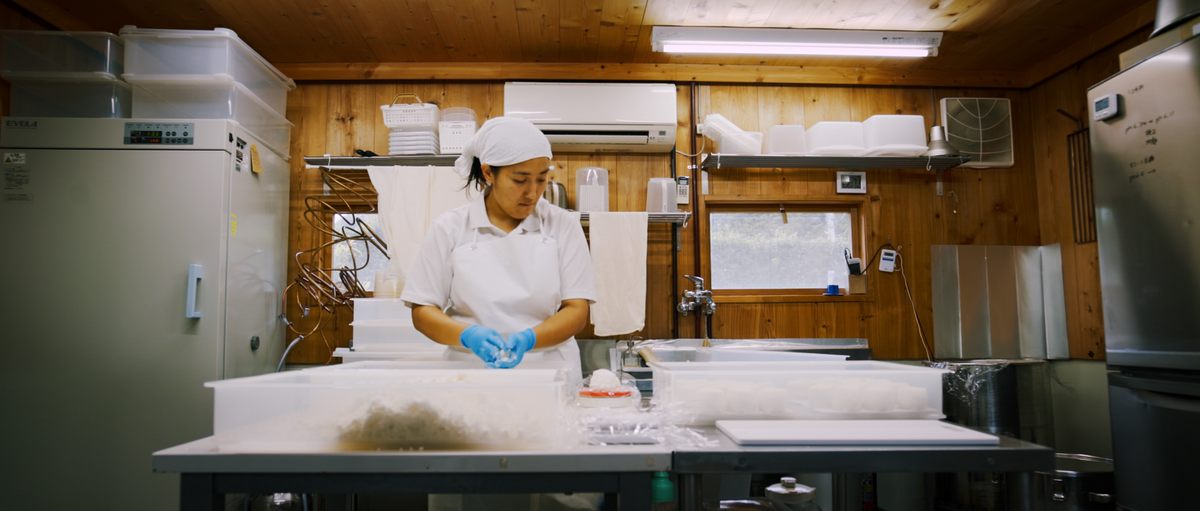 Shibata incorporates everything from takesumi (bamboo charcoal), cherry blossoms, and sake lees in the 12 to 15 types of cheeses she makes each month. "Each ingredient is good on its own," Shibata says, "but when you bring them together, they draw out their strengths and become something even more beautiful." At the moment, her cheese can be found at a few restaurants and shops in Tokyo, and, once a month, directly from her cheesery.
Using local Japanese microbes, Shibata believes, doesn't result in cheese that's dramatically different from what's available in Europe. But she wants to prove that locally harvested Japanese bacteria are capable of making excellent cheese. Plus, she hopes that paying more attention to these easily overlooked entities will spur more concern for the natural environment, a matter she still cares about deeply. "The more awards I win and the more attention I get as a cheesemaker using these microbes, the more people and the government will understand their value," she declares. "When that happens, they will see the importance of protecting the environment—the soil, the water, the air—in which these microbes live. It's my job as a cheesemaker to stand with the microbes, to speak for them, and protect them now and for future generations."
"In Japan, we believe there are hundreds of gods everywhere," Shibata continues. "Anything that is alive has a god inside. Even if we can't see them, we need to respect their presence."
Gastro Obscura covers the world's most wondrous food and drink.
Sign up for our email, delivered twice a week.