How the Influenza Pandemic Popularized Lemons
When it reached America, Sunkist marketers recommended hot lemonade.
In the fall of 1918, as influenza spread across the globe and the world clamored for a cure, the price of lemons skyrocketed. From Rome to Rio to Boston, residents desperate for any small measure of protection hoarded the yellow fruit, which was said—by whom it was, even then, unclear—to be both a prophylactic and a remedy for the deadly virus. Newspaper articles promised the citrus was a "flu foe," and advised, "If you are not a flu victim deny yourself that glass of lemonade." In New York, the Federal Food Board stepped in to prevent price gouging.
Hot lemonade was an old folk remedy for the grippe, and even though doctors knew it would not stop the Spanish flu, the soothing sugary liquid could at least keep the afflicted hydrated. The newer fad of sucking the bracing juice straight from the fruit was harder to justify, but that did nothing to stop its spread. There was pretty Chamber of Commerce spokesperson Marie Cooney on the front page of the October 23 Los Angeles Herald, between an accounting of influenza deaths and an accounting of war casualties, demonstrating the technique with a smile. "Lemon sucking now hailed by science as influenza cure," the headline announced. It wasn't true, of course, but the story was still good news for one segment of the population: California's lemon farmers.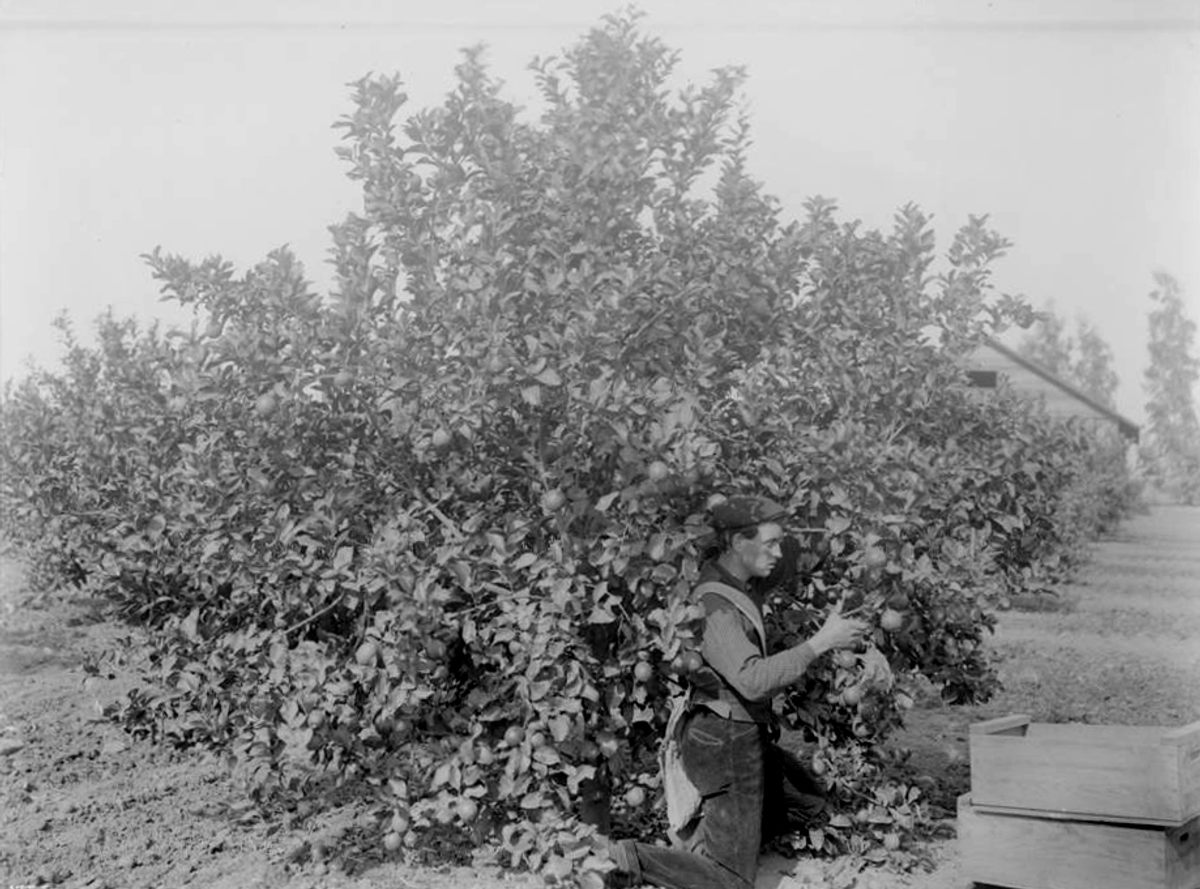 Life in the upstart lemon business wasn't easy. The fragrant orange groves that blanketed Southern California had been a part of the landscape for several generations, but commercial lemon farming hadn't taken root until the turn of the century, and growers were still learning to cultivate—and sell—the delicate fruit. The 1913 crop had been nearly wiped out in the Great Freeze, four January days of record cold temperatures, and the 1917 crop had been cooked on the trees by a June heat wave. Worse still for the farmers was the prospect of a successful harvest. Each spring, more of the saplings planted across 40,000 acres reached maturity and began producing citrus. Within just a few years, the lemon yield would double, but consumer demand was on the decline. Americans had little use for these sour things; on average, they bought just 12 a year. "Consumers must use two lemons where they now only use one," advised Don Francisco of the California Fruit Grower's Exchange in April 1918.
Francisco had started working for the farming cooperative—better known by its brand name, Sunkist—as a fruit examiner in 1914. Now the 27 year old was the Exchange's advertising manager, and he was already a legend in the citrus industry: Francisco had invented orange juice. It had been a ploy to get consumers to eat an orange, or two or three, every day. Francisco had noticed that squeezing oranges by hand was too much work for busy soda jerks, who either didn't offer orange juice or charged exorbitant prices. So, he helped to design heavy-duty electric juice presses for soda fountains and, for mornings at home, produced 3 million milk-glass reamers embossed with the Sunkist logo. Advertising firm Lord & Thomas added the campaign tagline: "Drink an Orange." The juice was already chasing Coca-Cola to be the county's most popular beverage. Sunkist's lemon growers wanted some of that marketing magic.
Lemons were a challenge, the usually cheerful Francisco warned. "With lemons, an appeal to the appetite is difficult," he said. (He also believed it was near impossible to make them look tempting.) Instead, the slogan "Lemons for usefulness" appeared in every advertisement. Francisco would teach America to ask for a slice in their tea and a wedge with their green vegetables. Lemons could also be advertised as healthful, he said, months before the first appearance of the Spanish flu, "but always with care not to suggest that lemons are to be classed with medicines."
Everything changed in September 1918 when news broke of an epidemic ravaging, first, the Commonwealth Pier barracks in Boston, then the city, the state, and the country. By late that month, more than 1,000 people had died of the Spanish flu in Boston alone.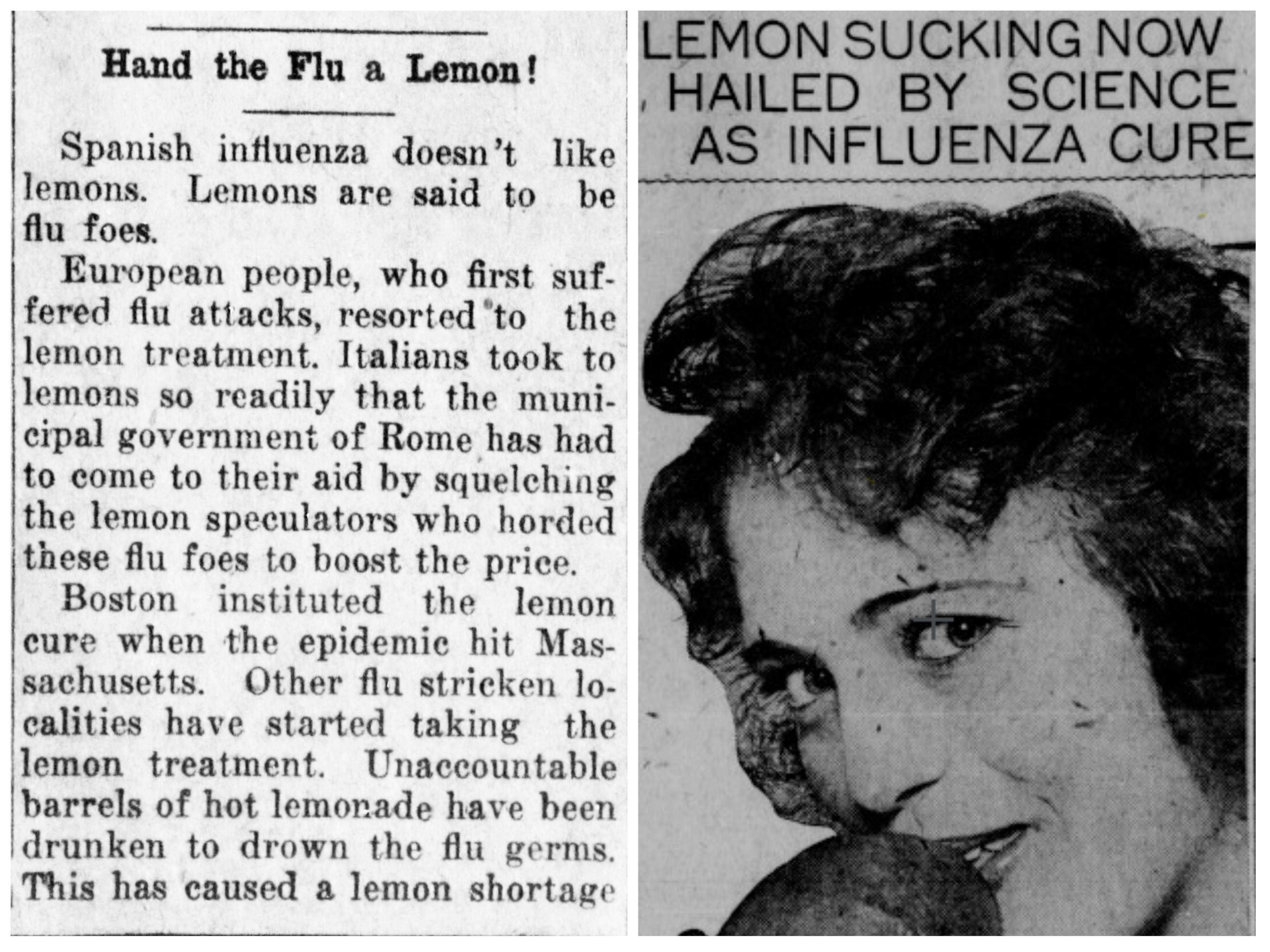 The telegram first arrived at Sunkist's sales office in Los Angeles: The East Coast needed lemons. The arrival of cheaper, Sicilian imports had been slowed by the war, and America's new go-to citrus, the orange, had suffered a poor growing season. Demand for the little-used lemon was high and supplies were low. In Boston, wholesale prices had more than doubled in a month. Meanwhile in California, leafy lemon trees, finally recovered from the sweltering 1917 season, were heavy with fruit.
Countless home remedies emerged as Americans grappled with the disease, some placebo, some actual poison. From the pantry came the promise of health in the guise of red onions or black coffee or watered-down molasses or brandy with asafetida, a pungent spice common in Indian cooking. But only the lemon had the advertising know-how of Don Francisco and Lord & Thomas behind it.
Within an hour of the telegram's arrival, Sunkist's long-planned marketing campaign was tossed aside in favor of an unusual ad, wired to 149 newspapers. "A direct appeal to use lemons might have aroused resentment and disapproval," the cooperative's newsletter, edited by Francisco, explained. Instead, the austere advertisement offered "precautions against colds and the grippe": "Avoid crowds," "take adequate exercises," "get plenty of sleep," "keep your feet dry and warm," and, oh yes, "drink one or two glasses of hot lemonade." The public-service announcement, which never mentioned the Sunkist brand, reached an estimated 22 million people in October. Entrepreneurial grocers were more direct. "Nature's cure for Spanish influenza," promised one in Norwich, Connecticut, which sold Sunkist Lemons for an outlandish 35 cents a dozen. That month total sales of the individually tissue-wrapped, logo-stamped California fruits rose 80 percent.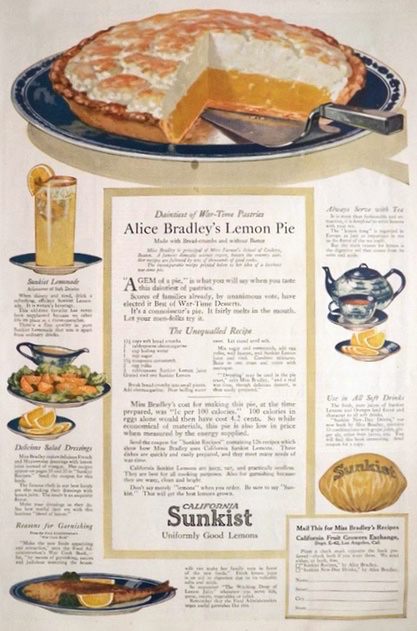 By December 1918, the danger of the disease had seemingly passed, and the lemon frenzy subsided. But the combination of panic and marketing genius had given lemons a permanent place in the American pantry. What had been, at best, a luxury now felt essential. "It is gratifying to know that citrus fruits have come to occupy so important a place in the national diet," Francisco's newsletter reported.
Lemon sales peaked again with later influenza outbreaks, but Francisco, who was by then overseeing the brand as an adman for Lord & Thomas, advised against another public-service campaign. He had always had bigger dreams for the crop: "To advertise the uses of lemon is not to advertise one product, but a long line of products. We might talk about lemon pie or a lemon shampoo … lemons for garnishing fish or for scouring pots and pans … lemon juice for bleaching the skin, lemon juice instead of vinegar or a mouth wash." He was envisioning the lemony-fresh world we inhabit now, a century later.
Gastro Obscura covers the world's most wondrous food and drink.
Sign up for our email, delivered twice a week.