For Sale: 200 Extraterrestrial Artifacts That Bring Space Down to Earth
The auction commemorates the 50th anniversary of the Apollo 11 moon landing.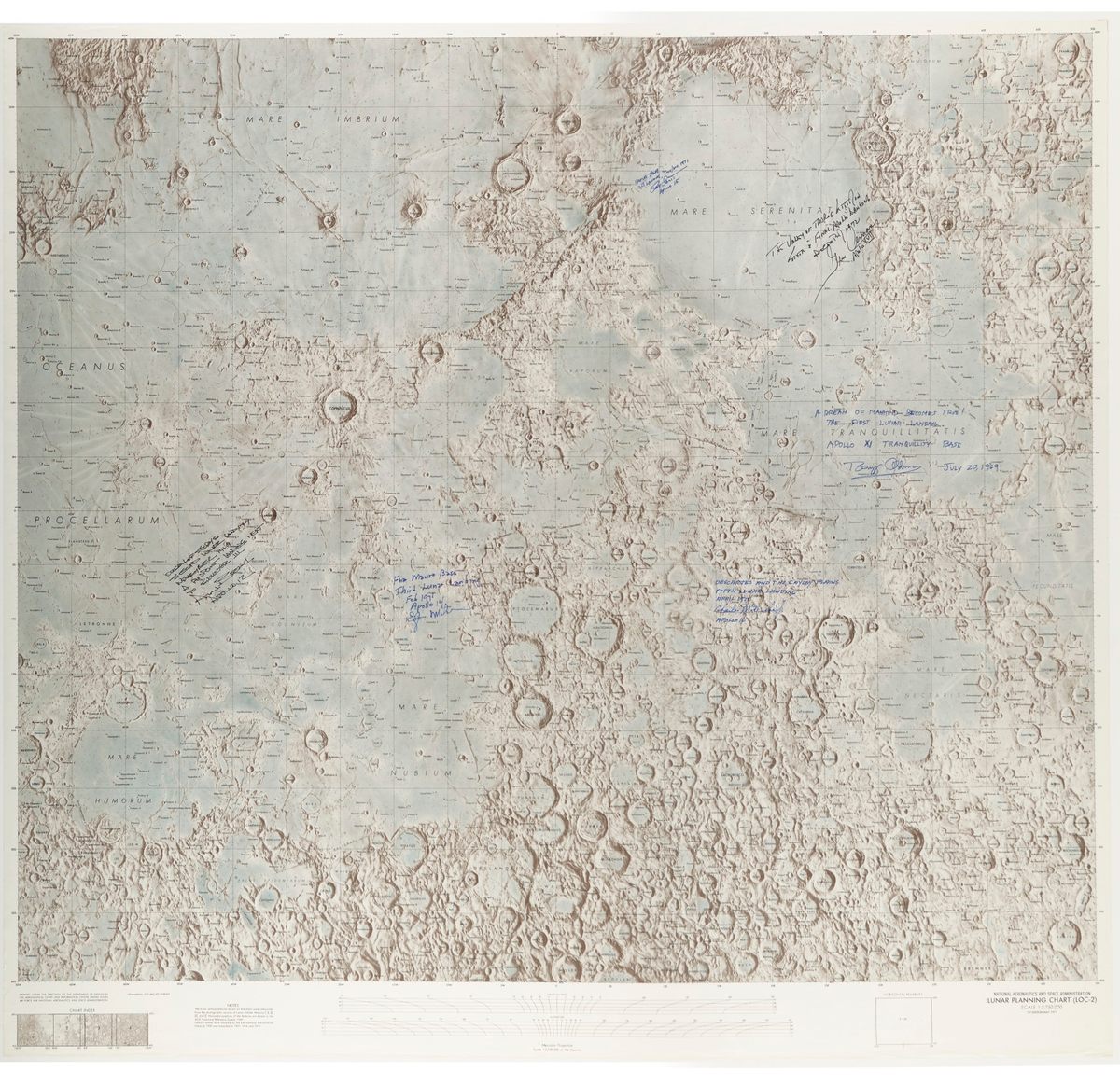 July 20, 2019 will mark the 50th anniversary of the Apollo 11 Moon Landing, when Neil Armstrong became the first person to walk on the moon's surface. To commemorate the historic occasion, Christie's New York will auction off a remarkable array of spaceflight paraphernalia in its One Giant Leap sale, coming up this week on July 18.
The One Giant Leap auction—named after those iconic first words Armstrong uttered after stepping onto the moon—features 195 lots. But Christina Geiger, who oversees books and manuscripts at Christie's New York, says there's one clear "far-and-away highlight." That would be the "Timeline Book" annotated aboard Apollo 11's Eagle module by Armstrong and Buzz Aldrin, the module's pilot and the second person to walk on the moon.
The book sat between the two men as the Eagle descended for landing, the spacecraft's alarms warning that the module had 20 seconds' worth of fuel remaining. The book serves as a kind of play-by-play chronicle of the voyage, and, according to Geiger, was a way for Aldrin to debrief NASA after the mission returned to Earth. It remained in Aldrin's possession until 2007, when he sold it to a private collector, and is now expected to sell for between $7 million and $9 million.
The Timeline Book is hardly the only auction item that speaks to the technical complexity of spaceflight. This blueprint of a control panel, for instance, details 200 switches and 48 emergency signals that Apollo astronauts had to decipher.
Other items are notable for highlighting the more human—even mundane—aspects of making history. Take, for example, this photograph of Armstrong and his crewmate Michael Collins eating a pre-flight steak-and-egg breakfast just before they shot to the moon. It's a reminder that even as these astronauts were bravely exploring uncharted territory, they were human beings who, as Geiger put it, "had to eat breakfast and comb their hair."
Another food-related highlight from the auction is astronaut Gordon Cooper's annotated meal schedule from the Gemini 5 mission, which predated Apollo 11 by four years. Cooper lets us know that the peanut cubes on board were "good," the tuna salad was "so so," and the date fruit cake was unspeakably bad—noted here as a simple "ugh!"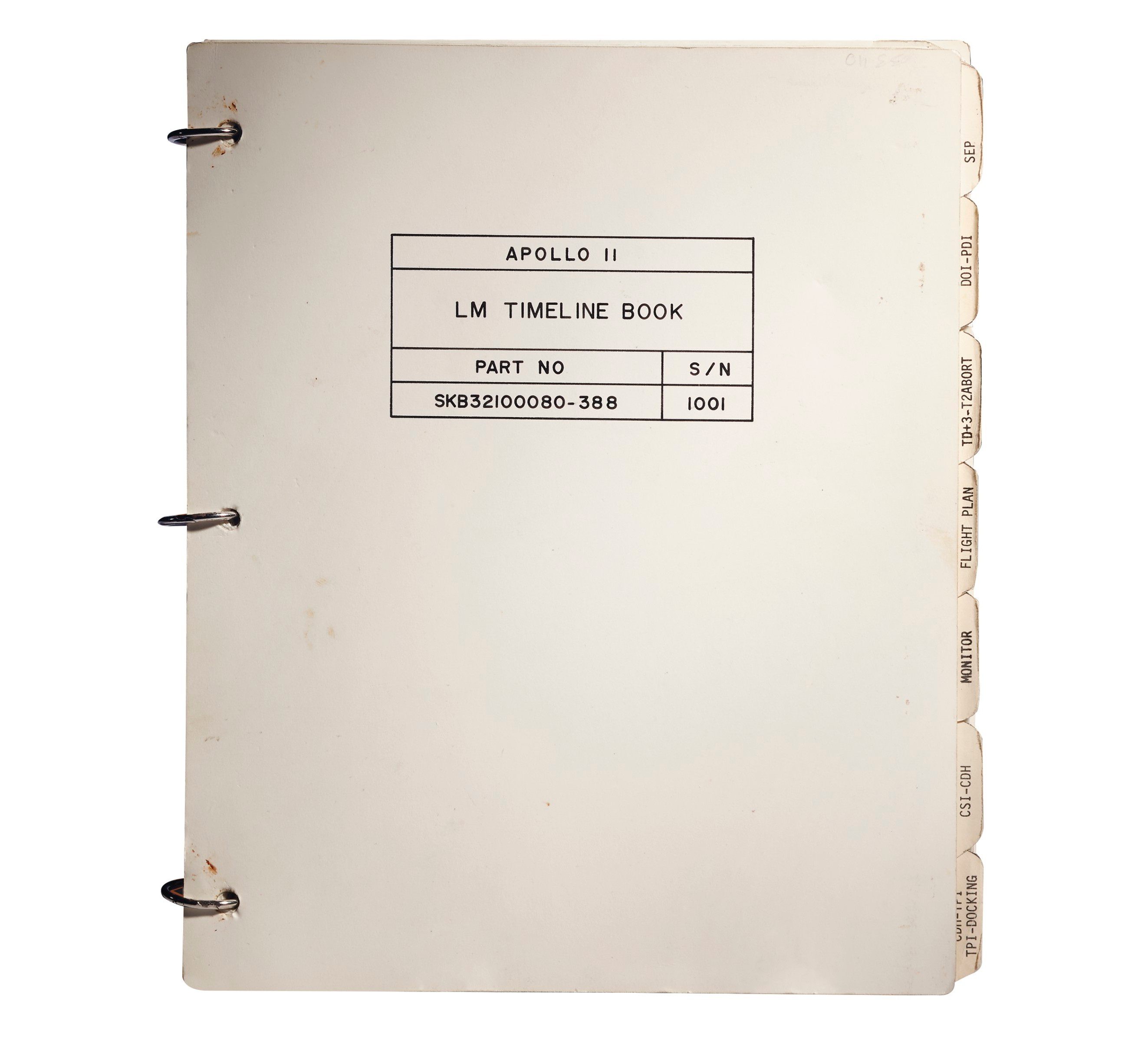 Other lots, however, attest to the very real dangers these astronauts embraced when they committed to these missions. One haunting lot displays an envelope signed by Armstrong, Aldrin, and Collins in the event that they did not return home alive. Aldrin's accompanying text explains that the astronauts had been "unable to obtain adequate life insurance," so they left these autographs with their family members, knowing that the signatures would accrue substantial financial value, and that their sale could help sustain the families through a time of need.
A complete transcript of the failed 1970 Apollo 13 mission, meanwhile, contains the line "Houston, we've had a problem"—famously (mis)quoted in the 1995 film Apollo 13.
For Geiger, the sale's timeliness has to do with more than just the 50th anniversary of Apollo 11. It also coincides with renewed public interest in space travel, from extraterrestrial tourism to the dream of one day inhabiting Mars (experts have their doubts about that plan).
Indeed, other recent sales have confirmed that it's a boom time for lunar auctions. Last year, Sotheby's sold moon rocks collected in 1970 by Soviet cosmonauts for $855,000.