Giant Snowballs Have Appeared on the Siberian Coast
Nature is getting ready for a fight.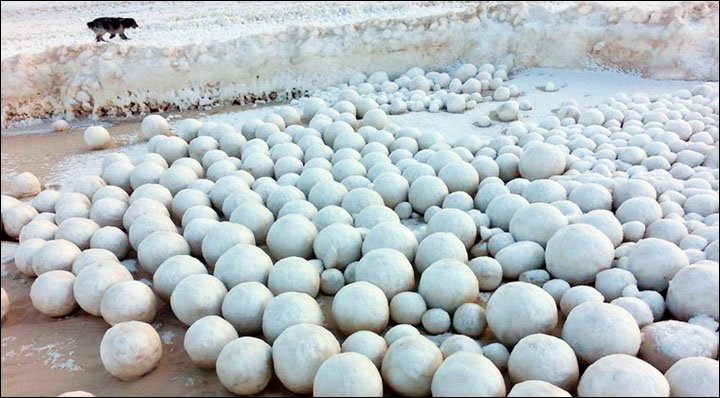 Nature is getting ready for an epic snowball fight, and it looks like they're stocking up ammo in Arctic Russia. According to the Siberian Times, villagers near the Gulf of Ob seem to have started finding accumulations of perfectly rounded snowballs created by a rare coastal phenomenon.
Located above the Arctic Circle, the small village of Nyda, with a population of just over 2,000, sits on the Gulf of Ob, a freezing arm of the Kara Sea. Just over a week ago members of the village started noticing that at one spot on the coast, fields of giant snowballs had begun to spontaneously appear. Ranging from the size of a tennis ball to the size of volleyballs, the icy spheres came from seemingly nowhere, but have an uncanny uniformity.
Anyone for a snowball fight? Nature makes its own collection of snowballs on the Arctic shore of the Gulf of Ob https://t.co/sona6DeNr4 pic.twitter.com/9gtG9foJKb

— The Siberian Times (@siberian_times) November 4, 2016
Even the older generation in the village say they have never seen anything like it, but a village spokesperson quoted in the article seems to have found the answer. Apparently as the tide came in, it contacted a layer of frost, covering the beach in ice, and then as the water slowly receded, it left bits of ice that spun on the wet sand creating spheres. The odd phenomenon was confirmed by a representative of the Arctic and Antarctic Research Institute, quoted in the Siberian Times story.
Whatever the cause, the citizens of Nyda look like they are set for the best snowball fight of all time.