Why Gold Rush Miners Imported Sea Turtles
Starving settlers ushered in a craze and decimated surrounding lands.
One July day in 1851, during the peak of California's Gold Rush, about 100 sea turtles broke free from a restaurant's yard. As one Daily Alta California journalist put it, they had simply "[taken] a notion to leave," and with that, escaped and ambled down the streets of San Francisco. One ambitious turtle even made it to the wharf, somersaulted over the edge, and went straight for the Farallon Islands. The turtle paused before the tumble and, with one foot raised, "smiled as if he was very thankful that he had escaped being cut up and made into soup," according to the paper.
The scene caused a stir, and not just because of the display of turtles "perambulating the streets in true turtle style through the whole day." Back then, turtles rarely escaped the bowls of hungry San Franciscans. During the Gold Rush and for a few decades afterwards, frustrated and starving Californians resorted to eating and importing sea turtles. Miners filled their pockets and stomachs by stripping neighboring landscapes bare. Today, wildlife populations, particularly turtles, are still recovering from the era's ravaging hands.
Part of this phenomenon started when San Francisco found itself unprepared for a population boom in the mid-19th century. The town had 459 residents in 1847, the year before James W. Marshall first struck gold at Sutter's Mill, a stone's throw from the bayside hub. Just three years later, a staggering 20,000 to 25,000 people, feverish with the idea of striking gold, had moved in. The reality proved to be far from the glamorous life they'd imagined: Newcomers lived in salvaged wood shacks and tents lined streets filled with mud and garbage. Whatever residents could scrounge together as a home would do.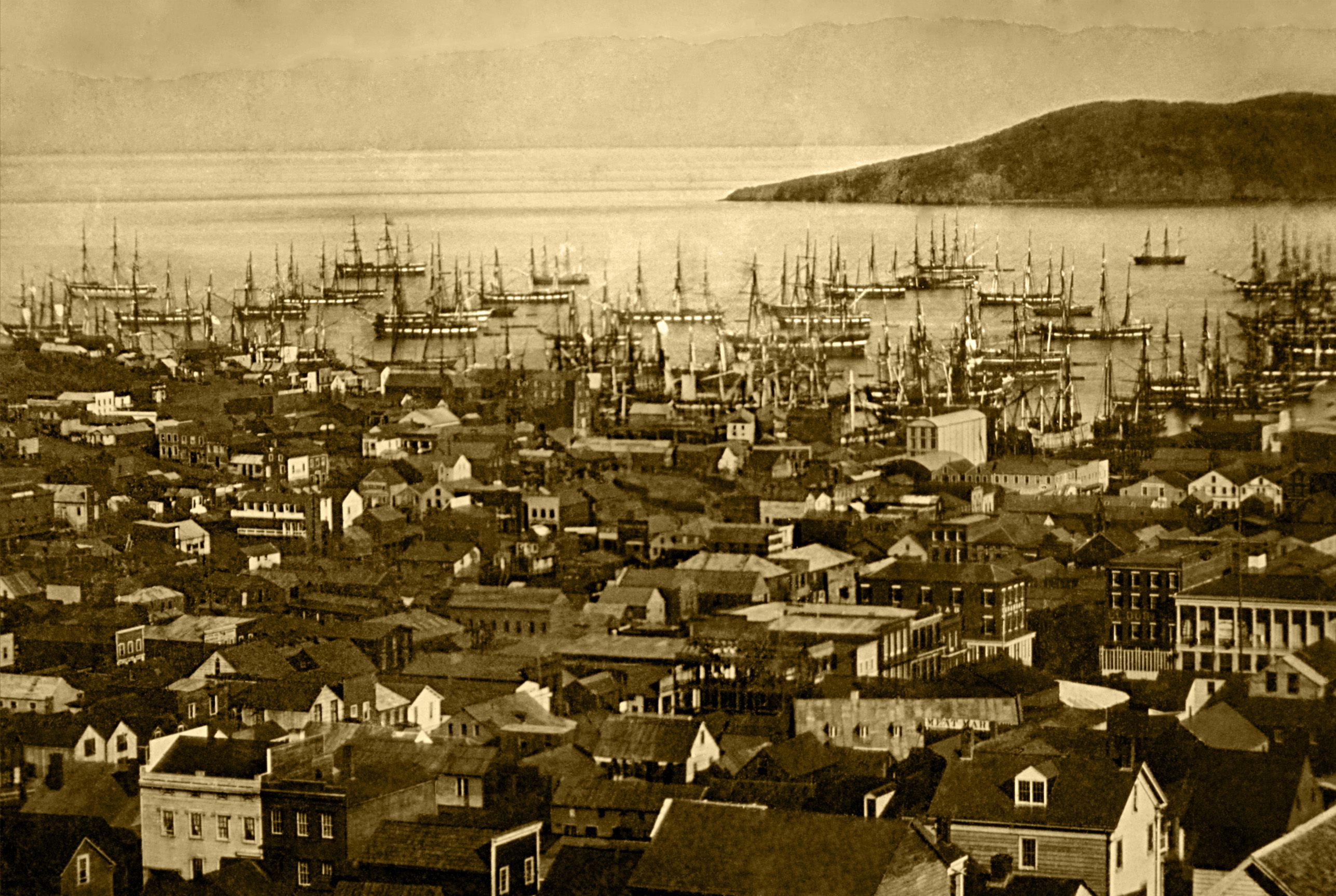 The same could be said for food. Desperate settlers decimated the area's once-plentiful Tule Elk population to the point that, in 1895, a mere 28 remained. Scavengers rowed out to the rocky Farallon Islands and stole eggs from cormorants, tufted puffins, and other nesting birds. Sometimes, they even shot competing poachers. The bay's oysters also took a hit as imported species from Washington and Mexico crowded out their beds.
Some settlers began scavenging even before arriving in San Francisco. Almost all travelers reached California after months-long voyages, sustaining themselves along the way with rations of salted pork and old bread. But those who made a pit stop at the South Pacific islands found an unusual resource in something whalers had been relying on for decades: turtles.
The shelly reptiles had several appealing factors, besides being conveniently located in the bay. For starters, these animals survived for months without eating. Their wide exteriors kept them from wriggling away once they had been flipped over. And when someone cut into turtle meat, they often found a bonus treat—freshwater lying in the shell. Ironically, these attributes are adaptations turtles developed to keep alive in deserts, as Cyler Conrad, a PhD candidate at the University of New Mexico, points out. "Their physiology is such a tragedy, because it's their own demise," says Conrad, whose studies focus on Gold Rush California.
Sailors familiar with San Francisco's food frenzy started doing the math. Argonauts (as settlers were sometimes called) needed to eat. Since seafarers had access to the ideal live cargo, they could bring turtles in and strike it big, too. Soon, hundreds of tortoises started spilling out of hulls. One 19th century historian estimated that a dozen turtles came from Central and South America per month. In 1849, hunters hauled at least 122 Galápagos tortoises off the islands for San Franciscan markets. And in 1855, a single schooner docked in the city with 580 of them.
While people butchered all kinds of turtles, the giant Galápagos species held the most social and culinary cachet. Wrangling and flipping the 500-pound creatures morphed into a sport called "turpining." One person took bets outside a restaurant that no one could butcher a turtle like they could. In 1851, a poet devoted 10 stanzas to the "hero, fat and dear" and concluded, "bless thee, old turtle, for thy splendid soup."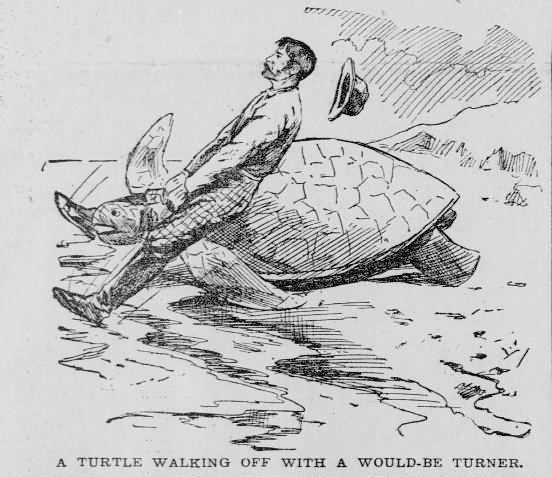 The same year, advertisements for turtle meals appeared regularly in local newspapers. Resourceful sailors found all kinds of ways to eat their catch. Some people served up turtle meat as steaks, while others preferred it as a precious addition to "sea pie," a kind of stew. Baked goods made with the copious amounts of fat in turtles were, by all accounts, excellent. But when cooked on its own, turtle liver tasted "far superior to any kind of meat I ever ate," as Captain Thomas Crapo wrote in his 1850s memoirs.
At the time, all food in California was expensive. But turtle could go for over a whopping $18 a pound. Conrad believes most San Franciscans could shell out for everyday turtle meals when gold was plentiful, but things changed when the gold slipped away. "Only once a lot of the quick riches were taken care of and easy-to-get gold was gone," he says. "Then, the turtles show up as luxuries for feasts and celebrations."
Soon after the wealth disappeared, so did the turtles. The Galápagos tortoise population dwindled as early as 1850, five years before the Gold Rush ended. Whalers stopped pilfering the islands in the 1840s once kerosene was invented as a whale oil replacement, but the population hadn't recovered in time. To satisfy lingering San Franciscan appetites for turtles, though, restaurants began passed around a single turtle to lure customers in the 1890s. One business eventually served turtle steaks, while everyone else ladled out mock turtle soup. The only portion of the turtle importation trade still doing well could be seen on incoming ships, but those stopped when the Civil War and Transcontinental Railroads kicked in, too. "The sad part is that was probably what saved [Galapágos tortoises]," says Conrad.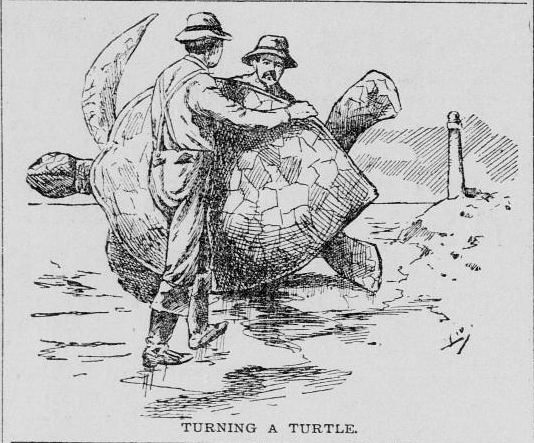 Turtle soup is rarely on menus these days, and it's not in the latest accounts of Gold Rush cuisine, either. Conrad only searched for newspaper records because of his 2015 excavation in San Francisco that revealed two turtle bones in a pit full of other wildlife skeletons. But conservationists have been working to boost tortoise numbers since Galápagos National Park's founding in 1959, and California Fish and Game maintain a Tule Elk State Natural Reserve.
For Drew Isenburg, this is no surprise. The Temple University historian, who wrote a book on how the Gold Rush changed California's environment, says we've forgotten the reality of how violent and damaging the era was. This is likely due to how environmental repercussions often get cast aside in lieu of economic and technological progress. "California has been misunderstood and misremembered in a romanticized way, as a low-impact and low-tech Gold Rush," he says.
Yet more conscious people are attempting to rectify the damage two centuries later. Just last month, 163 tortoises raised in captivity were released on Isabela Island, the second largest of the Galápagos archipelago—and, mercifully, they won't be rushed out of there anytime soon.
*Correction: This post previously described the animals in the first photograph as sea turtles. They are Galapagos tortoises.
Gastro Obscura covers the world's most wondrous food and drink.
Sign up for our email, delivered twice a week.