Why These Grizzly-Loving Women Entered a Lottery to Hunt Grizzlies
Inside the environmental protest sweeping Wyoming.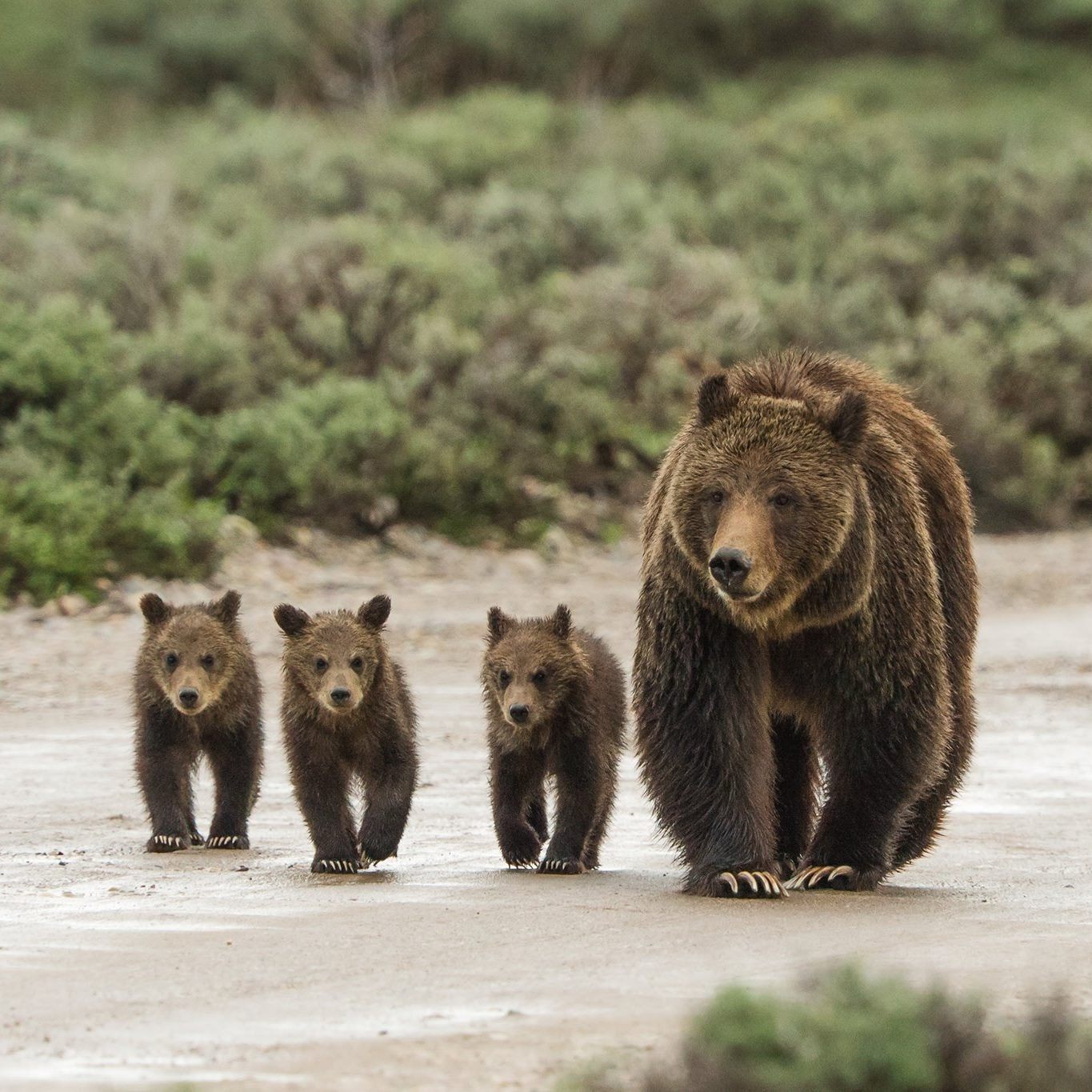 On the morning of Thursday, July 26, around 7,000 people logged in to the website of the Wyoming Game & Fish Department, their fingers crossed. All had entered a lottery that would allow them to hunt a grizzly bear in the continental United States for the first time in decades.
One of these people was Kelly Mayor—a 56-year-old resident of Jackson, Wyoming. She had entered the lottery at the very last minute, just hours before it closed, and didn't think to check the results until she got a reminder email. When she clicked through, she was greeted by a screen that said "#2." She'd won the second spot in the hunt. "I was dumbfounded," she says.
Mayor doesn't actually want to kill a grizzly. She, like thousands of others across the country, entered the bear tag lottery as an act of protest. All these people are part of "Shoot 'Em With a Camera, Not a Gun," a movement spearheaded by a group of Wyoming women who are hoping to change how their state thinks about wildlife management—and maybe save some grizzlies in the process.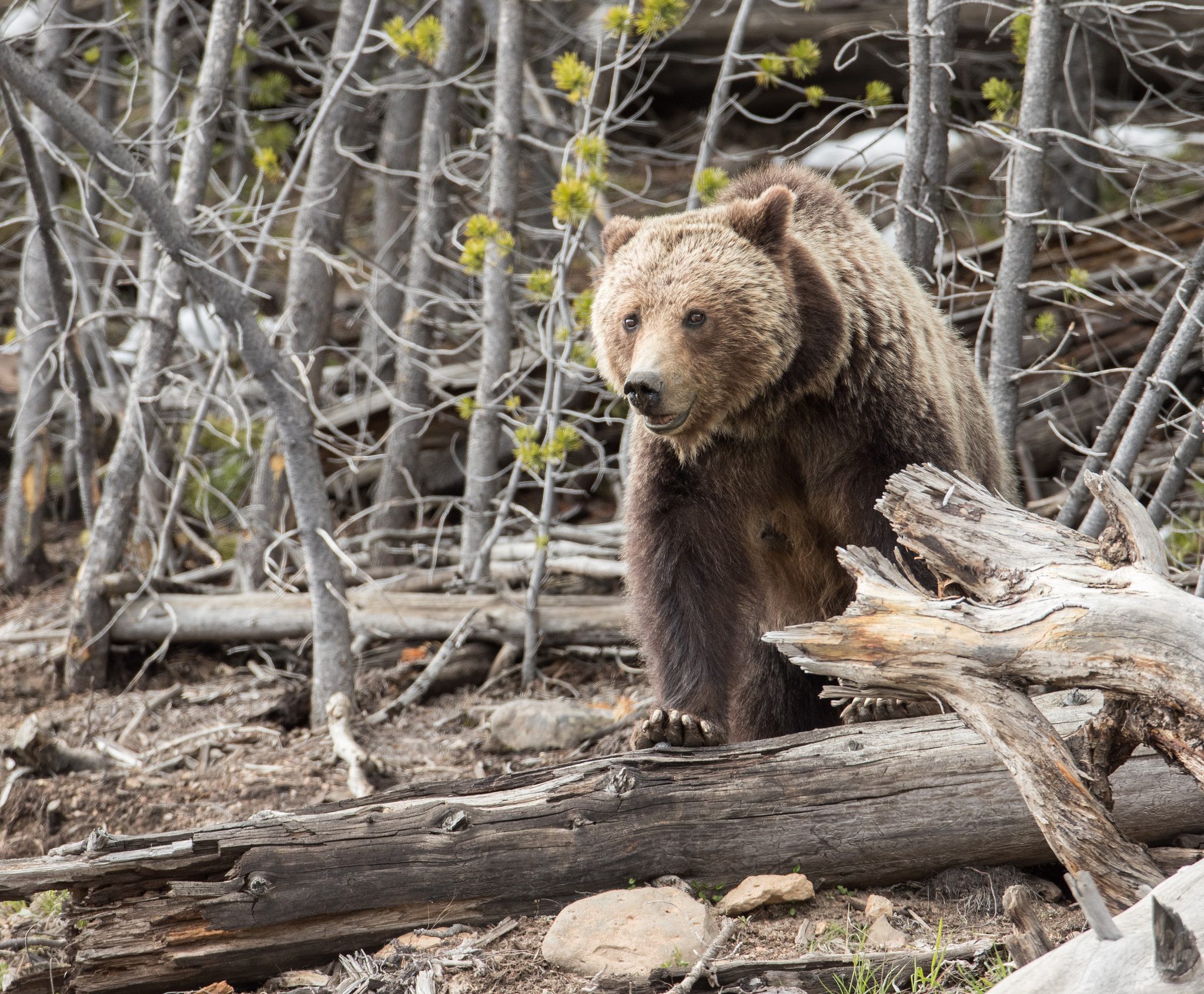 Huge and shaggy-coated, the grizzly bear is an icon of the American west. About 700 of them live in and around Yellowstone National Park, the beneficiaries of conservation efforts that have brought their numbers up fivefold since the mid-1970s, when they were first added to the endangered species list and began receiving federal protection. Last summer, Yellowstone-area grizzlies were removed from the list, and management of the bears was turned over to the states of Montana, Idaho, and Wyoming.
Montana decided not to have a hunt this year, and Idaho is raffling off a single license. But this past spring, the Wyoming Game & Fish Commission—the policy arm of the Game & Fish Department—voted unanimously to allow up to 22 bears to be killed. Commissioners argue that hunting a limited number of bears will reduce human-wildlife conflict, and that provisions in place—including mandatory training for tag winners and a prohibition on killing female bears with dependent young—will prevent the hunt from affecting the species's recovery.
Others disagree with the decision. The American Society of Mammalogists has called the delisting "premature," pointing out that although their population numbers have gone up, grizzlies are still not prevalent enough to guarantee a robust and genetically diverse population. Thanks to a campaign from the Center for Biological Diversity, several billboards in the West now depict a grizzly with the legend "I am not a trophy."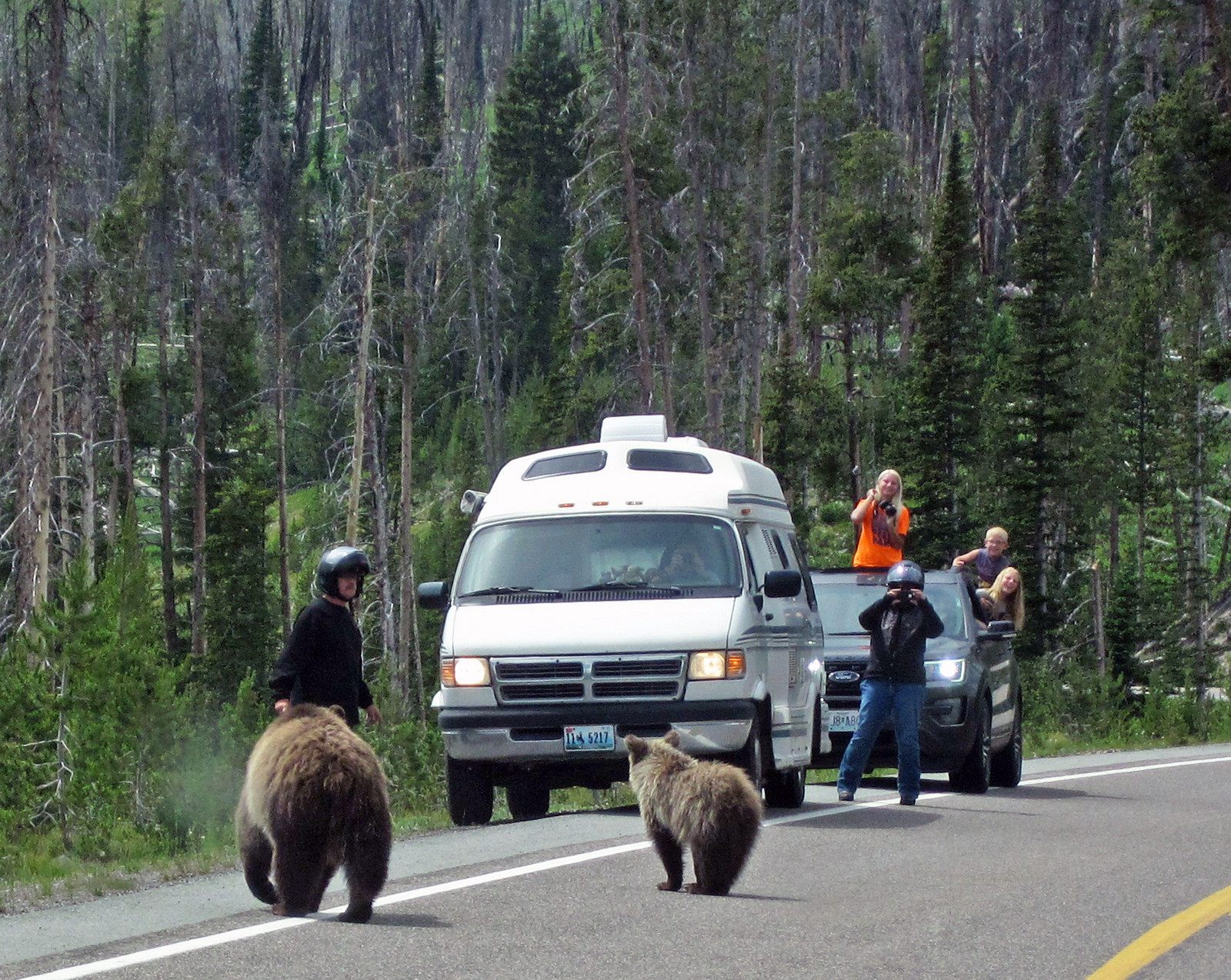 One of the hunt's opponents is Deidre Bainbridge, a lawyer who also lives in Jackson. Bainbridge is passionate about wildlife, and for years, she and others have been advocating for a category of nature enthusiast she calls "the non-consumptive advocate." As opposed to a hunter, fisher, or trapper, Bainbridge explains, a non-consumptive advocate "cares about wildlife simply because it's there"—although people may want to see it, or take a picture, they aren't looking to kill it.
Because the Game & Fish department is funded by hunting and fishing licenses, along with firearm, ammunition, and fishing tackle sales, "that kind of person doesn't have a voice" in management decisions, she says. (Game and Fish spokesman Renny MacKay says that the department "takes in significant amounts of public comment" through meetings and online, and that there are "definitely some ways that we [accounted for] some perspectives from people who aren't hunters," including prohibiting hunting within a quarter mile of a road.)

But what if non-consumptive advocates started buying hunting licenses, too? Late this spring, after a Game & Fish meeting she found particularly frustrating, Bainbridge got together with Lisa Robertson—the founder of Wyoming Untrapped, a local trapping reform advocacy group—and started combing through regulations for the grizzly hunt. "I couldn't see where [we would be] interfering with a lawful hunt by buying a tag," Bainbridge says. After all, she points out, people with hunting tags often choose not to pull the trigger, for all kinds of reasons. "We decided to do it."
The more of them who entered the lottery, they figured, the better their odds of actually winning. Bainbridge and Robertson put their heads together with a few other concerned local women, each of whom brought their own particular skills: one is a well-connected philanthropist, one is a film producer with a lot of high-profile contacts, and one is an animal rights activist with a long history in the community.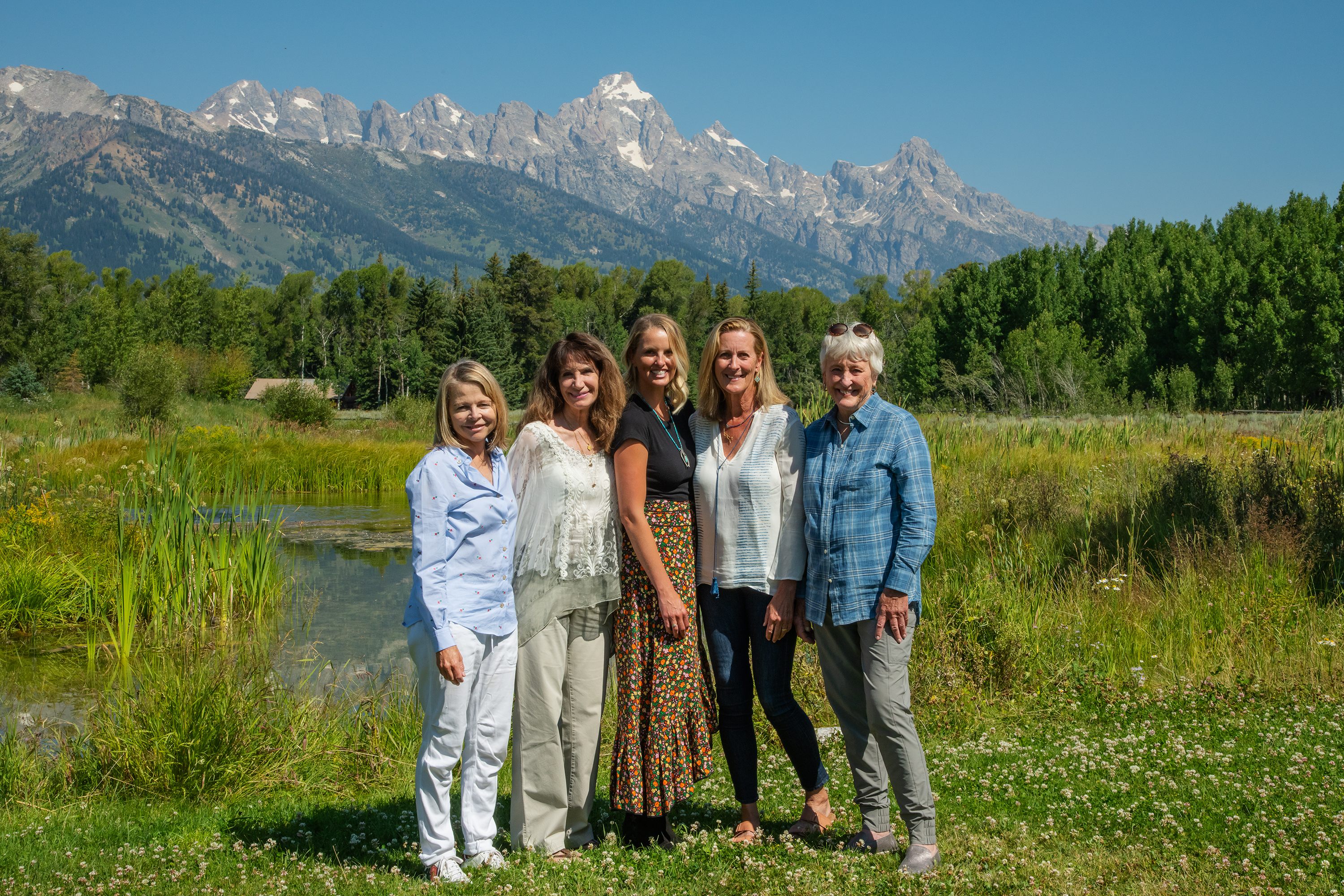 Together, they began spreading the word, via a Facebook group and an ad in a local paper. They also started a GoFundMe campaign, so that if anyone actually did win a tag, the group could cover the associated costs, which begin at $600 for a Wyoming resident and $6,000 for an out-of-stater. "I would never have put in for a tag if I didn't know that it could be reimbursed," says Mayor, who found the campaign when a friend shared it on Facebook. She joined due to what she calls a "visceral" opposition to hunting animals just for sport. "I'm not opposed to hunting—my husband hunts, and we usually have game meat in the freezer," he says. "But trophy hunting has always just hit me at my core."
Many others felt similarly. "We had momentum within 48 hours," Bainbridge says. "Women all over the country got involved." It drew some big names: Jane Goodall applied for a grizzly tag, as did legendary elephant conservationist Cynthia Moss. As of press time, the GoFundMe has raised over $40,000, and Robertson told the Associated Press that of the 7,000 or so people who entered the lottery, at least 1,000 were "Shoot 'Em With a Camera" participants.
Some of these entrants, like Bainbridge, are playing the long game, intending that this will help Wyoming photographers and sightseers have a voice in wildlife management. "Others did it to simply stop the [gun-based] hunt for 10 days," Bainbridge says—the length of time each tag-holder can spend in the field before they have to cede their ground to the next person. (The group focused their efforts on the lottery for Areas 1-6, where up to 10 grizzlies can be killed over the course of 60 days.)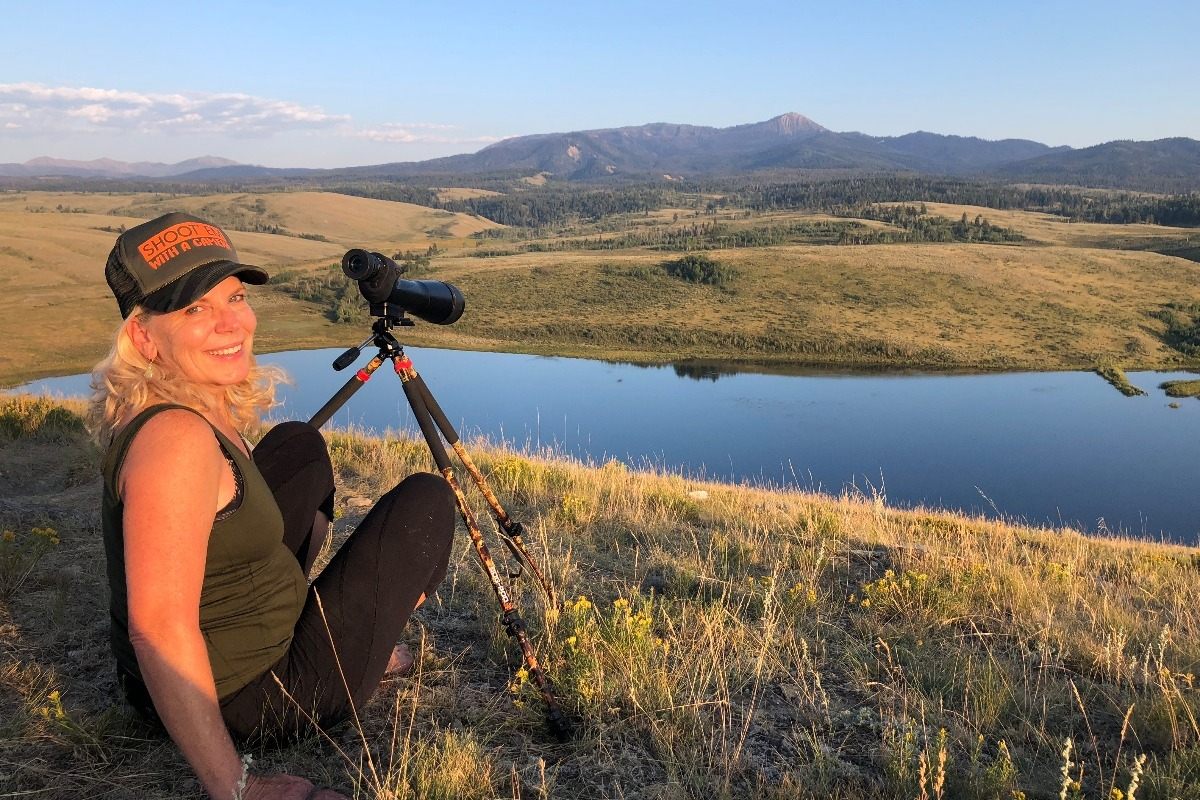 In late July, the group learned that they had successfully won two tags, out of the 10 available. Mayor got #2, and the other, #8, went to Thomas Mangelsen—a wildlife photographer well-known for his images of Grizzly Bear 399, who is herself famous for mothering many cubs. "It's almost uncanny," says Bainbridge. "We couldn't have planned it [this way]." If it takes the other winners more than a few days each to complete their hunts, it might be possible to run out the clock and save some bears.
In general, Shoot 'Em With a Camera participants would prefer the hunt didn't happen at all. On August 30, there will be a hearing in Missoula, Montana, during which opponents of the grizzly bear's new status will try to get it returned to the endangered species list. "Our bigger quest is to prevent the trophy hunting in Wyoming [altogether], because we don't believe that the delisting is appropriate at this time," says Bainbridge.
But if it comes down to it, Mayor is ready to go. When she first learned she had won, she figured she would sit the actual "hunt" out. "I thought … I'd pay the tag money and walk away," she says. But getting to know the Shoot 'Em With a Camera crew has changed her mind. "The ladies have made it into such an amazing thing," Mayor says. They're going to send videographers and photographers with her, and take turns spending time out there themselves. If the hunt goes through, and her number gets called, she says, "I plan on being up there for 10 days."
She's looking forward to it. "I'm sort of an armchair activist," she says. "I don't really speak up about issues, but I definitely have feelings about things like this. This is really different for me, to have a voice."