Why Do People Paint Skeletons on Live Horses?
It's about education, not scares.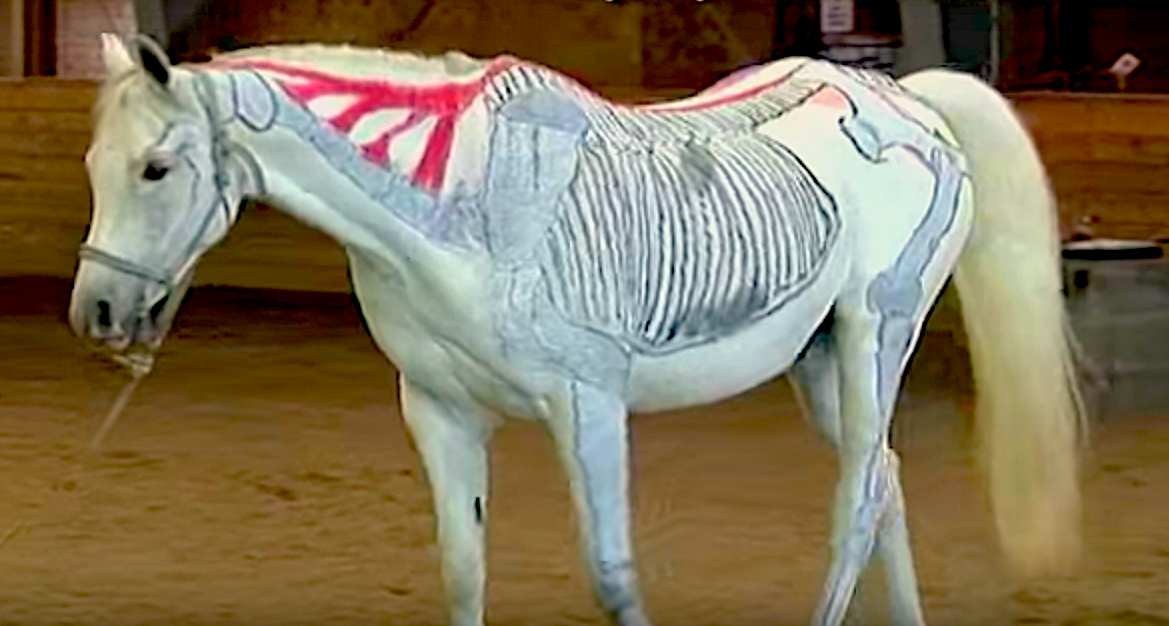 Understanding how the bodies of horses work—muscles, bones, and all—is a key part of any true equestrian's training. And while many study diagrams, dissections, and preserved parts, some trainers swear by painting their anatomy lessons on living horses, which not only provides a terrific look at how a horse's insides work, but also creates a pretty spooky bit of decoration.
With each joint and muscle a potential problem spot in a horse's body, being able to visualize how its inner workings are actually functioning can be an important tool in understanding an animal, as well as providing it the proper care. "The majority of people have no idea of where the bones are within the horse," says Dr. Christin Finn of Kingston, Washington's Equisport Medicine.
Finn has been using painted animals as training tools for a number years, even practicing the technique on dogs. "When they are interacting, or riding a horse, they're having an impact on that structure without having an understanding of where those parts are, let alone how they work." A number of trainers and vets use painted horses as training tools, providing demonstrations, classes, and seminars with their painted beasts.
In a 2012 article on CNN about painting horses, the U.K. equine massage therapist Gillian Higgins, who runs a business, Horses Inside Out, strictly devoted to painting horses, describes the benefits of painted horse training, saying, "if you see a horse moving and jumping around with a skeleton painted on the side, it really brings it to life." In her career painting horses, she has illustrated just about every part of the equine interior, from the skeleton to the digestive system to the reproductive system. She noted that many people who have attended her seminars described the experience as putting together puzzle pieces.
How do the horses feel about being painted? The paint itself poses no danger to the animals, and is typically hypoallergenic. But Finn notes that the act of applying paint with brushes can be so relaxing for a horse that it can make the painting process more difficult. Describing one horse she painted, Finn says, "That stroking with the brush caused deep relaxation with the animal, and their neck actually relaxed, and the space between the vertebrae increased."
The process is now so widespread that even Queen Elizabeth, a noted equestrian who has reportedly made over $8 million on her own race horses, recently got to meet a training horse that Horses Inside Out had painted a skeleton onto. Her response? "Good gracious."
Of course to the uninitiated observer, painted anatomy horses look like they are dressed up for Halloween. However in reality they aren't trying to be spooky, just scary educational.