Found: A Mysterious Medieval Grave Full of Porpoise Bones
It was found on a tiny island with a shrouded past.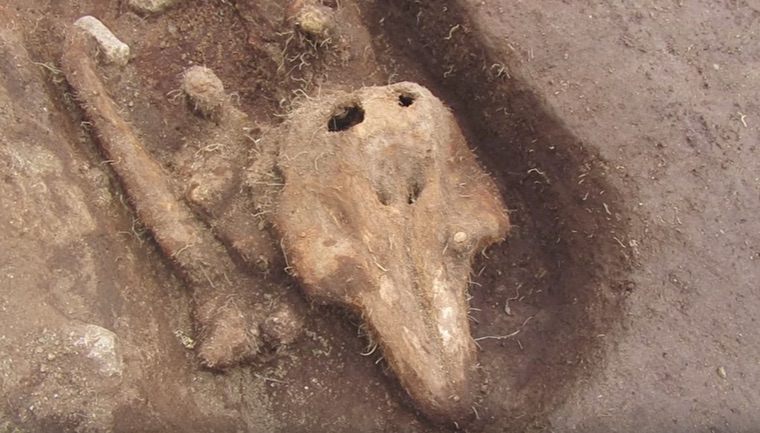 The island of Chapelle Dom Hue is a small hunk of land off the coast of Guernsey, itself a small island in the English Channel. For many years, people have found bits of pottery and flint there that date back to the medieval period, but beyond that the island's history has been lost. Another small island nearby had been home to medieval monks and, when archaeologist Phil de Jersey started excavations on Chapelle Dom Hue back in August, it seemed possible that he would find evidence showing that the monks used the island as a retreat, The Guernsey Press reported.
Instead, he found something much stranger: a carefully dug burial, of the type where one might expect to find human remains, but that instead held the remains of a porpoise. The grave, which contained a porpoise skull and bones that look to be shoulder blades and ribs, was also aligned east to west, as a person's would have been. It is, de Jersey says in a YouTube video, "one of the strangest and most bizarre things I've ever come across" in 35 years of archaeological work.
Why would a porpoise have been buried so carefully? With the sea so close by, de Jersey points out, it would have been easy to dispose of it in some other way. One theory is that the cetacean was buried to preserve its meat, and then never recovered. But it could have had some other meaning. As Philip Hoare, author of Leviathan or, The Whale, wrote in The Guardian, this isn't the first time that porpoise remains have been found buried in a deliberate way. In 1958, an archaeologist's young assistant found a porpoise jawbone buried with 9th-century jewelry and other treasures.
The newly discovered marine mammal's burial contained no comparable grave goods, though. It is, de Jersey told The Guardian, a "slightly wacky kind of thing," but also a "wonderful surprise." There are no answers yet, but the fascination with a find like this one comes from the unexpected questions it raises.