The Importance of Nancy Holt, the Woman Who Revolutionized Land Art
Overlooked for too long, her work added crucial depth to the movement.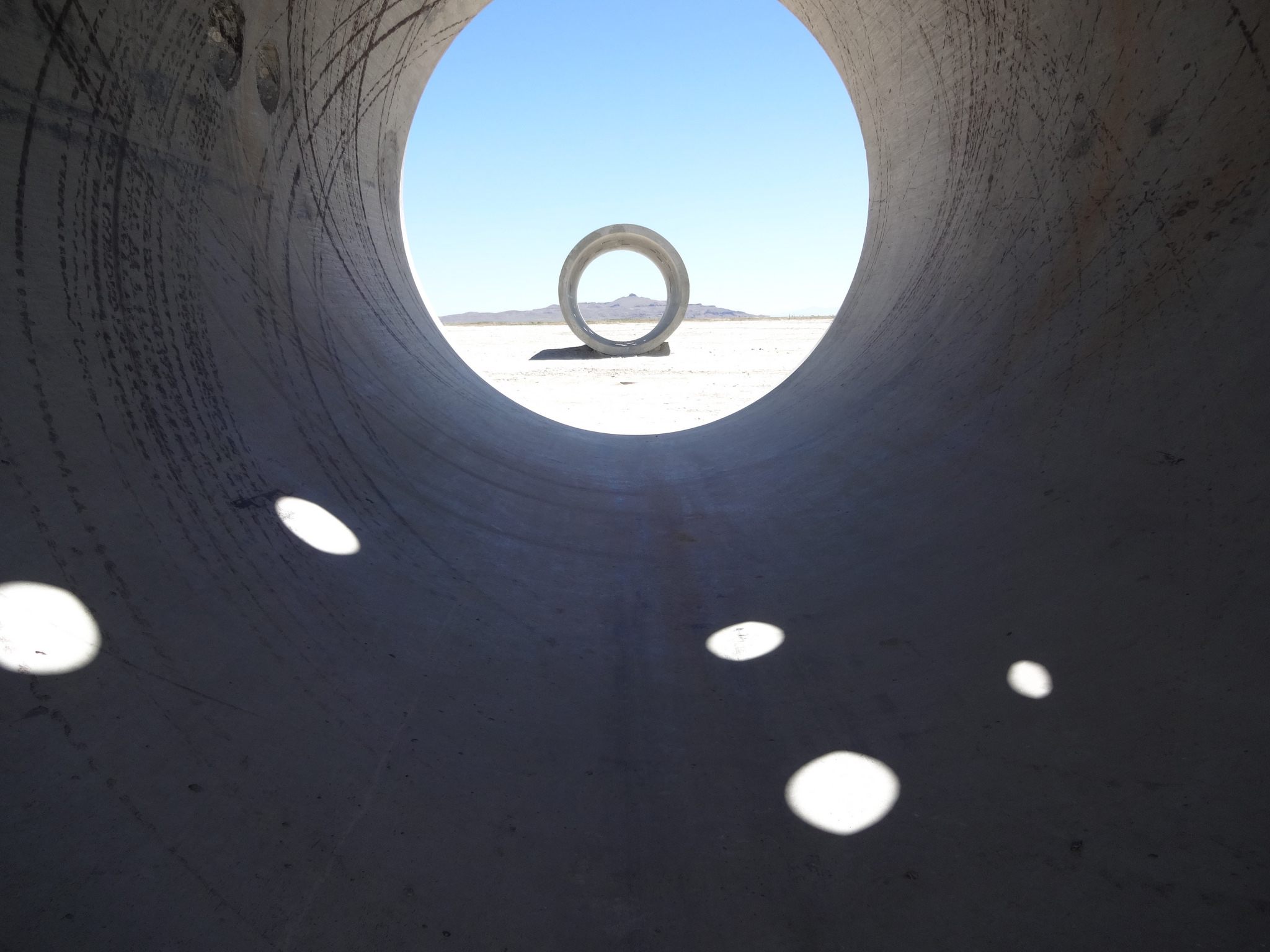 The first time Nancy Holt visited the American West, she didn't sleep for four days. Growing up an only child in the Northeastern part of the U.S. had instilled in her a feeling of displacement, and she felt a kinship to the open desert space. Years later she likened its boundless landscape to her own internal vastness, saying, "I was experiencing it on the outside, simultaneously with my spaciousness within. I felt at one."
Holt's artistic career would go on to revolve around the remote western landscapes to which she felt so close. She began creating outdoor installations on large scales at a time when women weren't thought to be capable of such grand pieces. Her work not only reshaped the landscape art form, it broke gender stereotypes in the process, helping pave the way for artists such as Maya Lin.
Holt was the first of the modern land artists to incorporate astronomy, the Earth's rotation, and the elements of time and location into her sculptures. She developed pieces that engaged the viewer by framing their connection with nature. She sought to integrate her outdoor installations with the natural landscapes on which they were built, promoting environmental conservation and activism long before her peers. Land art started out in the late 1960s and early '70s as a male-dominated field, "with a few exceptions," as James Meyer put it in a 2007 interview with Holt for the book Sightlines. And it would take a while for the artistic movement to catch up to Holt's vision.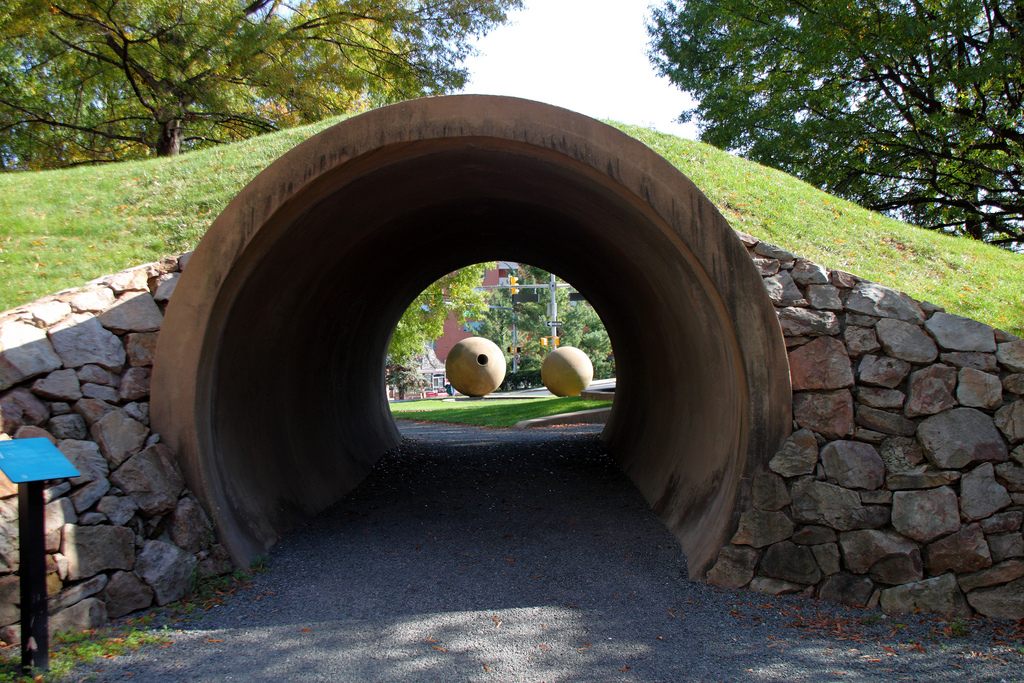 The movement's beginnings are typically pegged to late 1968, when the group exhibition Earthworks at the Dwan Gallery in New York City featured photographs of large-scale outdoor installations. (Eventually the terms "earthworks" and "land art" would come to represent different distinctions of a similar field, earthworks consisting of only natural materials while land art utilized manmade structures in or on the Earth.) The movements were a rejection of the commercialization and arbitrary hierarchies of insular art galleries. Opting to build works in natural spaces rather than for gallery walls served as a commentary on the exclusivity of the art world. Pieces displayed out in the open were foils to the esoteric paintings and sculptures that ended up hidden away by private collectors. But many of these early works lacked the kind of depth that could be found later in Holt's sophisticated sculptures.
Holt studied biology at Tufts University, but made time to attend art lectures at MIT. Viewing abstract paintings alongside magnified images of cells helped her to perceive a strong connection between art and science. She traveled to New York City during breaks from school, and soon met Robert Smithson. They married in 1963. Over the next few years Smithson and other American artists would lay the foundations for the land art movement.
Holt's role in the movement began as a filmmaker and photographer, and she documented the processes of Smithson and others, including Richard Long and Michael Heizer, as they created early earthworks such as "A Line Made by Walking" and "Double Negative". Documentation played an integral role, as many of the works existed in out-of-the-way rural areas or were intentionally ephemeral (see Walter De Maria's "Lightning Field", or Andy Goldsworthy's natural sculptures).
There were women creating some remarkable pieces, but it was the men receiving most of the praise at the time. Decades later, the Sculpture Center celebrated women including Holt, Alice Aycock, and Agnes Denes in the 2008 exhibition Decoys, Complexes, and Triggers: Feminism and Land Art in the 1970s. It's nearly impossible today to overlook the efforts of Holt and the other women creating outdoor art in the '60s and '70s. But in those years, funding for women was neglected under the assumption that they couldn't handle such large-scale installations or the machinery associated with creating earthworks (even though the men were hiring laborers to operate the tractors, front-end loaders, and dump trucks their pieces required).
Holt saw a missed opportunity in the land art being created. Initially, Smithson and the others were focused on building on the earth, using it like a canvas. Holt saw an opening to work with the land, devising pieces that would align the ground and sky, and frame the viewer's experience with nature.
Her time behind the camera inspired ideas for sculptures that would work similarly to photography and film. She envisioned installations that provided a lens to frame an individual's involvement with nature, shaping a narrative from the time and place. Holt installed her first large-scale outdoor work, "Hydra's Head," at Artpark in Lewiston, New York, in 1974. Reflecting pools dug into the earth along the Niagara river correspond to the stars that make up the head of the water snake constellation. Her minimalist style kept the physicality of the art to a minimum, opting to magnify one's engagement with the surrounding area and universe.
Meanwhile, planning was underway for what would become Holt's most renowned work, "Sun Tunnels," completed in 1976. It's composed of 18-foot tunnels arranged in an X, and each one features drilled holes of various sizes that correspond to stars and their respective magnitudes. Every year during sunrise and sunset on the winter and summer solstices, the holes project within the cylinders the constellations that those stars make up: Draco, Perseus, Columba, and Capricorn.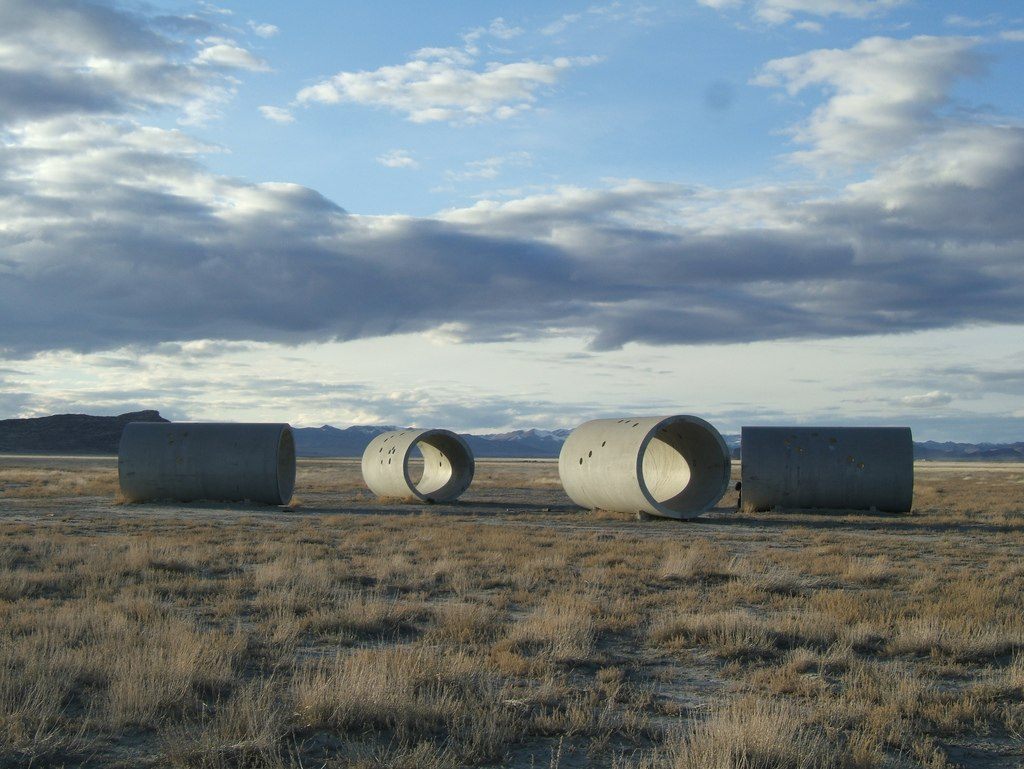 To create the giant installation, Holt's team dragged four 22-ton concrete cylinders out to the middle of the Utah desert, miles from the nearest interstate. The project required a team of about 40 people, including ditch diggers, surveyors, a helicopter pilot, and an astrophysicist. Holt described the installation, which doubles as shelter from the oppressive desert sun, as "an inversion of the sky/ground relationship—bringing the sky down to the earth."
Later works such as "Rock Rings" and "Locators" would continue the minimalist themes set by "Hydra's Head" and "Sun Tunnels," and encourage a kind of wayfinding by focusing one's view on the cardinal and ordinal directions. Rather than looking at the works, viewers are given the chance to step into them, framing a new way of seeing their surroundings and perceiving their immediate position. It was Holt's drive to create a narrative for participation, rather than spectatorship, that pushed land art even further and influenced future works by Maya Lin and other outdoor artists.
Sadly, Smithson never got the chance to witness his partner's powerful outdoor installations or their impact on the artistic movement they helped pioneer together. He died in a plane crash in 1973, just three years after completing what is probably the field's most recognizable earthwork, "Spiral Jetty." "Hydra's Head" was completed a year after Smithson's death, and "Sun Tunnels" two years after that.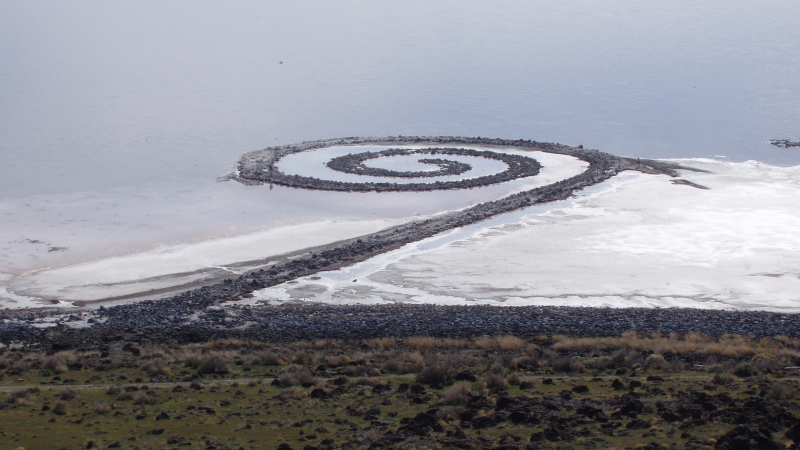 Holt continued making art right up until her death in 2014, but she spent just as much time preserving Smithson's legacy. She spent her final days in the hospital editing footage for her last film, The Making of Amarillo Ramp. Holt and fellow artists Richard Serra and Tony Shafrazi set aside their own works to finish Smithson's half-circle incline in the manmade Tecovas Lake, which is now dried up. "Amarillo Ramp" now sits abrading in the Texas sun. Eventually it may cease to exist, but Holt's documentation will hold up.
Much of her own legacy, which remains relatively overlooked, covers broader ground still. Her full body of work includes poetry, drawings, and indoor installations. Holt's more well-known projects, including Virginia's "Dark Star Park" (her most public work), are admired but viewers often overlook the artist behind them. The park is a popular place, but it truly comes alive every year on August 1, the day the land that became the neighborhood was purchased. For one minute, at 9:32 a.m., shadows from large concrete spheres meant to resemble dead stars and metal poles align with etchings in the ground. In Sightlines, Holt spoke of the process of planning the park: "I hope the precedents established here will continue in future art projects throughout the world."