A Surreal, Pastel Perspective on the World's Largest Salt Flat
Dreamy images of Bolivia's Salar de Uyuni.
Photographer Navina Khatib's trip to the world's largest salt flat—Salar de Uyuni in southwestern Bolivia—in 2011 was a surreal experience. "Everything there is just otherworldly—the smell of sulfur, the profound silence, the thin air, the magical bright colors. When you are in the middle of it, you can turn yourself 360 degrees and see nothing but the horizon," she says, by email. "It's a unique and magical place and has stayed with me ever since."
Salar de Uyuni extends over 4,000 square miles in the Altiplano region, nearly 12,000 feet above sea level. Formed from the remnants of prehistoric lakes, it is a seemingly endless expanse of white salt, punctuated by few rocky, cactus-studded outcrops and, occasionally, small piles of salt. In the rainy season, the landscape is transformed to a shallow lake that reflects, with still, startling clarity, the sky above.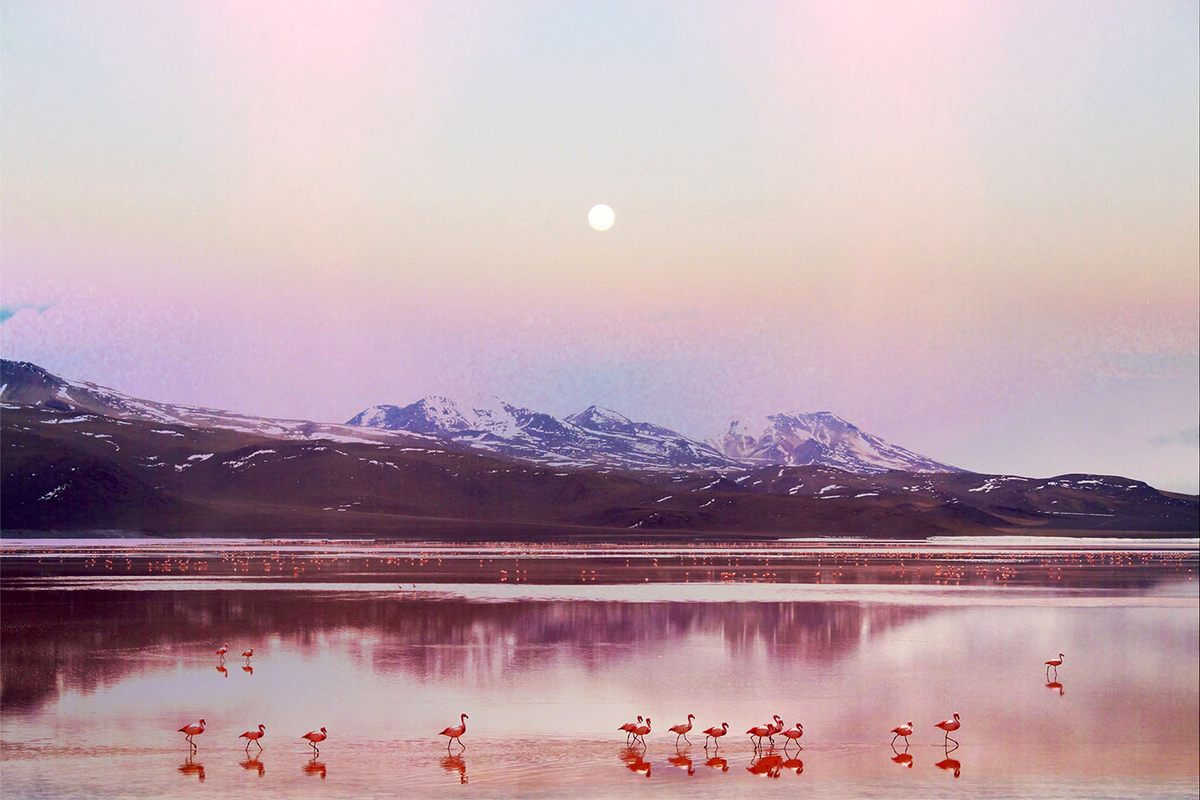 Such as landscape seems like it was made for photographers, but Khatib was a little disappointed when she rediscovered her images of Salar de Uyuni. "I instantly felt that there was something missing," she recalls. "They didn't bring me back to this place, they didn't give me the feeling how it really was."
So the Berlin-based photographer and visual artist began to experiment. She's had a long-standing fascination with filters and kaleidoscopes, and so adopted a specific technique to create a series of multicolored, dream-like images. She starts with her photographs, "usually landscapes that already have an otherworldly touch to them, or colorful photos abstracted with analog filters such as prisms," she says. "I have a huge library of these shots, which are the key element of my work. In the second step, I use layers and multiple exposure techniques. In a way, I am remixing my own photos. Sometimes the whole process takes just a few hours, sometimes I sit for months on an image, always trying to get the perfect layer."
With cotton-candy colors and abstract forms, Khatib's photos take a surreal environment to new, unexpected heights. "In the end, every picture is an abstraction of an already beautiful landscape," says Khatib. "These magical sceneries are my muse."
Atlas Obscura has a selection of Khatib's images.