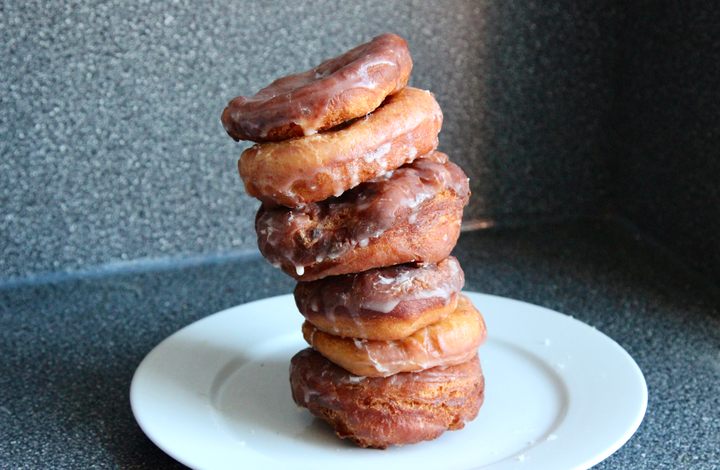 Resurrecting the Spudnut, America's Forgotten Halloween Treat
Bake the recipe remnant of a potato doughnut empire that once stretched from the United States to Japan.
The rise of what was once the largest doughnut empire in the United States started at sea. When Bob Pelton, a drugstore clerk from Salt Lake City, returned home from his European tour as a baker in the U.S. navy in the 1930s, he had potato doughnuts on the brain. It wasn't an original idea. Germans like to kick off their pre-Lenten revelry with platters of fastnachts, yeast-raised fritters often made with mashed potatoes. Similar recipes had already migrated across the Atlantic courtesy of the German immigrants in Pennsylvania, who referred to the doughnuts as fasnachts
Pelton, however, had the idea to christen the doughnuts "spudnuts," a decidedly more American-sounding name, and to scale up in a big way. In 1940—the same year Dick and Mac McDonald opened the first McDonald's restaurant—Bob and his brother, Al, opened the first Spudnuts shop in their hometown of Salt Lake City. They fostered a wholesome, community-friendly reputation by getting local boys to act as "young businessmen" and sell spudnuts door-to-door. On Halloween, the Peltons doled out their doughnuts to trick-or-treaters. In an interview with The Salt Lake Tribune, local resident David Fisher fondly recalled, "We would always take a couple of different Halloween masks with us so we could go back two or three times. Spudnuts were better than a crummy candy bar."
From the beginning, the brothers had ambitious plans for expansion. After starting with a mashed potato doughnut, they switched to a dry mix with potato flour that could be made in enormous batches and shipped to outlets around the nation. By the 1950s, business was booming at more than 350 Spudnuts stores across the continental United States, Alaska, and Mexico. Mr. Spudnut, a bow-tied anthropomorphic doughnut, served as the mascot for the burgeoning chain, hawking doughnuts made with "a special blend of finest wheat flour, powdered whole eggs, specially prepared potatoes, milk solids and other vital ingredients, all mixed and blended perfectly to the secret Pelton formula."
By the 1960s, other doughnut chains were gaining a foothold. Dunkin' Donuts, which opened its first store in 1950 in Quincy, Massachusetts, would go on to open around 100 shops over the next decade. Meanwhile, Krispy Kreme, which launched in 1937 in Winston-Salem, North Carolina, with a yeasted dough recipe that is also rumored to contain mashed potatoes, was gaining traction. Yet none could match Spudnuts for doughnut dominance. In 1964, the business was selling a whopping 400,000 spudnuts a day. The franchise made it as far as Japan.
It seemed like nothing could stop the global march of Spudnuts until 1968, when the Pelton brothers sold the business to National Oven Products, Inc. Three years later, the corporation sold it to Dakota Bake N Serve. In the 1970s, the new Spudnuts owner became entangled in a messy development project that resulted in multiple charges of conspiracy and fraud. In 1979, the parent company collapsed entirely, taking Spudnuts with it and leaving franchise operators without any of the trademarked mix.
Although the dissolution of the central organization should have spelled the end for Spudnuts, a number of franchisees soldiered on. A few opted to change the name, such as a former Spudnuts shop in Illinois that now sells potato doughnuts under the name "Tadoughs." But other franchisees, such as a Spudnut Shop in Richland, Washington, that has been owned by the same family since 1948, stuck with the name and improvised their own versions of spudnuts. At one point, a Spudnuts shop popped up as far away as Ho Chi Minh City, Vietnam. In 2011, former vice presidential candidate Sarah Palin famously declared that the country needed a "Spudnut moment," mistakenly believing that the doughnut shops represented small, family-owned businesses rather than the shattered remnants of a corporate juggernaut.
"The Spudnut is a little bit of a mystery," says Keith Larson, the founder of Johnny O's Spudnuts. "I've called people who own Spudnut stores and they don't want to talk to you. There were all these big legal fights." To name a few, Michael Patton, who purchased the trademark, spent considerable time in 2011 in civil court suing a franchisee for using the trademarked name without permission, then defending himself from roughly $1 million in fraudulent orders by a trio of Utah con men claiming to be affiliated with the Church of Jesus Christ of Latter-day Saints.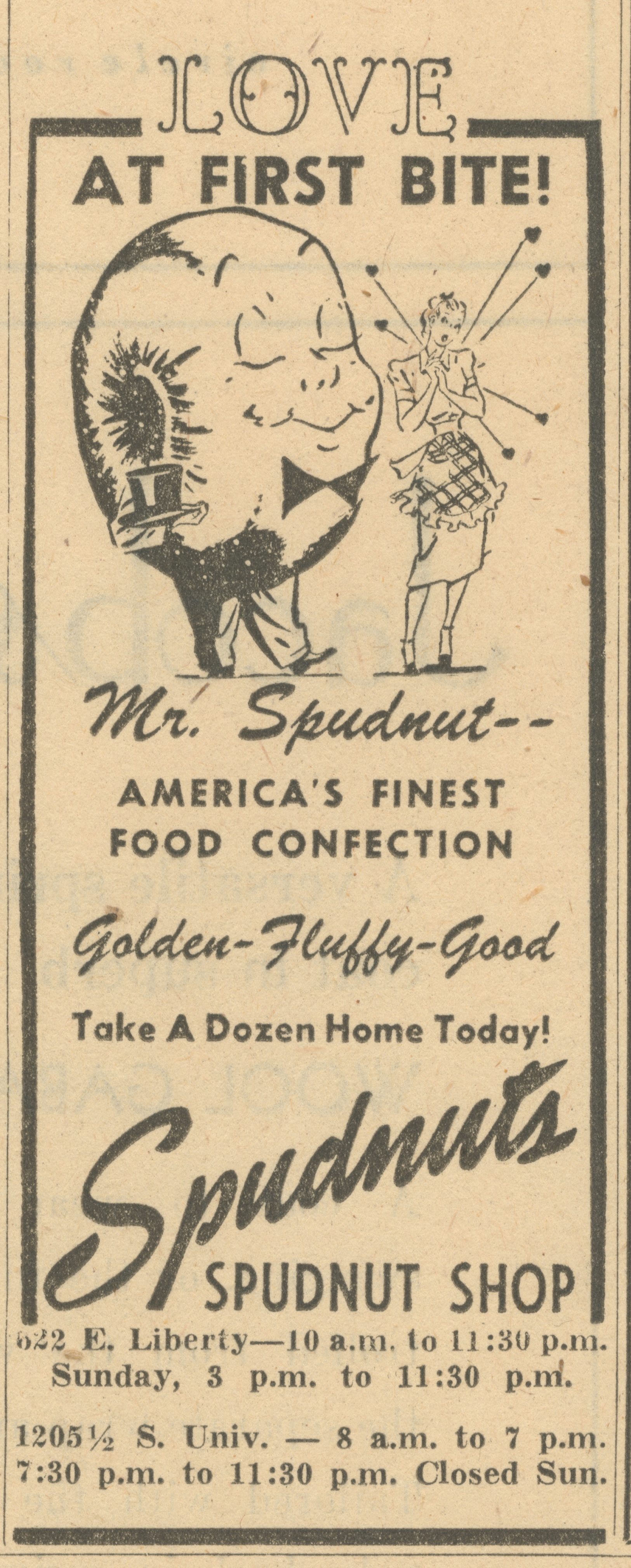 "I remember my business partner saying, 'Whatever happened to the Spudnut?'" Larson says. They tracked down Patton in Illinois and purchased the rights to the name, to Mr. Spudnut, and to the accompanying secret recipe. The duo went on to open up Johnny O's, an Americana-heavy doughnut shop in Utah, right where it all began.
There are currently two branches of Johnny O's, in Logan, Utah, and Farmington, New Mexico. Like the Pelton brothers, Larson has dreams of once again spreading Spudnut shops across the country, in part because he believes interest in the doughnuts never really went away. "I ran into somebody last week and they said, 'Once a year, I make Spudnuts for my family for Halloween.' They have their own family recipe that uses potato flour."
Making spudnuts from scratch is certainly a project, but one well-worth doing, whether it's Halloween or not. The potato in the dough produces an exceptionally airy, tender crumb. The internet is full of recipes for spudnuts, potato doughnuts, and fastnachts, many passed down through old family traditions. While mashed potatoes or potato flour are a unifying theme, recipes run the gamut from cake doughnuts, which owe their rise to chemical leavenings, to yeast-raised doughnuts. Some spudnuts call for butter, while old-fashioned recipes often opt for shortening.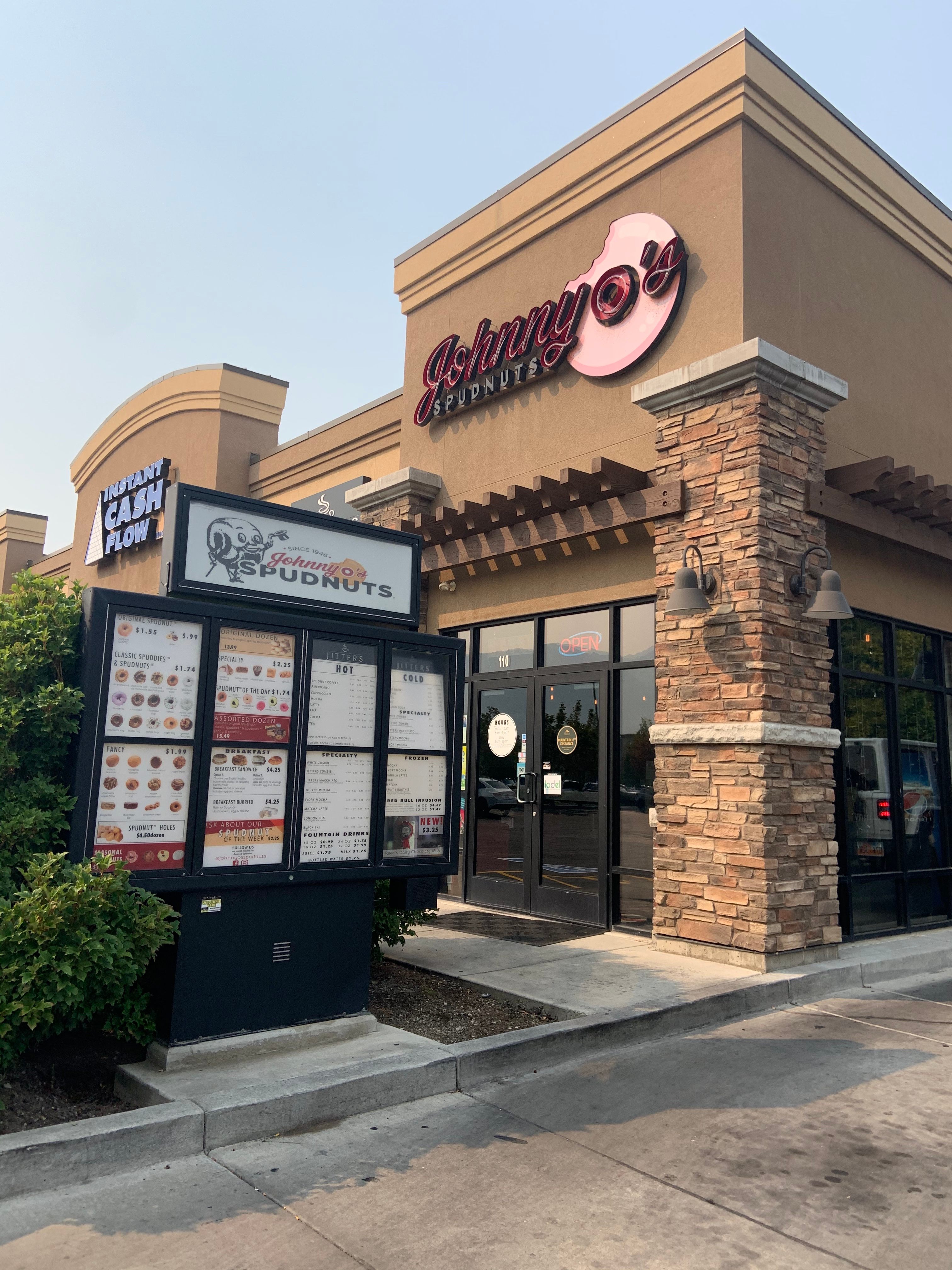 "​​People have tried to copy it," Larson says of the original spudnut recipe. "They'll do their own version, but they don't have all the spices." While the original recipe remains a closely-guarded secret, Larson is willing to let on that the yeast-raised doughnuts contain eggs and owe some of their signature flavor to a roster of seasonings, including vanilla, nutmeg, and mace.
Using these starting points, I set about trying to create a rough approximation of the potato doughnuts for home cooks not lucky enough to live near a Spudnuts outlet, official or otherwise. Although the trademarked mix uses potato flour, sticking to mashed potatoes felt truer to the fritter's Germanic roots. Browning butter isn't strictly traditional, but I found it added an impressive depth of flavor that made the warm spices pop. Since a 1960 newspaper declared that spudnuts were "cooked in pure vegetable shortening, making them easy to digest," a giant tub of Crisco is the way to fry for authenticity. For cooks leery of shortening, however, any neutral oil with a high smoke point will work just fine. The spudnut recipe below could easily serve as a base for all sorts of flavor variations—the same newspaper clipping describes "at least 30 varieties including chocolate, maple, glazed, nut, coconut, jelly, lemon, cream, twists, honey, apple, spice and others"—but it's hard to top the old-fashioned appeal of a humble vanilla glaze.
"I've been trying to bring that nostalgia back," Larson says. "At the end of the day, it's a really good doughnut."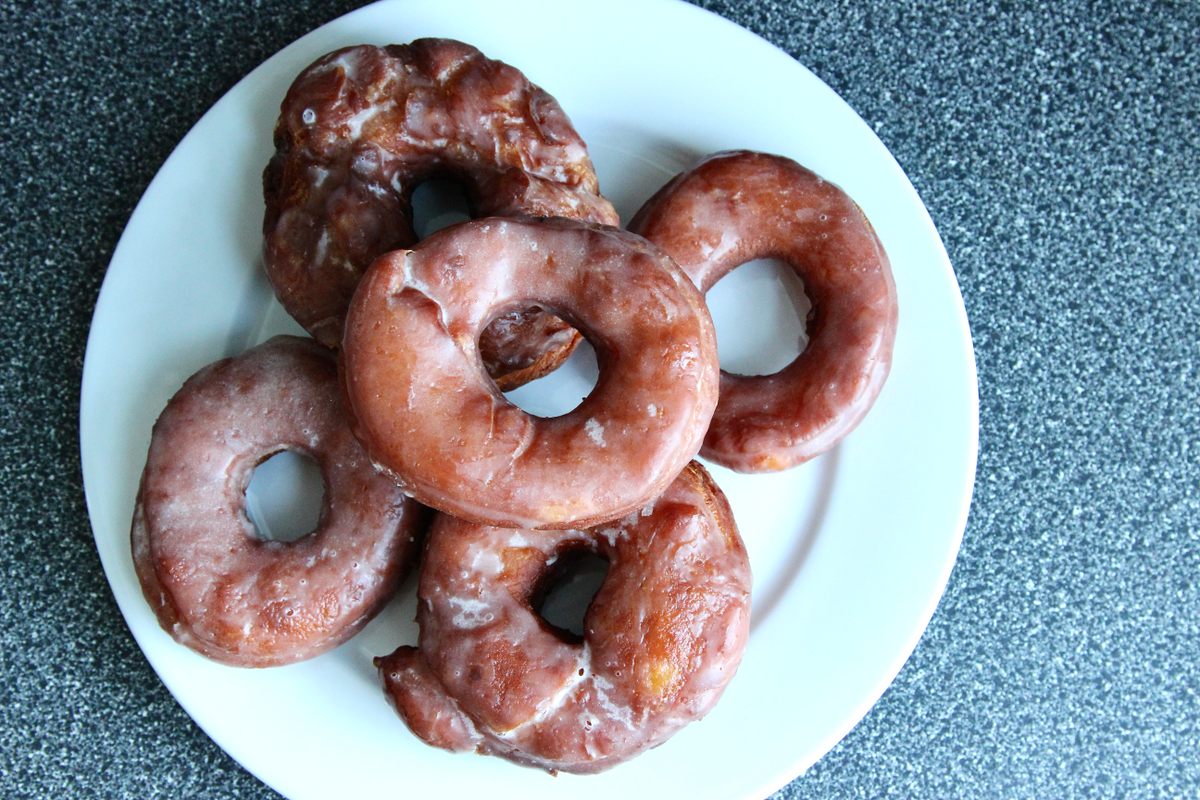 Spudnuts
Adapted from a family recipe by Stephanie Dulgarian, blogger at Super Simple.
12-16 spudnuts, plus doughnut holes
Ingredients
3–4 Yukon Gold potatoes
2 cups whole milk (as needed), plus 1/4 cup
1½ teaspoons yeast
½ cup warm water (approximately 110°F)
½ cup plus 1 pinch sugar
6 tablespoons butter
1 egg
½ teaspoon nutmeg, preferably freshly grated
¼ teaspoon mace
1 tablespoon vanilla, plus 1 teaspoon
¾ teaspoon salt, plus 1 pinch
3 ½–4 cups all-purpose flour plus additional for dusting
Canola, safflower, refined peanut oil, or melted shortening for frying
Instructions
Peel and quarter the Yukon Gold potatoes, then place them in a saucepan and add enough milk to cover. Bring to a simmer and allow the potatoes to cook until they are completely tender. Drain, reserving ½ cup scalded milk.

Mash the potatoes and set aside. Allow the potatoes and milk to cool.

Wipe out the saucepan and add 6 tablespoons of butter over low heat. Cook, swirling regularly, until the butter smells fragrant and turns a deep shade of hazelnut. Allow the butter to cool.

While the butter browns, proof the yeast in the warm water with a pinch of sugar. Visible bubbles should form in the mixture after about 10 minutes.

Beat the egg in a large bowl, then add in the mashed potatoes, yeast mixture, milk, browned butter, sugar, salt, vanilla, and spices and stir until thoroughly combined. Gradually add in enough flour to form a soft, shaggy dough. Don't worry if the dough feels slightly sticky—it will be easier to handle after resting.

Cover the bowl with plastic wrap or a towel and allow the dough to rise for about 1 ½ hours. It won't quite double in size, but it should be visibly puffed and smoother.

Generously flour a work surface, then place the dough on top and roll it out to approximately ¾ inch thick. Keep dusting with flour if the dough is sticking to the rolling pin.

Heat several inches of oil to 365–375°F in a heavy-bottomed Dutch oven. A candy thermometer is helpful for keeping track of the temperature.

While the oil is heating, whisk together glaze ingredients in a bowl until completely smooth.

Prepare a baking sheet with a wire cooling rack on top.

Fry the spudnuts in a single layer of roughly three or four at a time for about one minute per side, or until dark golden brown. Flip using a slotted spoon. Once both sides are brown, gently lift the spudnuts onto the prepared wire rack to cool slightly.

When the spudnuts are just cool enough to handle, dip one side in the glaze, then return to the wire rack, allowing the excess to drip off. Spudnuts are best eaten while still warm, but the mashed potatoes will keep them moist for up to two days.
Gastro Obscura covers the world's most wondrous food and drink.
Sign up for our email, delivered twice a week.