The Grotesque 100-Year Old Wax Figures on Display in Brooklyn
Murder, anatomy, death masks, and erotic beauties in wax—a Victorian amusement comes stateside.
Eyelash detail on a beautiful wax "Anatomical Venus". (All Photos: Michelle Enemark)
The Morbid Anatomy Museum, a 4,200-square-foot space that dominates an unassuming street corner of south Brooklyn, contains a secret. The museum is well known for its lectures on any manner of curious topics, its popular taxidermy workshops, and its research library. But until May 30th, it is also the home to what is quite possibly the largest and widest ranging wax anatomical collection on view in the country, "House of Wax".
This singular collection includes dozens of detailed wax figures, death masks, ethnographic busts and anatomically correct human bodies, all of which were first sculpted over 100 years ago. 
These incredible pieces draw from Castan's Berlin-based Panopticum which ran from 1869 to 1922. Panoptica were the European version of American dime museums; they were proto-museums, aimed to draw the masses through a "show of everything". These popular exhibits combined entertainment and education with informative anatomy lessons, titillating nudity, busts of cultures from around the world, and famous figures (generals! poets! murderers!) of the day.
At the peak of its popularity, this particular wax collection could draw 5,000 visitors a day, but was never showcased in the United States. Nearly 150 years after it opened, Americans finally have a chance to be both enlightened and entertained by the mysteries of humanity in wax.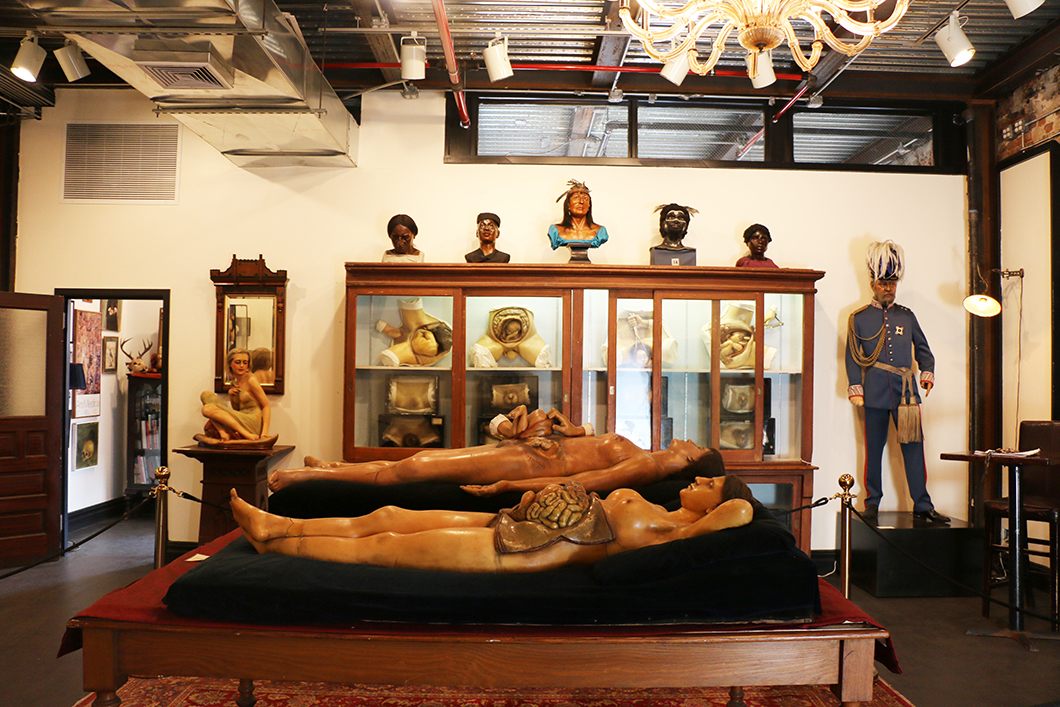 In the center of the exhibit lie two "Anatomical Venuses"—wax beauties with braided hair, eyelashes, and peaceful faces, ripped open at the abdomen to reveal the unborn fetuses within. These gorgeous objects, popular in the 18th century, are a perfect example of the cross between entertainment and education, titillation and information, sex and art that defined the museums and exhibits of the day.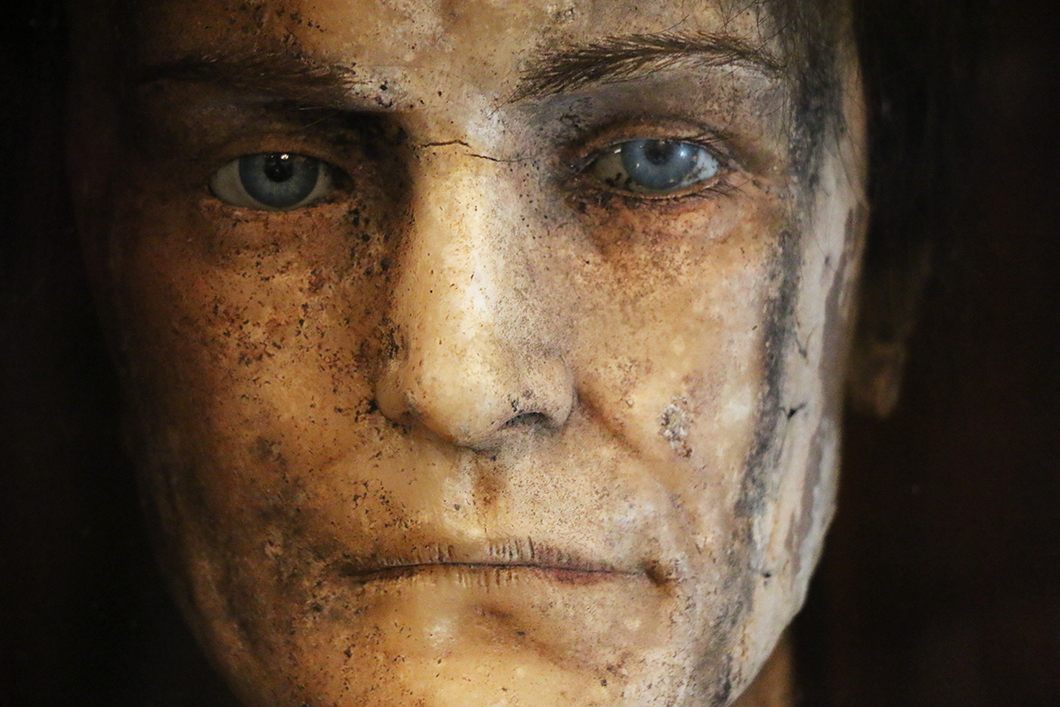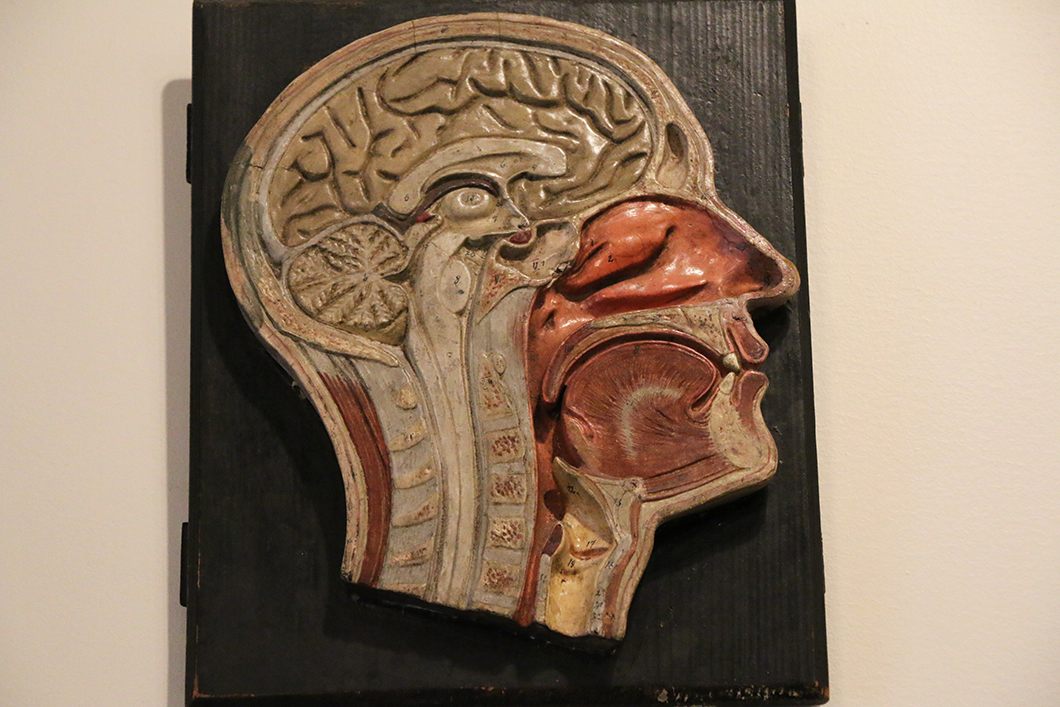 Plaster cross section of human head (not from Castan's Panopticum).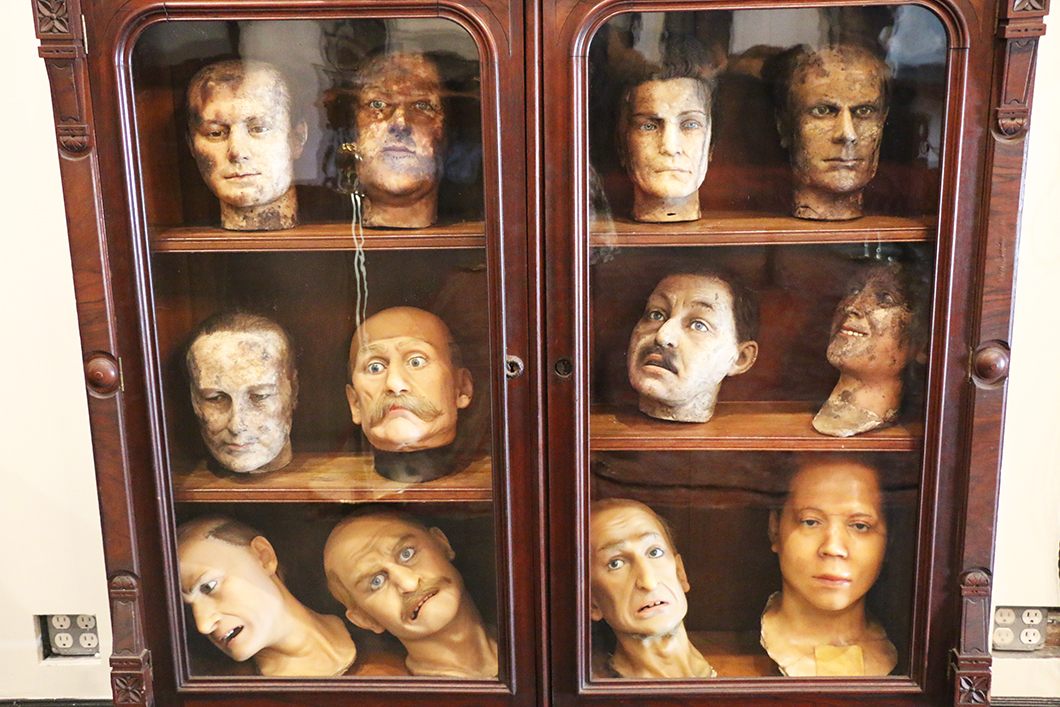 Case containing a variety of disembodied male wax heads in various states of disrepair.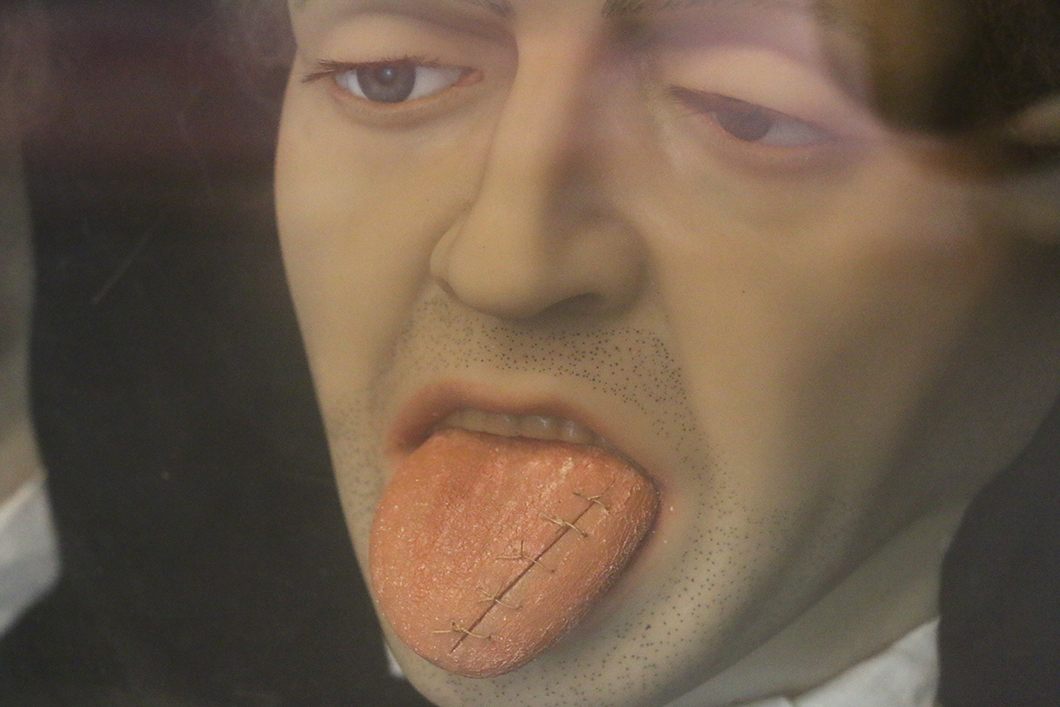 Wax bust showing stitches on the tongue, and a thoughtfully-included 5 o'clock shadow.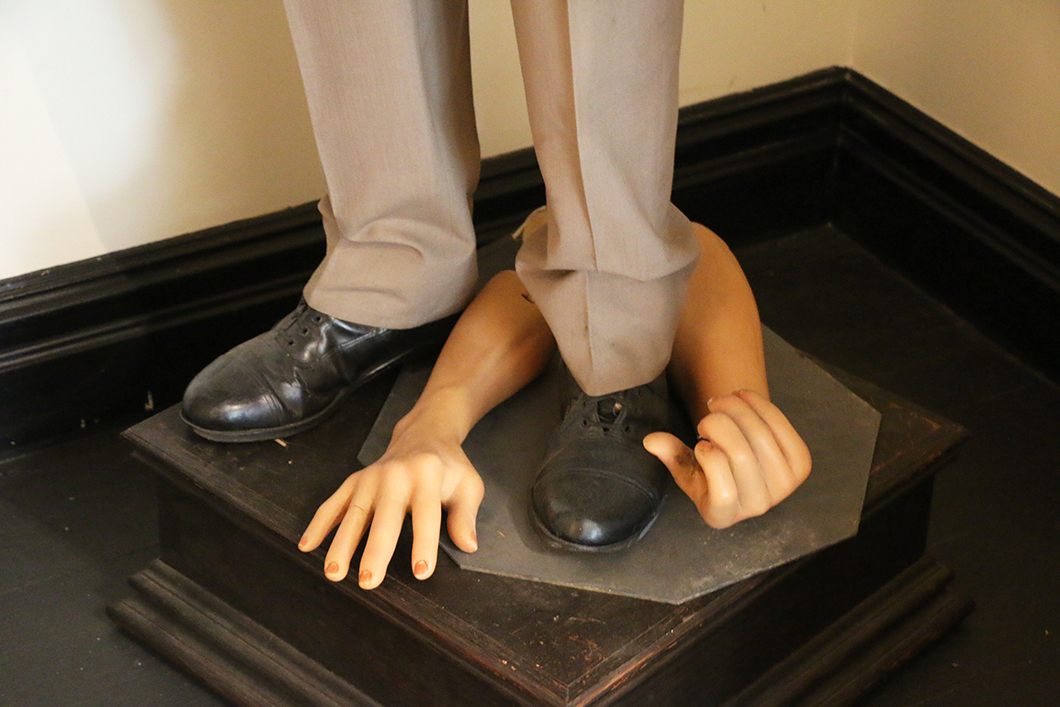 Tucked in a nook behind a red curtain, a full sized wax figure of German serial killer Friedrich Heinrich Karl "Fritz" Haarmann (1879 – 1925) looms precariously. Nicknamed "the Butcher of Hanover," he sexually assaulted, murdered, mutilated and dismembered at least 24 boys and young men between 1918 and 1924 in Hanover, Germany. (Other nicknames: "Vampire of Hanover" and "the Wolf Man" thanks to his habit of biting into or through his victims' throats.) Two disembodied hands at his feet oddly suggest the corpses he left behind.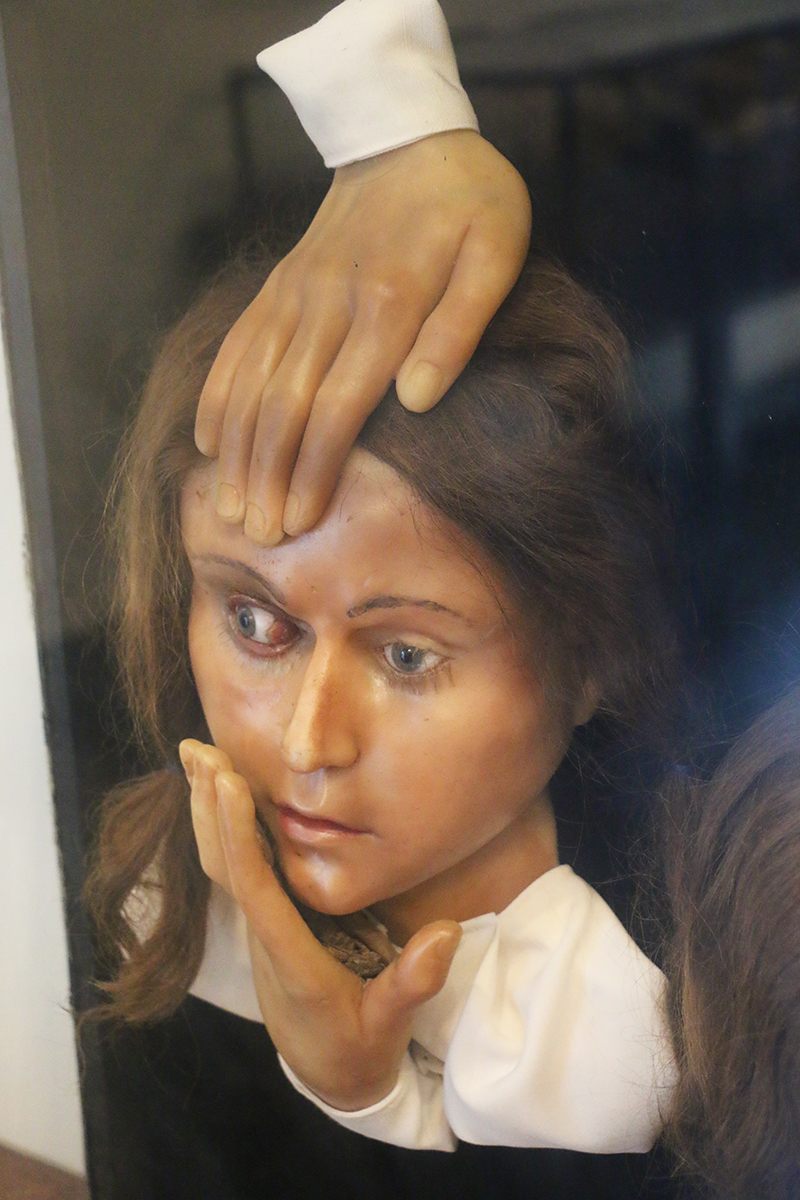 Wax model showing a woman's eye surgery, complete with the disembodied hands and shirt cuffs of the physician.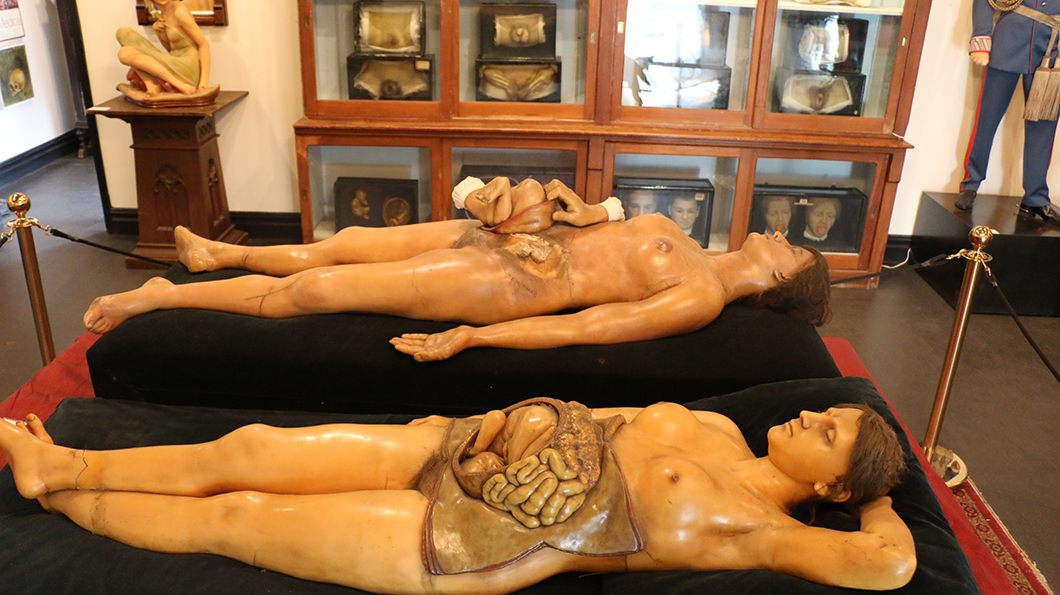 Wax anatomical Venuses, signed by E. E. Hammer, one of the most prolific wax sculptors of the time.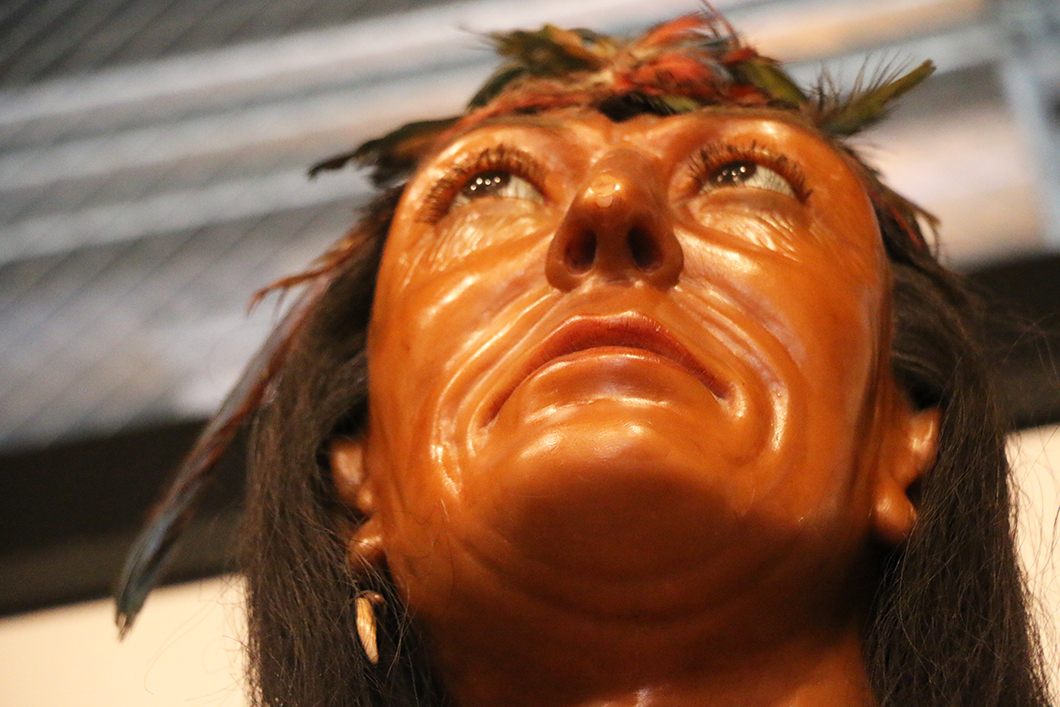 Wax figures depicting non-Western races or "exotic" cultures was part of the curiosity and exploration of humanity that these wax collections sought to display—albeit in ways that are undeniably racist to modern eyes, like this unlabeled ethnographic bust of an American Indian.
Detail of an obstetrical wax showing a troubled childbirth.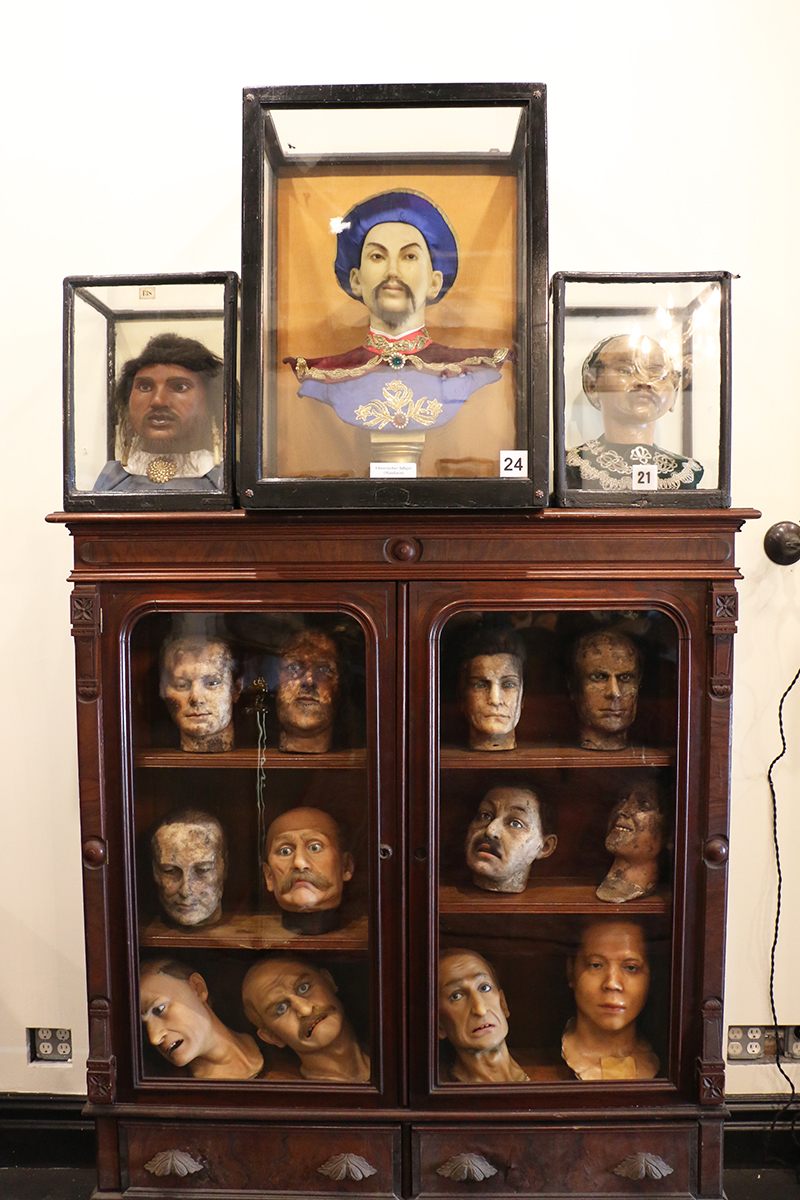 On top of the case sit three ethnographic busts. The center bust in his regalia is labeled "Chinese Nobleman", the two others are unlabeled. The case itself contains a variety of wax heads, some from Castan's Panopticum.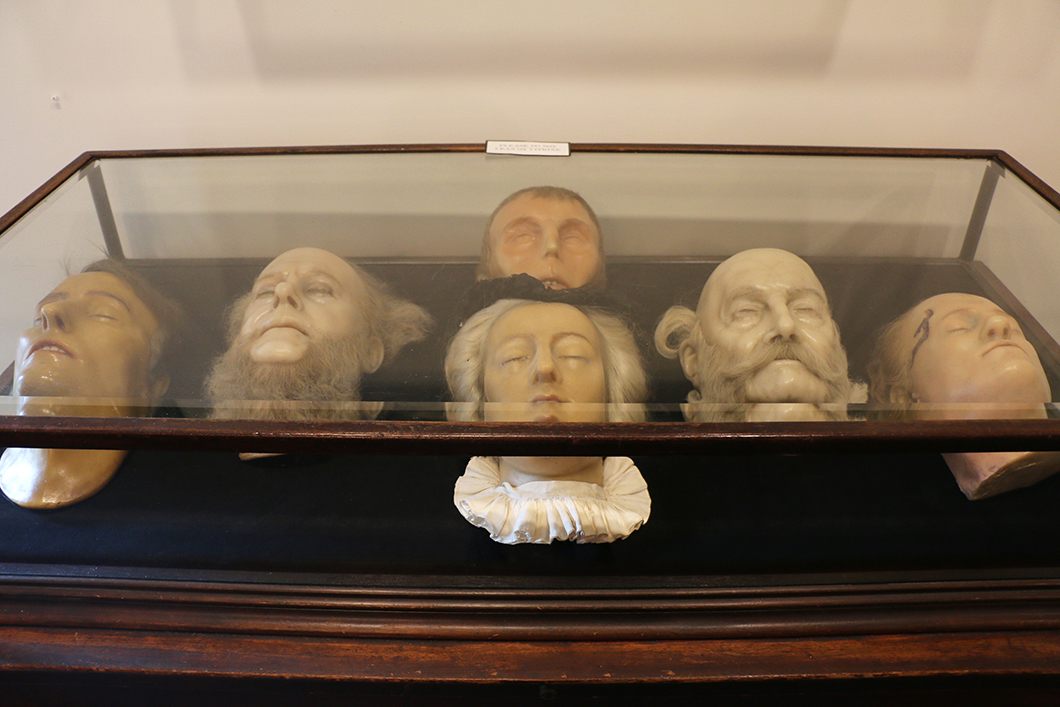 Death masks, left to right: Napoleon; Henrik Ibsen, Norwegian playwright; unknown; Mary Stuart, Queen of Scots; Kaiser Wilhelm I, King of Prussia, first German Emperor, and first head of state of united Germany; Karl XII, King of Sweden from 1697 to 1718.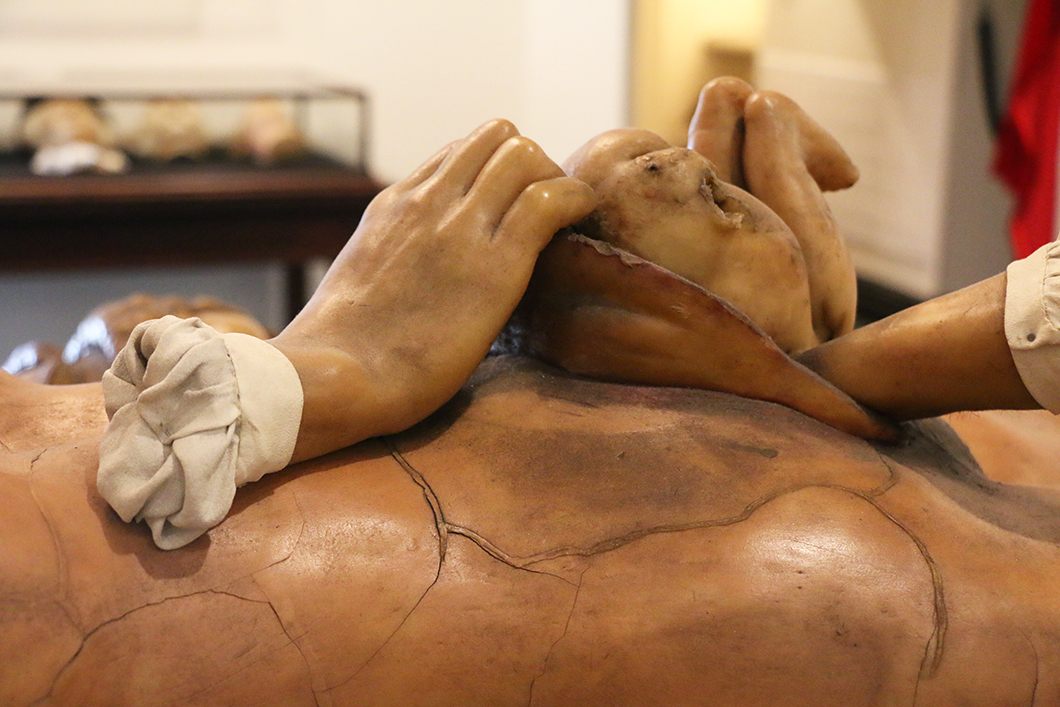 Detail on one of the wax anatomical Venuses, her body cracking with age, and the disembodied hands and shirt cuffs of a physician.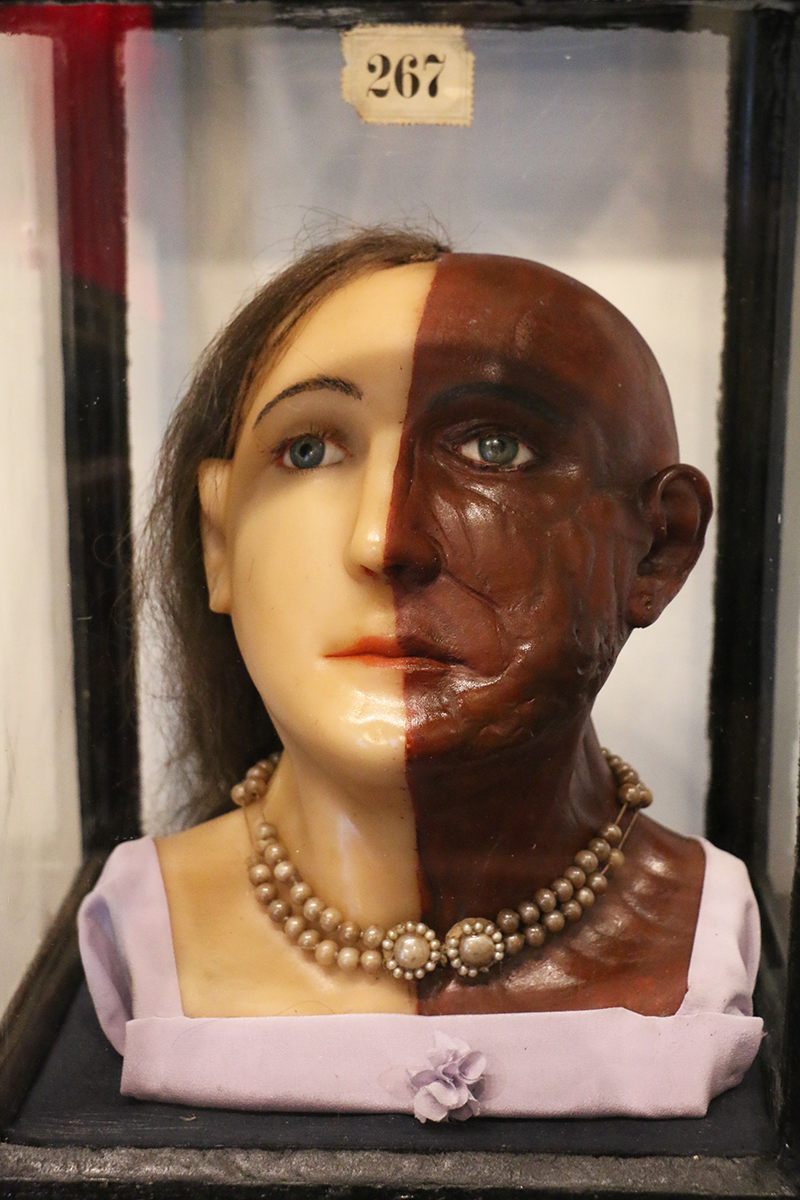 Wax bust depicting a woman, dressed in finery, suffering from "Feuermal", nevus flammeus or "port-wine stain." This is a a birthmark in which swollen blood vessels create a reddish-purplish discoloration of the skin.
Peter McIssac will be giving a rare talk on Panopticons on April 5th at Morbid Anatomy. Admission to the illustrated lecture, "Into the Panopticum: Spectacle and Education in Popular Museums of 19th Century Europe" also includes admission to this unique and fascinating collection. "House of Wax" closes May 30th, 2016.