The Hidden History of America's 19th-Century Mania for Panoramic Prints
Itinerant artists made almost 5,000 views of 2,400 different places.
A view of Colorado Springs. (Image: Henry Wellge/Library of Congress, Geography and Map Division)
Thaddeus Mortimer Fowler died while working on a view. In 1922, when he slipped on the ice in Middletown, New York, and broke his leg so badly he never recovered, he was almost 80 years old, and he had been drawing birds-eye views of American places for 54 years. He had made more than 400 in total—240 just of towns and cities in Pennsylvania.
In the years after the Civil War, he was the most prolific of a small group of itinerant viewmakers who traveled the country to capture its boom towns, villages, and cities in lithographed prints, making a living selling those drawings to proud citizens.
These views were one of America's first fads. These panoramic maps were hand-drawn from an imaginary viewpoint, elevated high above the streets, revealing the shape, situation and details of America's growing cities. They were hugely popular, "almost a mania," according to one contemporary writer.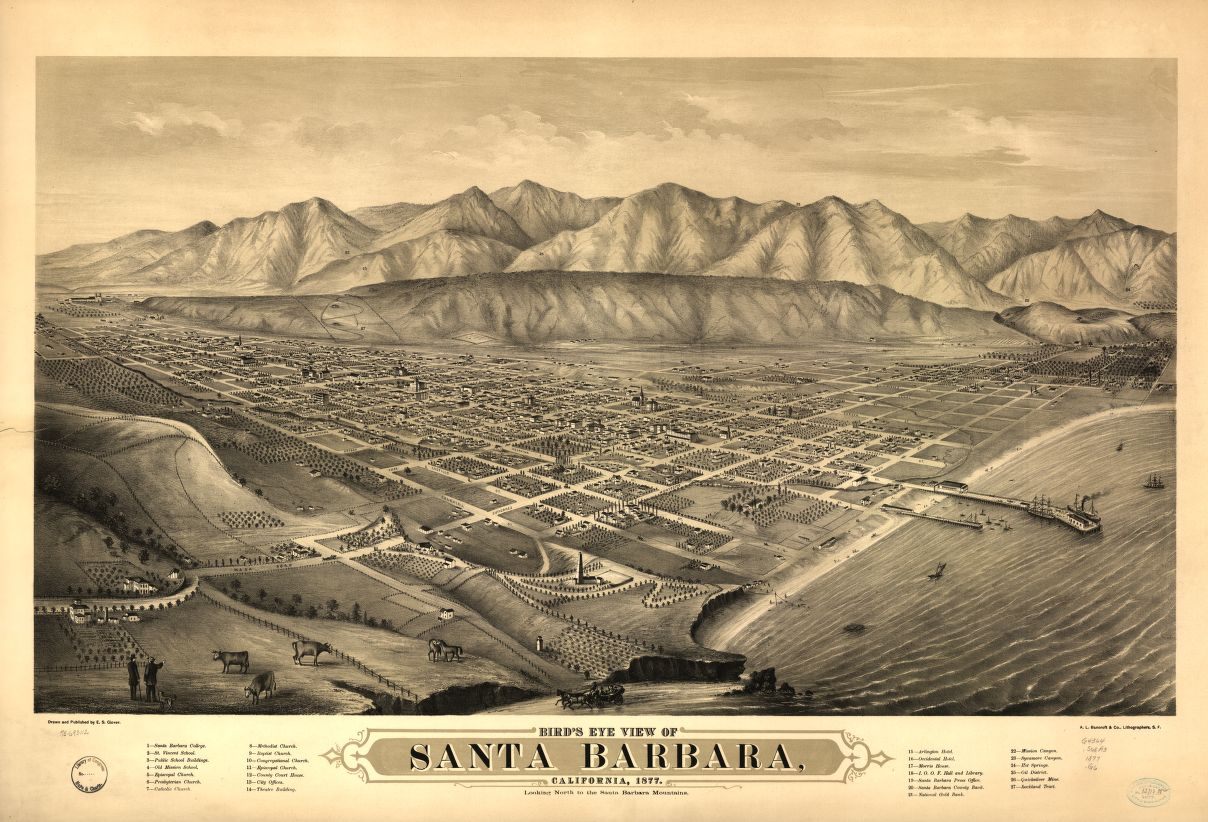 Santa Barbara. (Image: E.S. Glover/Library of Congress, Geography and Map Division)
As John W. Reps documented in his seminal study on Views and Viewmakers of Urban America, roving artists like Fowler made close to 5,000 views of 2,400 different places, from the largest in the country to small villages in New Hampshire and nascent cities in the West.
Not long after Fowler died, these prints went out of style; today, they often turn up in boxes in used bookstores or in street fair stalls alongside old maps and scientific prints. Flipping through a pile of prints, the individual places they're meant to celebrate can blend together, and they seem standardized enough that it's easy to forget someone made them.
Most viewmakers have become anonymous, with time; we know their names but nothing else about them. The exception is the handful of men—Fowler, Albert Ruger, the Bailey brothers, and a few others—who in the decades after the Civil War made a career of spending their lives on the road, making drawings of place after place.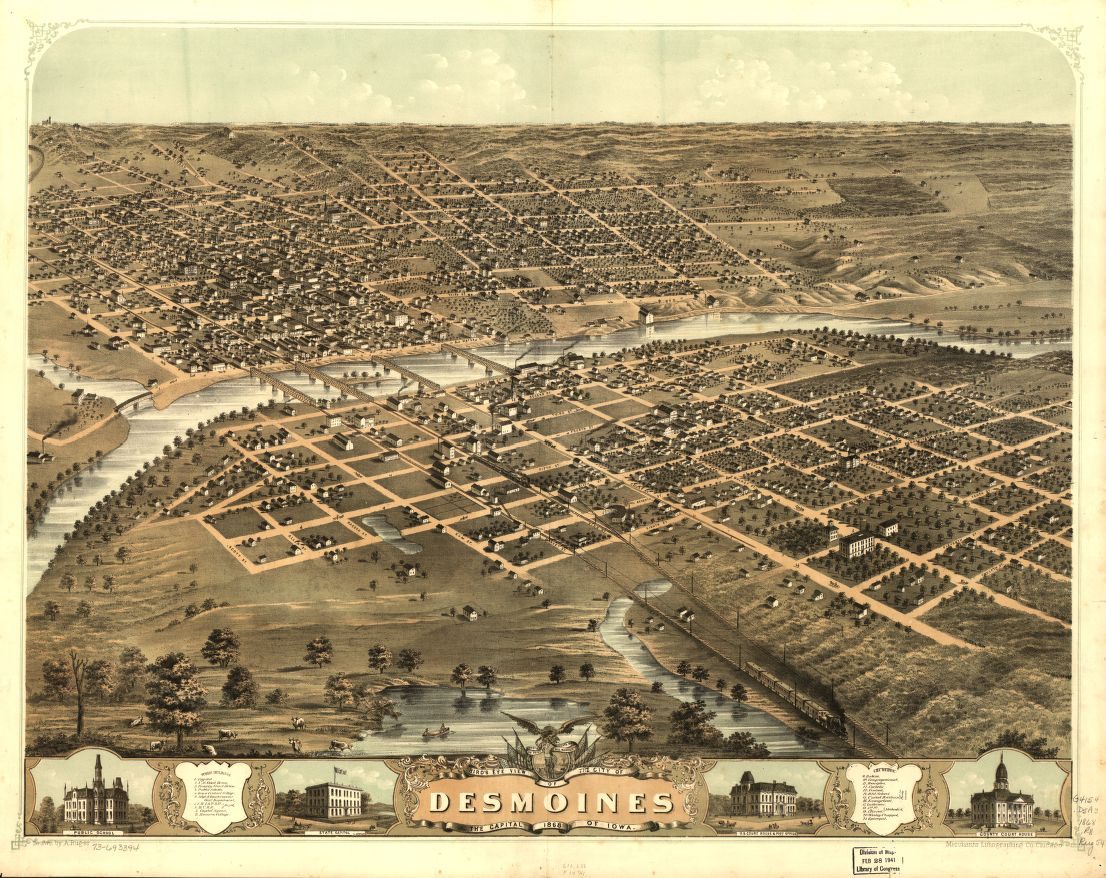 Des Moines, Ia. (Image: A. Ruger/Library of Congress, Geography and Map Division)
T.M. Fowler turned up in Madison, Wisconsin, in 1864. He had wanted to fight in the war, and though it wasn't over yet, he had been injured, badly, in the Battle of Bull Run, and discharged in 1863. For the past year, he had been traveling among Union soldiers, making tintypes. He had an uncle, who was also a photographer, who would give him a job in Wisconsin.
Within a few years, though, he had met Albert Ruger, who after the war had started traveling around the Great Lakes states and drawing the cities he visited there. They were different types of men: Ruger, the elder, had enlisted only at the end of the war, while Fowler had been eager to join the army. But they got along well enough that Fowler became Ruger's agent and apprentice.
To make a view of a city, artists like Ruger and Fowler would begin by walking the streets of a town. They might have a map of the area, too, but as they canvassed the area, they would sketch the city's buildings, parks, and landmarks. Using imagination and basic tools of perspective, they would use those sketches to make a preliminary drawing of the place. With that draft, the artist's agent—or sometimes the artist himself—would solicit subscribers, through newspaper placements and pitches to prominent businesses and citizens, who might buy a pile of copies.
With enough orders (a minimum might be 250 for a small city), the viewmaker would perfect his drawing and have lithographic printing stones made for a run of prints. Some artists and their agents would include the names of important businesses or places at the bottom of their view, or line the border with vignettes of significant buildings. The surest way to be among those honored was to commit to buying a healthy number of the prints.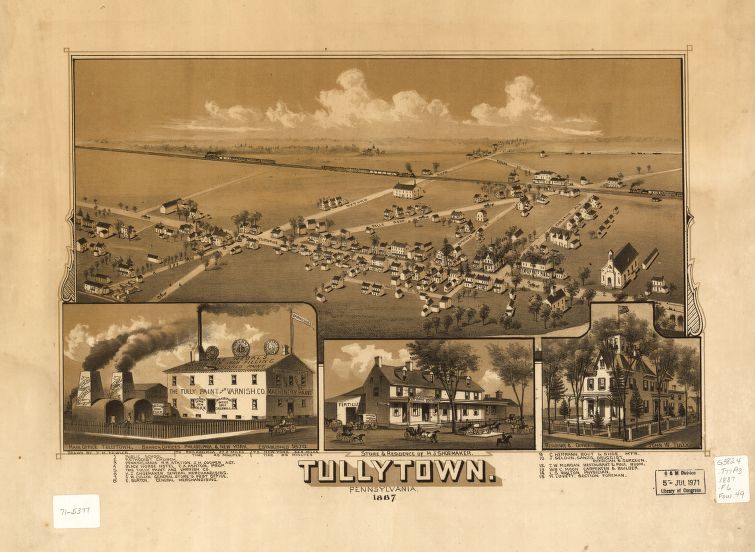 One of Fowler's Pennsylvania views. (Image: T.M. Fowler/Library of Congress, Geography and Maps Division)
Viewmaking wasn't an entirely new idea. In Europe, panoramic city views had long been made from woodcuts or engravings, and commercial lithographic printing made it to America in the 1820s. The earliest views of American cities were made before the war, often by respected artists looking to make some actual money. What was new about the American viewmakers, and particularly the ones working after the war, was the volume of their work—"the sheer number of images drawn, printed and published," Reps writes—and the geographic span of their work.
These 19th-century viewmakers revealed the variety of American cities at a time before most Americans had stepped very far outside their hometowns. Boston, New York and Pittsburgh were tightly packed into the curves of rivers; Louisville, built up along the wide and flat expanse of the Ohio River river and sprawling out into the flat beyond; the small and sparse Western cities—Colorado Springs, laid out neatly before mountains, with a colonnade running down the center, Cheyenne, with most of the six-by-five-block grid half empty of houses.
Viewmakers also provided a record of a city's shifting fortunes. In 1848, as the California Gold Rush began, San Francisco was just a collection of slant-roofed buildings by the bay. By the end of 1849, the city's population had increased 25-fold. Artists also made views of places that never grew large or important. The only town that was too small to merit a view was one that couldn't muster enough subscribers to pay for it.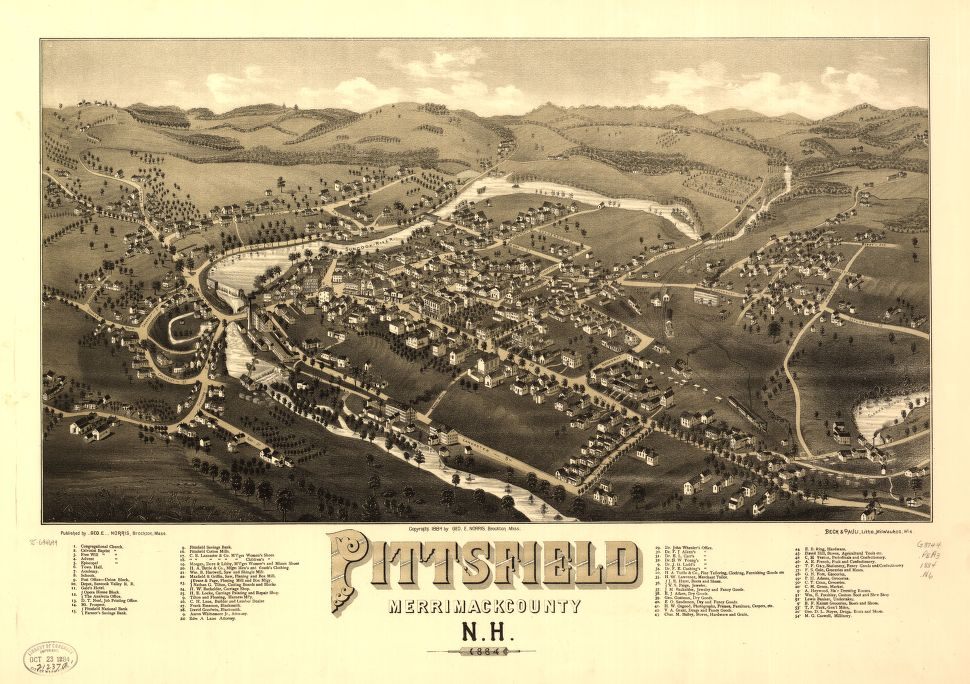 Pittsfield, N.H. (Image: George Norris/Library of Congress, Geography and Maps Division)
Many of the artists who made these views were immigrants to America, and not all of them were dedicated to this particular career. Philadelphian W.W. Denslow, who drew New York City, as well as towns in Maryland and Pennsylvania, was best known for his illustrations for The Wonder Wizard of Oz books, and later Oz costume sets and comic strips. 
Another viewmaker, George Baker, went to California looking for gold but had also lined up a gig with the New York Tribune to draw what he saw out there. Artist Camille Dry dwelled on St. Louis until he had created a 110-sheet view of the city, and then stopped making views altogether. Others, though, spent many years of their life traveling the country and its territories to peddle their prints. One viewmaker, Henry Wellge, visited 27 states and territories.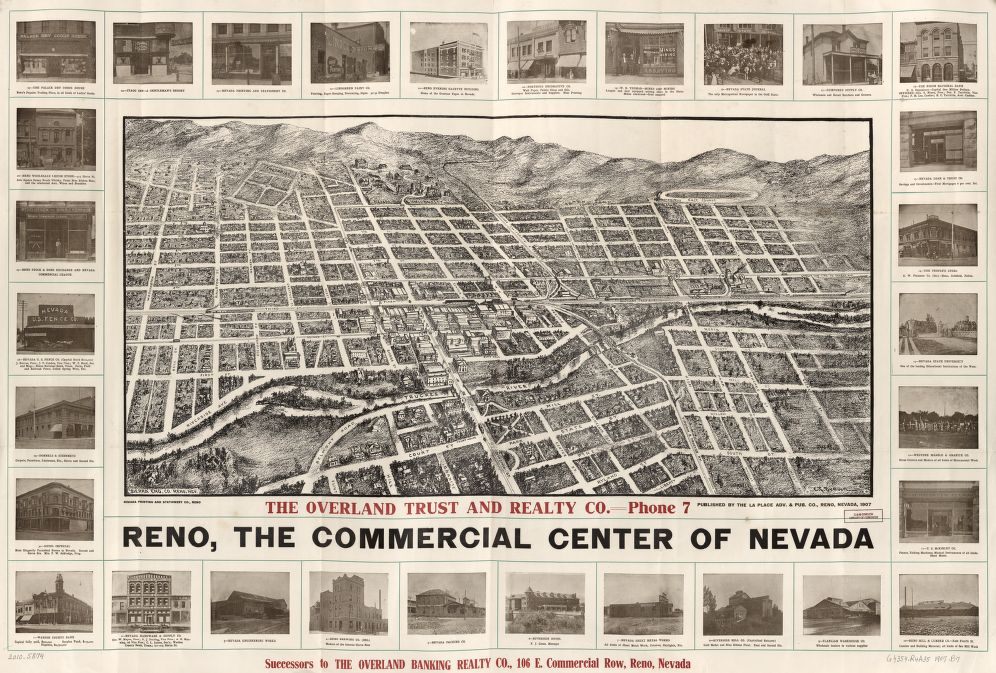 A very commercial hand-drawn view from 1907, with photos. (Image: Grafton Tyler Brown/Library of Congress, Geography and Maps Division)
The most prolific, though, learned to concentrate their efforts on particular areas. Fowler started out drawing places in Wisconsin, Indiana and Michigan, and after marrying and moving east in 1875, Fowler continued to spread his efforts across the country, in New Hampshire, Nova Scotia, Kansas, North Dakota, and Ontario. But in the 1880s, he lit on a new strategy. He started concentrating on Pennsylvania.
Every year, he would pick a particular area in the state, and he would travel from town to town there, making views. One year, he went north of Philadelphia; another he focused on Scranton. After he had covered the east, he worked in the western part of the state, in Pittsburgh and the surrounding towns. When he had exhausted the possibilities of Pennsylvania, he moved south to West Virginia. This strategy kept him in business for two decades. In total, he drew 240 views just of places in Pennsylvania.
Another Fowler view of a Pennsylvania town. (Image: T.M. Fowler/Library of Congress, Geography and Maps Division)
These lithographed views have a charm to them, capturing American cities at a point when they didn't have to work quite so hard to sell themselves. Cities were growing, and people were proud of that. One reason that the prints went out of style is that places started changing so fast that the technology couldn't keep up. 
In the new century, though, the business started changing. Artists would include blimps and planes in their pictures to imply the view reflected one actually seen from above, and soon photographs taken from planes would make these imagined views seem old fashioned.
During the Great War, this strategy got Fowler in trouble—he was accused of being a German spy. Still, he loved the work. Just a few years before he died, when he was first working on Middletown's print, he wrote his granddaughter in 1920 that he had felt "unadulterated joy" walking the streets in order to craft a view of the town.