Found: The Warhol Silkscreen That Alice Cooper Forgot He Owned
Probably worth millions, it was rolled up in storage for decades.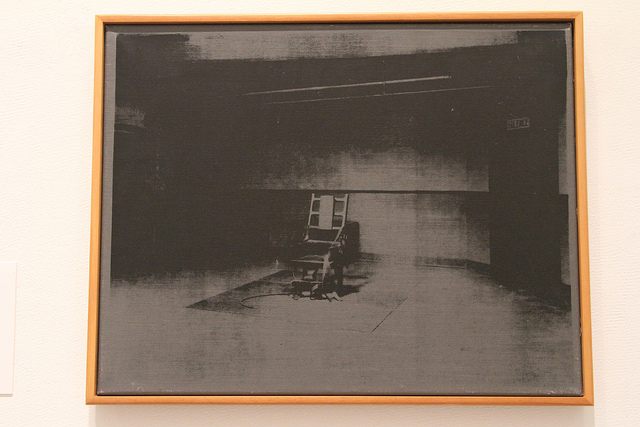 Forty or so years ago, rock legend Alice Cooper and art legend Andy Warhol were both in New York City and spending a lot of time in the same place, including the legendary music club, Max's Kansas City. In that now-mythic time, Warhol was famous but not quite so famous as he would become. Cooper's girlfriend at the time, Cindy Lang, befriended the artist and discovered that Cooper and Warhol had an aesthetic touchstone in common—the electric chair.
In one show, Cooper staged a fake electrocution; Warhol had made a silkscreen print of an identical chair, used to execute the Julius and Ethel Rosenberg, The Guardian reports. Lang decided that they could use one of Warhol's prints. At the time, it cost $2,500.
Now, prints from that series have been sold for up to $11.6 million. Cooper's, it turned out, was sitting rolled in a tube, in storage.
The print was rediscovered after Cooper's longtime manager happened to have a conversation with an art dealer about how valuable Warhol's work had become. When the manager mentioned Cooper had one of these prints, the dealer "advised him to find it," The Guardian reports.
It's unclear how much this particular print could fetch, since it's unsigned, though thought to be authentic. For now, there is no plan to sell it; Cooper may hang it in his house.