A Wisconsin Bar Had an Enormous 1885 Circus Poster Hidden Within Its Walls
It wasn't meant to survive nearly that long.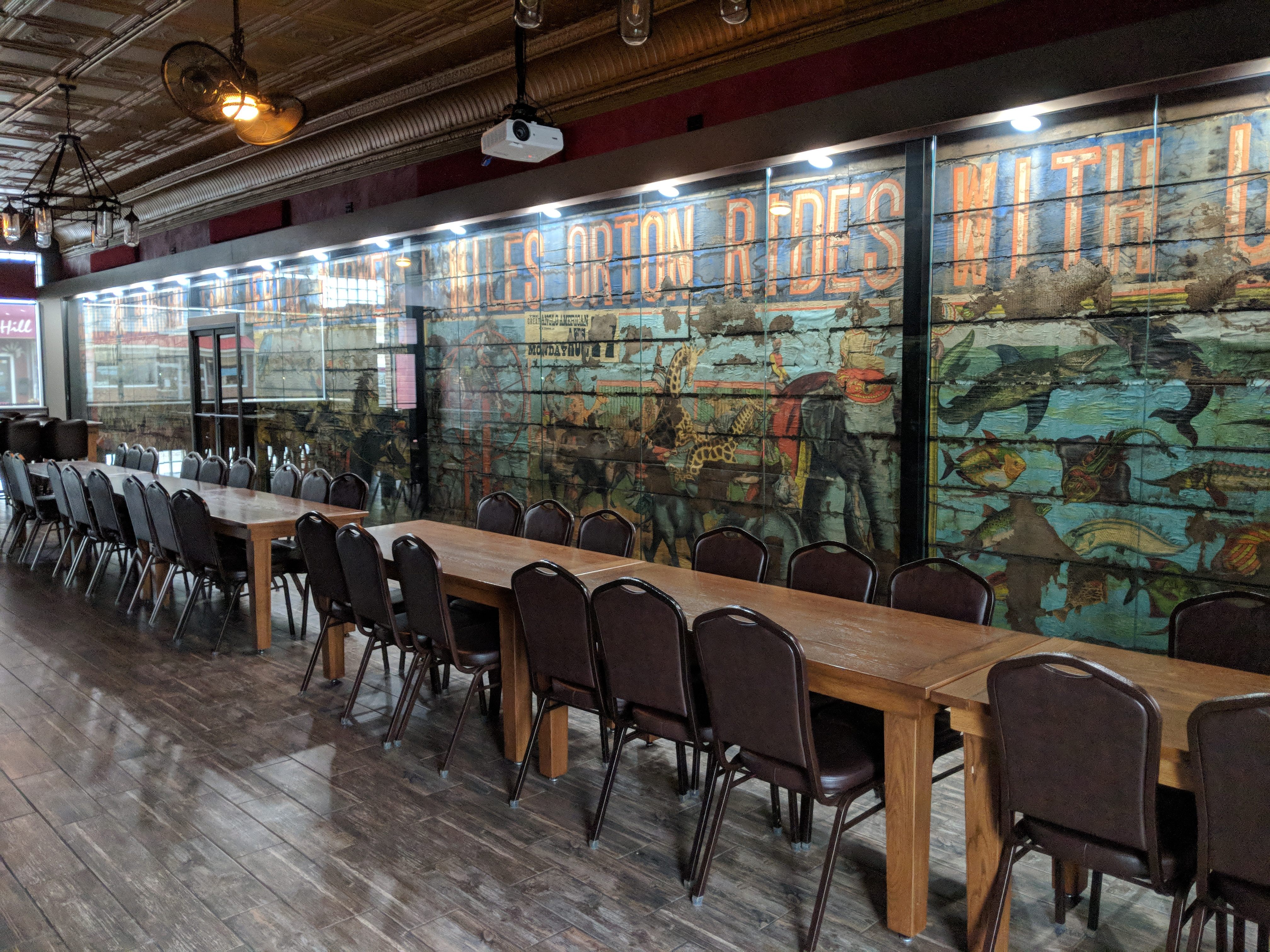 Durand, Wisconsin, is an old railroad town on the banks of the Chippewa River. In the early 19th century, when traveling circuses were emerging as a popular form of entertainment, trackside towns such as Durand made natural stops for menageries of train cars holding camels, tigers, elephant-riders, and more. But of course, this was all before television and radio (and before concerns about animal welfare penetrated the circus world), so the only way to get the word out about the coming extravaganza was through signs and billboards plastered up in each town. In 2015, Durand resident Ron Berger unearthed one of these giant paper ads behind the wall of his local restaurant and bar, the Corral Bar & Riverside Grill. Recently, after years of work, it was unveiled.
"It's a lithograph," Berger says. "They would actually [use stone]* and make these big, giant stamps … then they'd stamp each individual color and stamp it again until all the colors were filled." This 9-foot-high, 55-foot-long, multi-sheet, full-color circus poster (which clearly cites the date of the circus: Monday, August 17, 1885) runs the length of the wall—and all the way up to the Chippewa River. The only part that seems to be missing is a four-foot chunk that detailed a large aquarium with fantastical sea monsters (likely blown away by river winds). The company that printed the poster, Russell, Morgan & Co., was based in Cincinnati, which was, at the time, the lithograph capital of the world. "It was imperative that they made these [stone plates]* so they could duplicate the posters," Berger says. "These posters were made for more than one show because they put them up all around the train routes."
Berger's family has occupied part of this building since 1977, when their restaurant first opened, but the side of the building that held this secret history wasn't used by the family until 1996. During Labor Day weekend of 2015, Berger embarked on a renovation to make a dining room addition when he saw a blue-brown bison peeking out through the hole. It would be weeks before he revealed the rest of the circus scene, and saw that an important piece of entertainment history had fallen into his lap. He knew he had to preserve it. It took Berger and his team two years to totally remove the wall and restore what was behind it. "We had a very little budget and had to figure out just what to do," Berger recalls.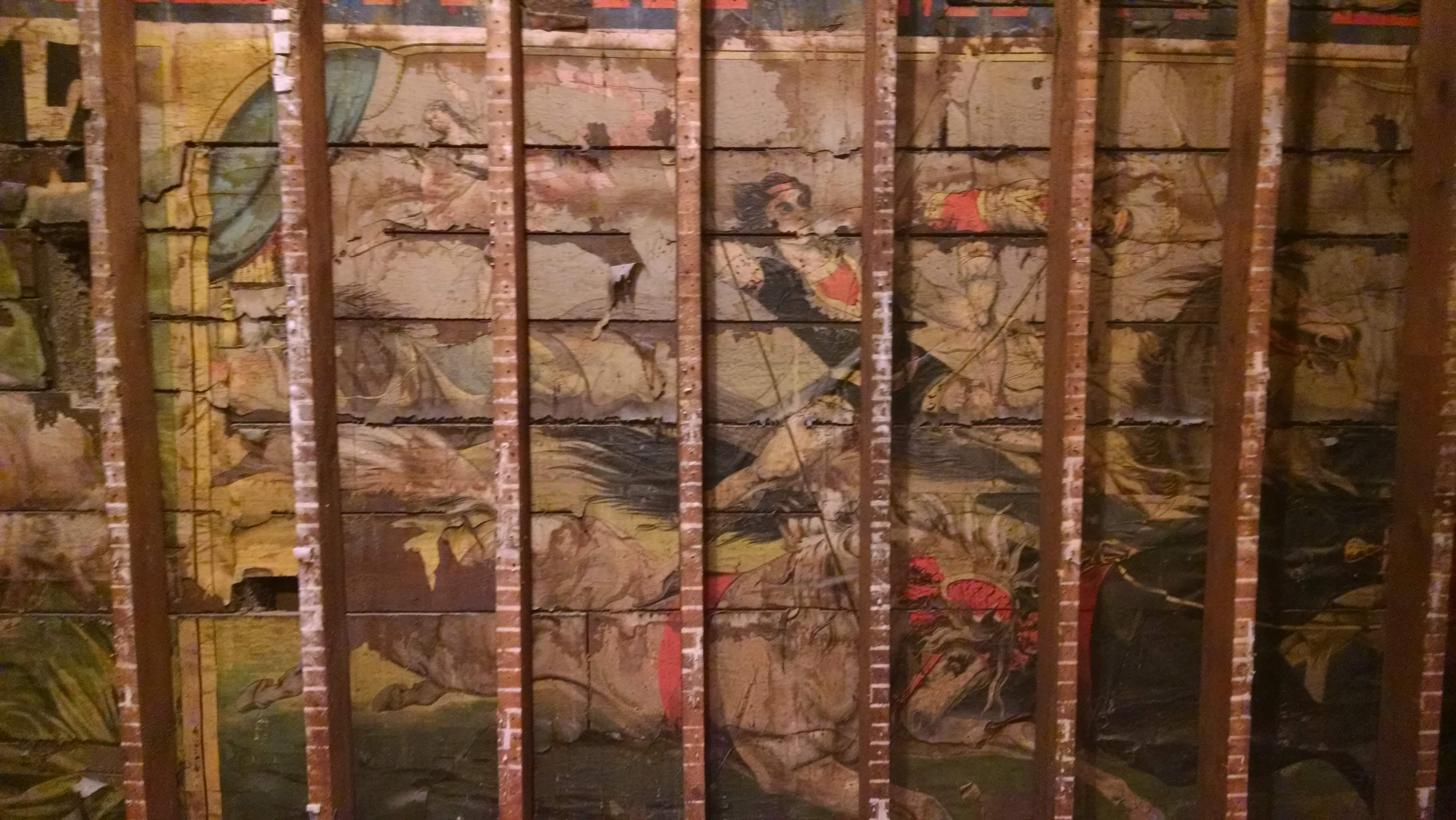 The circus that the poster promoted, the "Great Anglo-American Circus," was world famous. It's owner, Miles Orton, was known to ride horses bareback, standing up, with his two children standing on his shoulders and head. This whimsical stunt is illustrated on the poster in Durand. His trail of 24 circus train cars traveled all throughout the United States. That the poster from his visit to Durand has lasted, almost fully intact, for over a century, is a marvel.
"It was made to last only like a month or two after the show, so it could just fall apart and disappear. They were designed to not have to have a team come back to take them down," Berger says. Allegedly, a group of inspired historians is now researching the circus' train route—particularly through the state of Georgia—to find any more of these hidden advertisements that might have improbably survived. But according to Berger: "There could be one buried somewhere else but they're made on paper so they're not built to last. It'd have to be a perfect storm of someone building over it right after the show like this one was."
Through his research, Berger has developed a working theory for how the poster got stuck behind the wall of his bar, formerly a hardware store. "I think they were in the process of building a saloon, and they were probably working on the foundation of that when the circus saw the river right there and they talked them into [waiting to build] until after the circus was done," Berger says. "It was the perfect spot to put a billboard," he says of the riverfront wall.
Today, the colorful circus poster, advertising everything from ostriches to aerialists, is protected behind a sheet of glass, and is visible to everyone who visits the Corral Bar & Riverside Grill. "We had to protect it from UV rays and people touching it," Berger says. Now, we'll see if the vintage lithograph has another 134 years in it … or more.
* Correction: This article was updated to accurately characterize the practice of lithography, which uses stone or metal plates, rather than wood blocks.