You Can Have This Historic Queens Diner For Free
But you only have a month to pick up your order.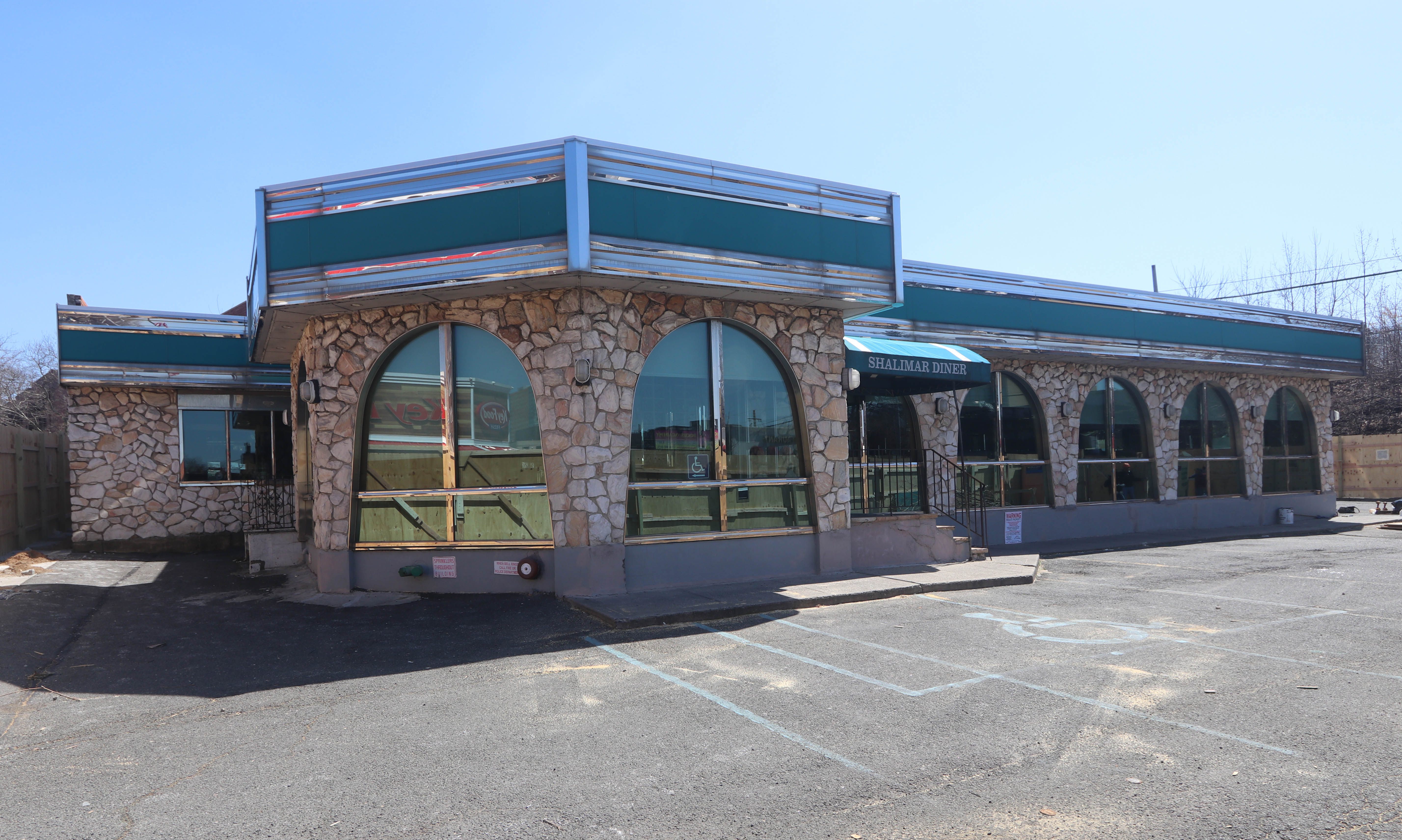 Throughout the 20th century, the Kullman Dining Car Company manufactured scores of prefabricated diners, all to serve Americans jonesing for affordable, tasty meals (ideally). Though the corporation folded in 2011, several examples of its trademark formica countertops and stainless steel facades still exist in places such as New Jersey, Rhode Island, and North Carolina. In Rego Park, Queens, one of the survivors—the Shalimar Diner—closed its doors in November 2018 after being priced out of its home of 45 years. The 14,000-square-foot corner lot it sits on (prime Queens real estate) was snapped up for $6.55 million, but the new owners don't plan to keep the diner there. Now local preservationists are fighting to save it from going to the trash heap at the end of this month.
The diners of this era were designed to be easily moved, and that's why the Rego-Forest Preservation Council, founded and run by Michael Perlman, is offering the fully intact Shalimar Diner for free to anyone who is willing to pay to bring it to a new location. "It would be a shame to demolish the Shalimar Diner, based on its history, architectural style, and technical aspects," Perlman says. "This is an initiative for 'Diner Man,' along the lines of Spider-Man flying in from Forest Hills in the movie and landing at SoHo's Moondance Diner." He's serious: Perlman earned his "Diner Man" nickname after successfully relocating Manhattan's Moondance Diner to Wyoming in 2007, and Queens' Cheyenne Diner to Alabama two years later.
Perlman founded the preservation council in 2006, on the 100th anniversary of the naming of the residential Queens neighborhood Forest Hills, and the 83rd anniversary of Rego Park, the western section, getting its own name. After meeting with the commercial developer who purchased the lot, Perlman was able to secure a 30-day window in which an interested party could come forward to claim this "diner to go." This period is up sometime between late April and early May, so time is of the essence. Perlman believes the price tag (free) should be a nice incentive for a heroic preservationist committed to saving a piece of cultural history (and breakfast all day).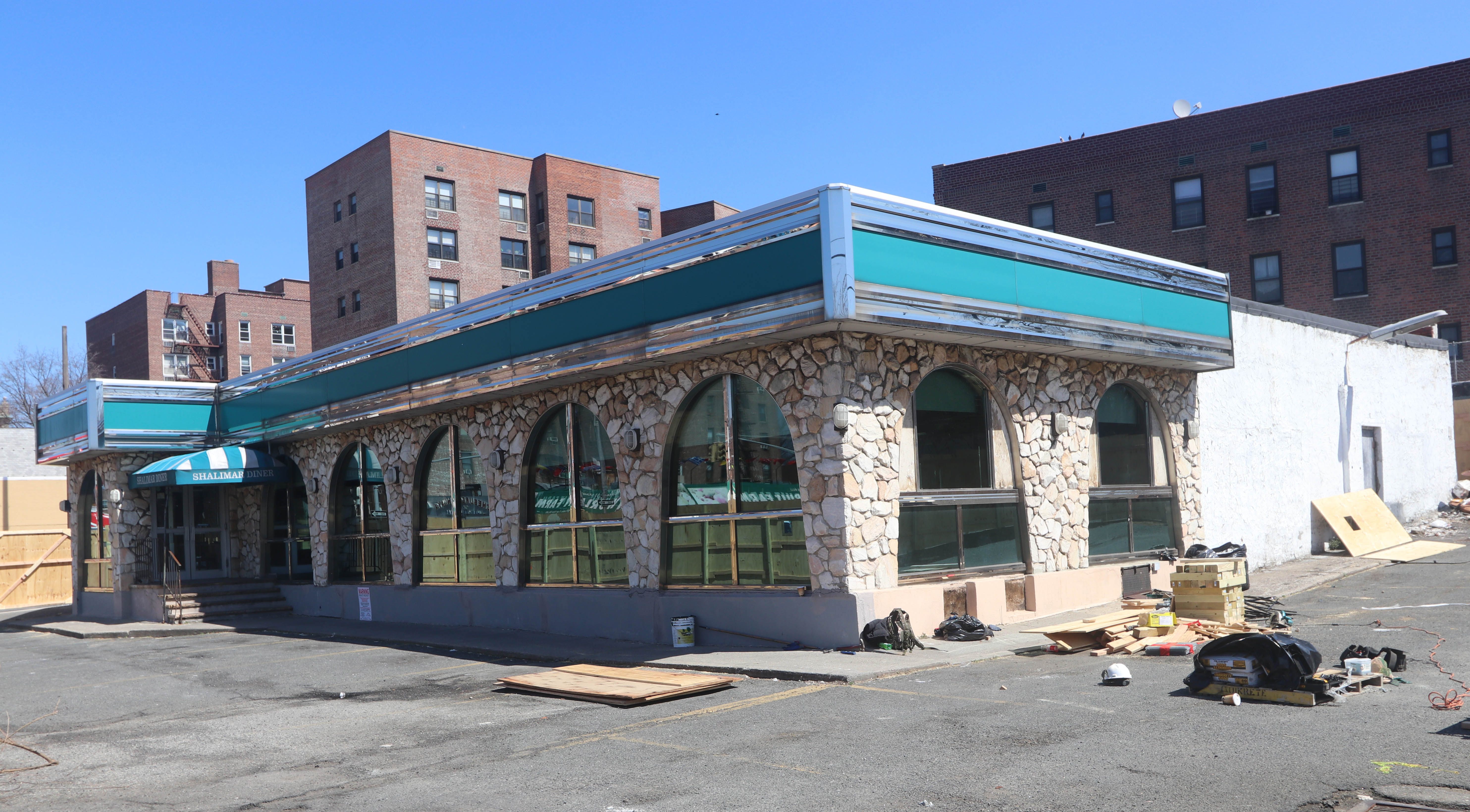 From the time it opened in 1974, the Shalimar Diner was the only freestanding diner of its kind in Rego Park. Owned and operated by the Karayiannis family, the eclectic eatery was known as an "ultimate public institution," Perlman says, with popularity and longevity spanning generations, traditions, and tastes. "The experience was very personalized and it felt like a small town within its walls, despite being situated on the busy intersection of 63rd Drive," he adds. The diner counted many members of the community loyal patrons (including to the hidden dining room in the back). Architecturally, the building is a unique blend of styles. The sleek, teal and steel roof molding is a nod to Art Deco, while the contrasting stonework speaks to a Mediterranean influence. Historically, it has been common for Greek immigrant families to run diners in Queens—including the Karayiannis family.
The Shalimar's comfortable ambience, familiar decor, and convenient location meant that it was tapped by Hollywood to represent a quintessential New York diner, such as in the 2013 film The Wolf of Wall Street. Local residents and loyal patrons are reportedly disturbed by an uptick in the demolishing of classic neighborhood landmarks in favor of new development. "Especially on the Shalimar's final day of operation, lines were out the door and patrons shed tears and exchanged many memories with community friends and the owners and staff who became an extended family," Perlman says. "Patrons provided notes of gratitude, and at least one community resident wrote a poem and displayed it on a decorative poster, which was displayed near the register. People were in mourning, and that was a sad day in Rego Park history."
The developer has not yet announced plans for the lot, and locals speculate that it will sit vacant for a few years, and then become a multistory commercial space or condominium or something. The Shalimar is dead (for now). Long live the Shalimar.
Gastro Obscura covers the world's most wondrous food and drink.
Sign up for our email, delivered twice a week.