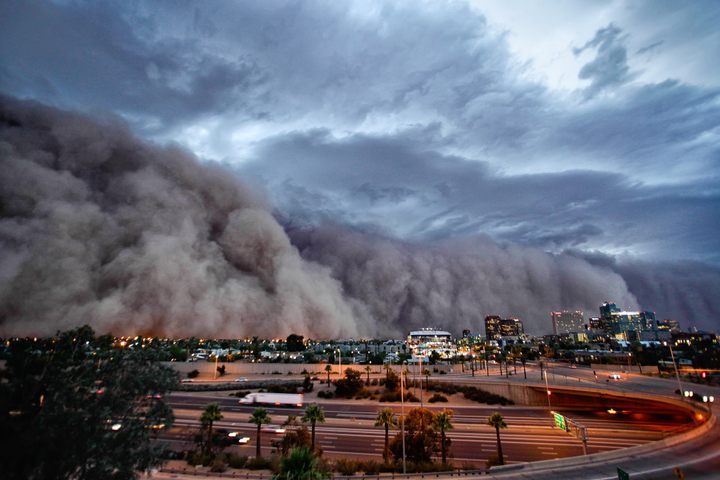 Meet the Storm-Chasing Photographer Who Can Also Shoot Your Wedding
In both cases, "You're trying to find the best spot to shoot a moment in time that no one is ever going to see again."
Photographs of spectacular storms have been around for a while, but in this age of increasingly extreme weather, they can capture the fury of nature perfectly. For storm chaser, photographer, and Emmy-winning videographer Mike Olbinski, they have been a lifelong passion and started, quite literally, with a lightning bolt. Since discovering just over a decade ago that he could chase storms instead of waiting for them to come to the edge of his Arizona neighborhood, he has found his work—pictures and time lapses of supercells, tornados, lightning, and dust storms—in demand. They've appeared in advertising (Lamborghini and Allstate), film (Thor: The Dark World), music videos (Pearl Jam and Blake Shelton), science communications (Al Gore), media (BBC, National Geographic), and even a bourbon company in Tennessee. "It's been insane," says the Phoenix-born-and-bred photographer. "I got into this and still do it because I love it. But it's amazing what people are looking for out there."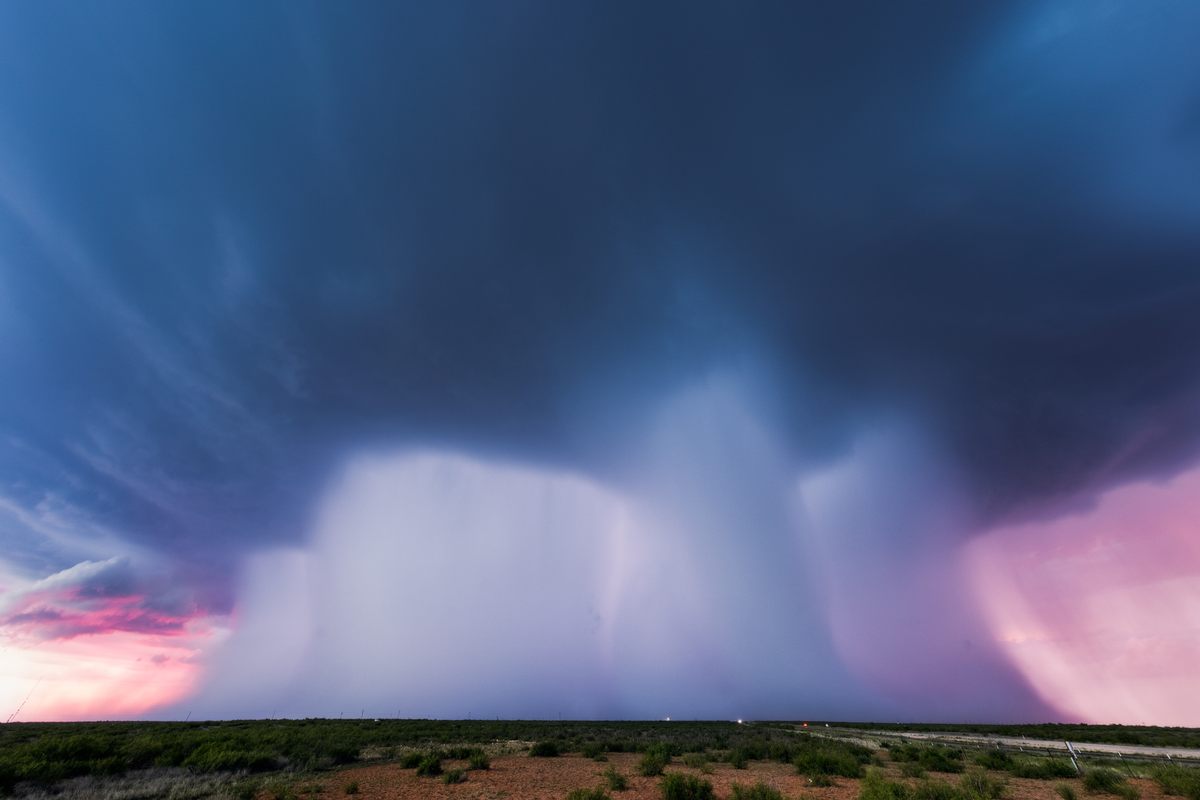 Perhaps it's the ineffable beauty of something so raw and powerful. Or the hypnotic quality of a force so terrifyingly destructive. Or some combination of both. When he is not chasing storms, Olbinski turns his lens on weddings, a marked contrast to the dark and ominous feel of his weather images. Does he see any overlap between these dramatically different genres of photography? "At weddings, you're posing people at times for sure," he says. "But like storms, they're events happening before your eyes, and you're trying to find the best spot to shoot a moment in time that no one is ever going to see again."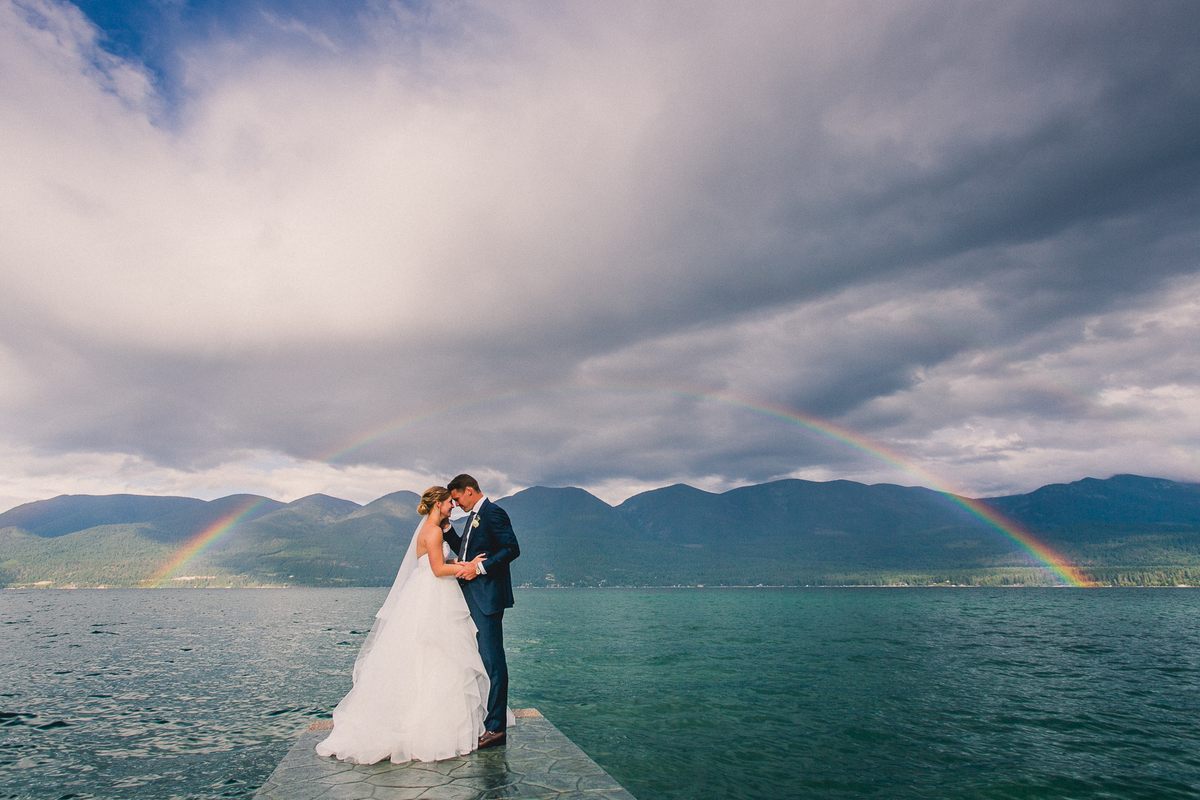 Atlas Obscura spoke with Oblinski about how you set up for a storm, the danger of a barbed wire fence, and how an otherwise bad chase ended up in a Marvel movie.
How did you get into storm chasing?
My interest in storms started when I was a kid—my dad would watch storms and I'd sit there with him. When I was 8 or 9, we were watching one in the back of the house, and a lightning bolt hit really close, maybe a couple hundred feet away in a field. I still remember everything about it. The flash was so bright, I couldn't see anything for a few seconds. I've loved the weather ever since, and people told me, "Mike, you should be a meteorologist, why don't you do that?" And I'm like, "Well, I don't want to do the math. I just like the storms."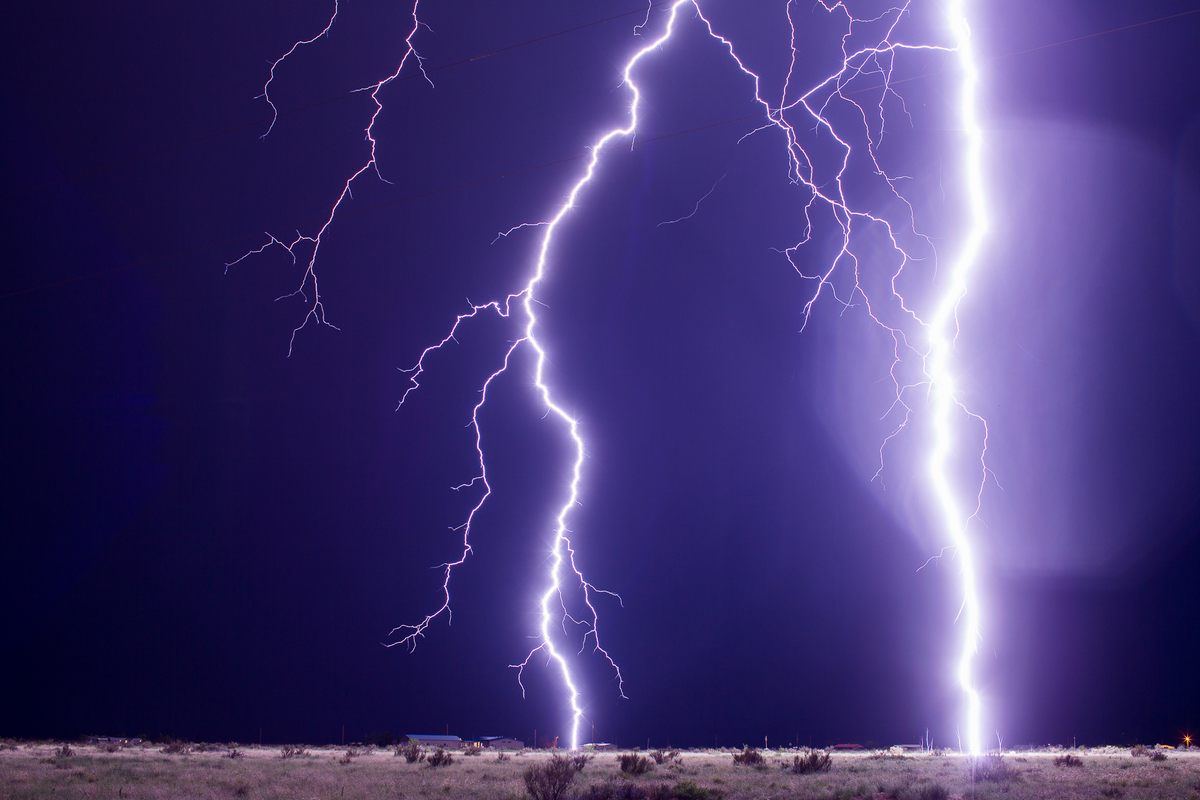 Where do you go to capture storm pictures?
When I first started this, I was driving to the corner, to a field to try to catch the lightning if a storm happened to come by. Then, around 2009, I was really into the show Storm Chasers on Discovery and that's when I learned I could actually drive out and get better pictures instead of just waiting at my house.
My storm season is around April to early October. I chase around Arizona and the Plains—that's the central United States, from Texas to eastern New Mexico, Kansas, Oklahoma, and all the way up to North Dakota and Montana. The amount of driving I do is insane. I bought a new 4Runner less than a year ago and I'm about to hit 30,000 miles.
How do you plan for a chase?
I look at forecast models every day, multiple times a day. You're trying to figure out where the best parameters are going to be, like wind shear, tornado potential, moisture levels. And there's an amazing community of storm chasers out there posting their thoughts. I do three storm-chasing tours a spring, and my buddy Brett Wright has been helping out—he's a great forecaster. For me everything is about being photogenic, so you also have to figure out what the best spots are. If I go to Rapid City [South Dakota], I know there's a cliff edge that overlooks the city, so I can be in the same place anytime there's a storm there. But most of the time you have to find them on the fly out in the Plains. I'm very particular about where I set up.
So what's it like to chase a storm?
It can be exhilarating. If you love weather, you kind of lose your mind when you see a structured supercell or tornado drop in front of you. We had a moment this year, near Sudan, Texas, where a beautiful storm went up and was barely moving. You could see the wall cloud trying to form—we're just sitting there in a field, waiting—and the wall cloud forms, then the funnel, and all of a sudden the tornado reaches down and dust starts to spin on the ground. We were all running around freaking out, saying "Can you believe this?" I have the whole supercell structure with the tornado coming out the bottom in a wide-angle picture, which is kind of rare.
There are also difficult chases that you work all day, though that happens more early on when you're learning. In 2013 I had a video of a supercell that went viral, but to get it, my friend and I had flown to Denver that morning, and rented a car and were driving toward Kansas. I was still learning so I kept making wrong decisions about which direction to drive as the storms moved. We almost ran out of gas because I was too much in a hurry to stop, and we eventually stopped at a station with hail on top of us, with about 10 miles left in the tank. We finally decided to go toward a storm and get out ahead of it to see what it looked like. Suddenly, around 8:00 that night, this amazing supercell comes out to the west, and it just got better and meaner. It was stunning and I posted video, which was licensed for Thor: The Dark World and by so many people since. It was one of those days that was like: chased badly, made poor decisions, almost ran out of gas, and was not smart about it, but then it turned out to be the most epic day—one of my top three chase days ever.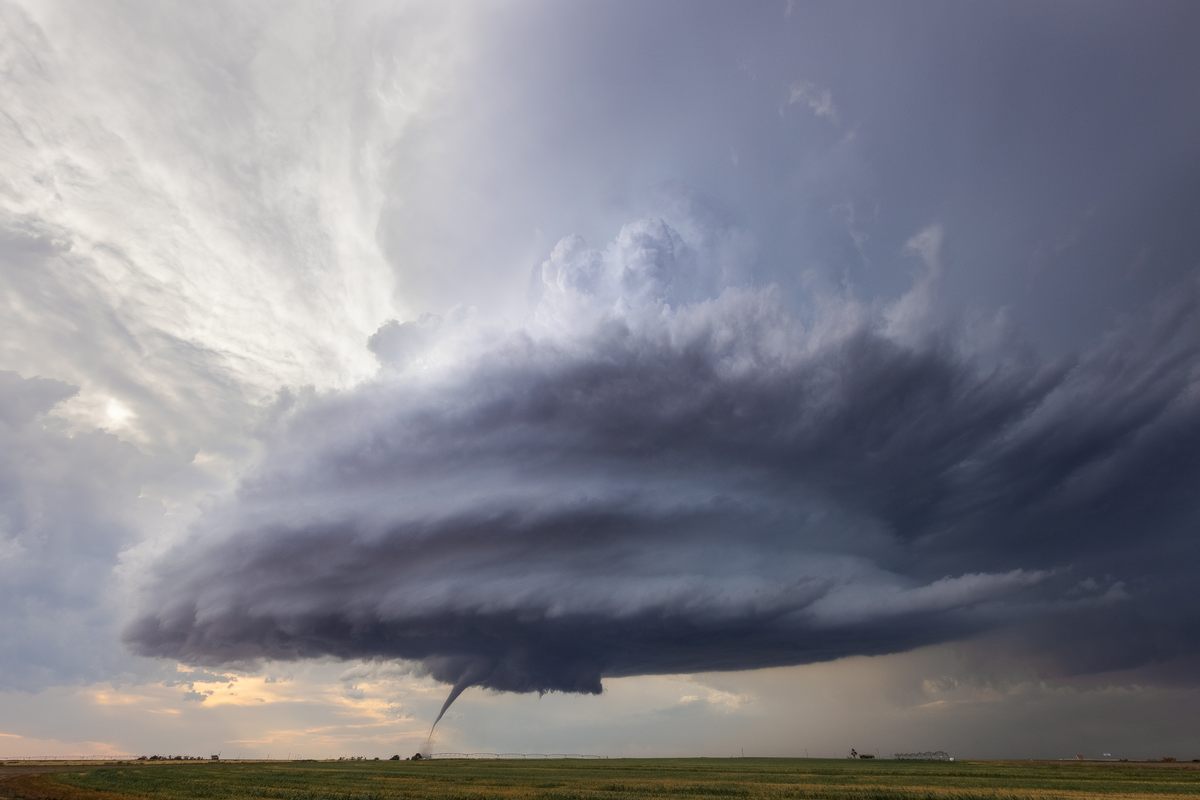 Have you noticed any changes in storm patterns over the years?
I grew up in Arizona and have lived here for 46 years. We've always had good storms—I remember watching big lightning storms and downpours. If anything, it seems like we've had less rainfall and fewer storms here in the last couple of years. When you think of climate change, you think horrific storms and hurricanes, but it can also mean less notable weather and drought.
Tell us about the dangers you face in the field.
Big hail. I remember watching a tornado form in front of me—you could see it a couple miles away—but then I heard a faint thud, then another one. I thought," "Ok, those are big hail stones starting to fall." My camera was about 30 feet away from the truck, so I grabbed a pillow, covered my head, and ran out there to grab it. The hail was probably the size of golf or tennis balls.
You know you're in danger if you have a tornado or storm coming at you and you don't have an escape route, so now you have to go, say, 110 miles per hour to outrun it. With my new truck, I finally have a 4x4, but we try not to go too far off the road. The biggest fear is getting stuck in mud or something where you can't outrun the storm. The other one is that the GPS or map is wrong. We had that issue—we were trying to get in front of a storm using a GPS when the dirt got kind of weird and suddenly we came to a barbed wire fence and that was it. The road did not go through. That's the worry—if you're trying to outrun a tornado and came to a barbed wire fence and was just like well, I guess we sit here and pray to god. I try not to get myself into too many sketchy spots.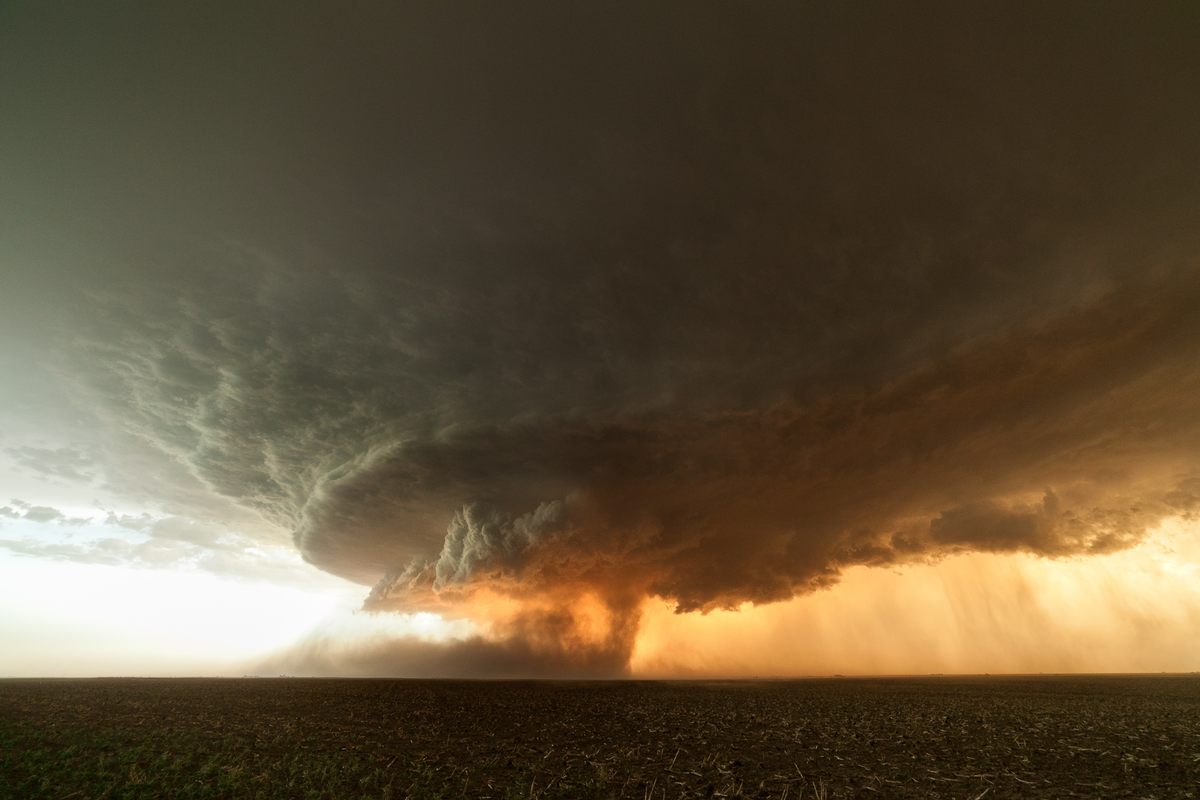 So what keeps you going?
On your way home sometimes, when you're tired and exhausted from doing this, you're just like, "Why do I put myself through this?" Especially if you got mediocre pictures. But this is what I love to do. It's an addiction, it's a passion, and I can't help but do it. And once you do a long drive and you're home, you tend to forget about it the next time and you're like, "Oh, I've got to go get the storm."
If you were shooting a wedding and saw a great storm coming, what would you do?
Weather is a pretty rare thing at weddings for me, but it has happened. Once, in northern Arizona, the ceremony was close to starting when a thunderstorm began moving toward the pasture, which was about an eight-minute walk from anywhere. It started to sprinkle and as the bride was walking down with her parents, it just began to pour! It was wild—one of my cameras got wet and stopped working, but the other one captured the rest of the moments perfectly. I had a blast.